Jeremy Gallon – Wide Receiver
Gallon is a fifth year senior and a 2 year starter. He may be small in stature (5'8 – 185), but he sure played big in this game. He finished the game with 8 catches for 184 yards and 3 touchdowns. He just about beat the Irish by himself. While not big, he is strong and has very good athleticism. He displays excellent change of direction and overall body control. He is both quick and fast and can cut on a dime. He shows very good route running ability and consistently gets separation when he makes a cut. He can uncover versus both man and zone. In this game he showed excellent hands while also adjusting to the ball to make some great catches. He always catches the ball in his hands showing the ability to snatch the ball. Despite his small size he is not afraid to compete for the ball in traffic and come up with it. He is very good as a runner after the catch showing top run instincts and strength. With his quick feet he can easily make a defender miss.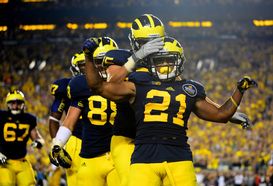 US PresswireDoes Jeremy Gallon have what it takes to succeed in the NFL?
Gallon has been used as a returner also. I didn't get an opportunity to evaluate that part of his game. His career stats are good but not the type of stats that a return man on an NFL team would have. Because he lacks ideal size, Gallon will probably be a slot receiver in the NFL. With his quickness, hands, and explosiveness he may be a club's third receiver before the end of his rookie year. While he doesn't have the skill set of a Tavon Austin, this is a good ball player. Will probably get drafted in the third round area.