Allen Robinson – Wide Receiver
Like Jones, Robinson has started the 2013 season very well. In 2 games he has 14 catches for 262 yards and 2 touchdowns.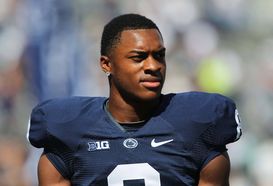 USPRESSWIRERobinson has the natural traits to be a very good NFL receiver
Jones is a 3rd year junior from Southfield, Michigan. He played as a reserve in 2011 and became a starter in 2012. As a sophomore he caught 77 passes for 1013 yards and 11 touchdowns. He has excellent size at about 6'2 – 210. He has very good play speed and I would estimate he can run the 40 in about 4.48. He is a very smooth athlete with quickness, a burst and very good body control. He has a way of making things look easy. Penn State is playing with a true freshman quarterback and because of that you don't see Robinson run a number of different routes. He is used most often on bubble screens but I have also seen him used on outs, crossing routes and streaks. With his change of direction and body control he can make a sharp cut and get separation. Once the ball is in the air he has a good burst to go get it. He has very good hands and can snatch the ball. He shows real good ability to adjust to the ball. As a runner he is quick, smooth and elusive. He has strength as a runner and can break tackles.
Overall, Robinson has the natural traits to be a very good NFL receiver. I like his size, speed, hands and athleticism. Even though he is playing with a freshman quarterback he has top production. If he decides to come out he has a chance to be a high premium round pick