George Atkinson III – Running Back – Notre Dame
Atkinson is a third-year junior and the son of former Oakland Raider George Atkinson, Jr. During his first two seasons at Notre Dame, Atkinson was a role player and a kickoff returner. He began the 2013 campaign as a starter, lost his job by midseason, but still got some carries as a rotational back. He finished the season with 93 carries for 555 yards and three touchdowns. His career kickoff return stats are 88 returns for 2,136 yards and two scores. His career average per kick return is 24.27 yards.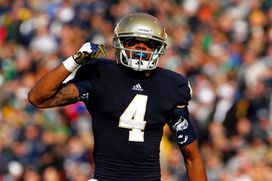 Atkinson has a lot to work on before draft day.
Atkinson has great size at approximately 6015 – 218. He has a strong-looking lower body, but is still lean in the upper body. He has great speed and if he gets invited to the Combine, Atkinson might be the fastest back in Indianapolis. He has been timed in the 10.5 area in the 100 meters. As fast as he is, however, Atkinson is not a great athlete. He has good, but not great, change of direction and body control. As a runner, he has good initial quickness, but consistently runs tall and exposes his body. While he shows he can be a hard runner, he is not very instinctive or creative. He is a one-cut guy and that one cut isn't always the right one. He flashes as an outside runner, but isn't as patient as he could/should be. Still, if he finds an opening, once in the open field he can take it the distance because of his speed. He is not the most elusive guy, but has gotten better at making the first man miss.
As a receiver, Atkinson has some issues. He has poor hands and struggles to adjust to the ball. He has had a number of drops and isn't reliable. The same can be said about his blocking abilities. Atkinson doesn't show consistent effort, lacks technique and isn't tough. The one thing Atkinson can do well is return kickoffs. He shows more patience returning kicks and does a good job finding the open seam. He is not the type to make many miss, but with his speed all he needs is an opening. He does not return punts mainly because he doesn't track the ball well and can't be trusted to catch it.
Overall, Atkinson should not have declared for the draft. The problem was that he alienated the Notre Dame coaching staff and was suspended for their Bowl game. The report was that Atkinson was suspended because of texting during the team pregame meal, but according to sources, there was a lot more to it than that. If he had stayed at Notre Dame for the 2014 season, he may not been more than the fourth back. With his speed and return ability, Atkinson may get drafted, but he doesn't have the skills to be much more than a kickoff returner. Because of his poor hands and blocking, he can't be trusted as a running back.
Follow Greg on Twitter: @greggabe