Kelvin Benjamin – Wide Receiver – Florida State
Benjamin is a third-year junior with this season serving as his first as a starter. He redshirted in 2011 and played as a rotational player in 2012. That year, Benjamin caught 30 passes for 495 yards and four touchdowns. This year, he became a starter and his production soared to 54 catches for 1,011 yards and 15 scores.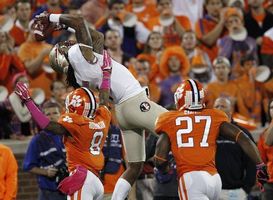 Benjamin scored 15 touchdowns in 14 games this past season.
Big receivers are in vogue right now and Benjamin is as big a receiver as you will find in this year's draft class. He is listed as being 6050 – 234 with very long arms. He could easily be a 240-245 pound receiver once he fills out. For as big as he is, Benjamin is a very good athlete. He should run in the 4.50 range with the possibility of turning in a faster time. He has good body control and flexibility, but as a route runner, he's still a bit raw. While Benjamin can break down and get in and out of cuts, he can be sloppy with his routes and does not consistently finish. He has good hands and tracks the ball well. I have seen him make some circus catches, but he is also good for at least one concentration drop per game. With his size, Benjamin can create a number of mismatch opportunities. While he is 6'5, he plays taller with his long arms. He has very good leaping ability and is extremely difficult to defend in the red zone. On the tape I've watched, the Florida State wideout is effective as both a short and deep receiver. He will compete for the ball in traffic and is very good at running after the catch. He has a quick burst, is very strong and difficult to bring down. In addition, Benjamin is both willing and effective as a blocker.
Overall, Benjamin is still raw, but has a high ceiling. He is only going to get better with experience. Because of his size, he can be used a number of different ways at the next level. While he has the talent to be drafted in the first round, because there are so many good receivers, I see him more as a second round pick at this time. Remember, South Carolina standout Alshon Jeffery went in the second round two years ago.