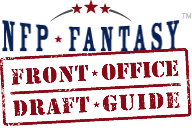 2013 fantasy busts/overvalued
by Joe Fortenbaugh
August 16, 2013
Print This
Last Friday was dedicated to the players we predict will outperform their current draft positions, so why not spend this Friday taking a look at the guys we expect to come up short in 2013?
One note: Just because a player's name appears on this list does not mean we expect him to produce a terrible stat line this season. Some of these players are here simply because we feel that owners are currently overvaluing their worth heading into draft day.
Enjoy, feel free to visit the comments section with your thoughts/questions and have a great weekend.
ADP: Average draft position, acquired from the website Fantasy Football Calculator.com.
QUARTERBACKS
Tom Brady, New England Patriots (ADP: 49.4): It pains me to write this because I've been a staunch supporter of Brady's for more than a decade, but at the cost of a fifth-round pick or higher, the three-time Super Bowl winner just isn't worth it. 100+ catch artist Wes Welker is in Denver and has been replaced by the oft-injured Danny Amendola, Aaron Hernandez is in jail, Rob Gronkowski is coming off five surgeries and the Patriots still have yet to replace the production lost on the outside when receiver Randy Moss was sent packing. Throw in the fact that this season offers an ultra-deep quarterback class and you've got plenty of good reasons to keep that finger off the trigger when it comes to targeting Brady.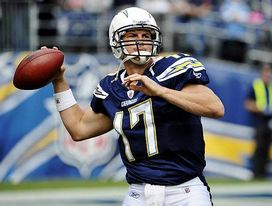 Rivers has been drastically off his game for each of the last two seasons.
Philip Rivers, San Diego Chargers (ADP: 158.4): Unlike Brady, this isn't a question regarding value because at the cost of a 16th-round pick, Rivers is currently at the cheapest price we've ever seen during his seven years starting in San Diego. Danario Alexander has already been lost for the year and the rest of the wide receiving unit brings even more uncertainty to the table, and that's before you factor in the age of tight end Antonio Gates, who turned 33-years-old in June. In addition, Rivers has thrown 35 picks over the last two years and his QB ratings from 2012 and 2011 were at their lowest points since his second season as a starter back in 2007.
RUNNING BACKS
Darren McFadden, Oakland Raiders (ADP: 31.4): The good news is that McFadden is entering a contract year, so the motivation factor is off the charts. The bad news—and there's plenty of it—is that the former Arkansas standout has missed at least three games in each of his five NFL campaigns and averaged a career-low 3.3 yards per carry in 2012. Not only that, but the Raiders are completely devoid of firepower on the offensive side of the football, meaning McFadden's touchdown total isn't likely to eclipse the six he's posted over the last two years combined.
Ray Rice, Baltimore Ravens (ADP: 7.1): Rice is an absolute stud, but he's going to lose carries to backup Bernard Pierce and his offense enters the season without receiver Anquan Boldin and tight end Dennis Pitta. Plus, the Ravens are coming off a Super Bowl win in February that could have some Baltimore players taking a more complacent approach to their offseason preparations. We'll pass at this price.
BenJarvus Green-Ellis, Cincinnati Bengals (ADP: 83.2): Scored only six touchdowns and averaged a paltry 3.9 yards per carry during his first season with the Bengals in 2012. But that's not what should worry you about Green-Ellis. The big red flag regarding BJGE is that rookie second-round pick Giovani Bernard (North Carolina) is going to steal his job.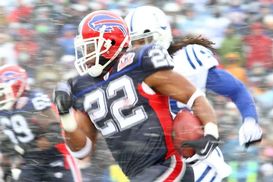 ICONJackson will spend the 2013 season watching C.J. Spiller shred opposing defenses.
Fred Jackson, Buffalo Bills (ADP: 98.9): Turned 32-years-old in February, has appeared in just 20 games over the last two seasons and averaged a career-low 3.8 yards per carry in 2012. Jackson has value if something happens to top-five pick C.J. Spiller, but outside of that, there's little to get excited about here.
Steven Jackson, Atlanta Falcons (ADP: 15.4): S-Jax has 2,396 rushing attempts worth of wear on his tires and turned 30-years-old in July. And while we envision him serving as an upgrade over the departed Michael Turner in the Atlanta rushing attack in 2013, the problem is that Jackson is being severely overvalued on the market at the moment. Give me a guy like Steven Ridley or Reggie Bush at a cheaper price any day of the week and twice on Sundays.
Ryan Mathews, San Diego Chargers (ADP: 54.8): Mathews has shown us very little since the Chargers made the ill-fated mistake of trading up 16 spots in the first round of the 2010 draft to acquire the Fresno State alum's services. He's never played a full 16-game season (missed four games in both '10 and '12), scored just one touchdown last year and is running behind an offensive line full of question marks and second-string talent from other NFL franchises. I'm no longer interested in what Ryan Mathews is capable of producing. I'm dealing only with reality when it comes to the San Diego running back from this point forward.
Ahmad Bradshaw, Indianapolis Colts (ADP: 56.9): The 27-year-old former Giant has completed a full 16-game season only once during his six-year career and is still battling the myriad of foot injuries that plagued him during his time with Big Blue. Bradshaw's the type of guy you draft after the 13th round for the sole purpose of adding some depth to your RB platoon. He's not the type of ball-carrier you bank on to produce consistent numbers on a weekly basis.
Mikel Leshoure, Detroit Lions (ADP: 125.1): It's Reggie Bush's job barring injury. Leshoure is nothing more than a complementary back at this point.
DeMarco Murray, Dallas Cowboys (ADP: 27.0): Has appeared in only 23 games over the last two seasons and averaged a mediocre 4.1 yards per carry in 2012. Murray has some upside, but the injury concerns and lack of production last season have us weary about spending a third-round pick on the Dallas running back.
Ryan Williams, Arizona Cardinals (ADP: N/A): No No No No No No No No No No.
No.
WIDE RECEIVERS
Tavon Austin, St. Louis Rams (ADP: 75.2): The rookie speedster out of West Virginia has a world of upside…down the road. But it's going to take Austin some time to transition to a pro-style offense, not to mention the fact that the defenses San Francisco, Seattle and others will trot out on Sundays will look nothing like the units Maryland, Baylor and Oklahoma threw at the first-year pass-catcher in 2012. We'd recommend going after Austin if he slides somewhere near the ninth or tenth rounds.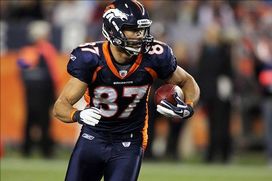 Decker is going to lose a significant amount of targets thanks to the arrival of Wes Welker.
Eric Decker, Denver Broncos (ADP: 62.2): His 85-1,064-13 stat line from last season was impressive, to say the least, but Decker is going to see less targets in 2013 thanks to the offseason acquisition of former Patriots wideout Wes Welker. A decrease in targets likely means a decrease in production and we'd be willing to bet that Decker falls at least three touchdowns shy of the 13 he scored last year.
Pierre Garcon, Washington Redskins (ADP: 49.7): Explosive at times when he's on the field, the problem with Garcon is that he's one of the most unreliable top-20 fantasy wide receivers entering the 2013 campaign. Appeared in just ten games last season and has never eclipsed seven touchdowns, 70 receptions or 950 receiving yards in any of his five professional seasons.
Greg Jennings, Minnesota Vikings (ADP: 83.0): Will no doubt see plenty of targets as quarterback Christian Ponder's top wide receiver this season, but that's the problem: Ponder. The third-year signal-caller out of Florida State is averaging just 6.2 yards per pass attempt for his career and is highly unstable under center in Minnesota. Take note that Jennings turns 30-years-old in September, has appeared in just 21 games over the last two seasons and could lose some of Ponder's affection if rookie wideout Cordarrelle Patterson develops quicker than expected.
TIGHT ENDS
Our research turned up exactly zero tight ends to label as either busts or overvalued. However, we do plan on exercising some caution when it comes to New England's Rob Gronkowski. Five offseason surgeries (including his back) with a current ADP of 46.6 has us a bit concerned, but not enough to list him in this column.
DEFENSE/SPECIAL TEAMS
Denver Broncos (ADP: 114.2): Currently listed as the fourth D/ST off the board at Fantasy Football Calculator, we'd rather target a unit like the one in Cincinnati or St. Louis before going after Denver. Should Peyton Manning and company roll up the points many are predicting this season, the opposition is going to be throwing the ball all over the field well into the fourth quarter. And let's not forget about the loss of pass rusher Elvis Dumervil and four-game suspension currently hanging over the head of Von Miller.
Hit me up on Twitter: @JoeFortenbaugh
Fantasy impact: The Jamaal Charles injury
by Joe Fortenbaugh
August 13, 2013
Since NFL training camps around the country opened it late July, it feels as if every 48 hours has brought another cringe-inducing moment that has forced fantasy owners to reevaluate both their rankings and approach to upcoming drafts. Notable, productive players of years past have been dropping like flies, simultaneously devaluing the draft stock of those around them while opening doors for lesser-known talent to emerge for their day in the sun. Jeremy Maclin and Danario Alexander are just two such injuries we have encountered over the last few weeks, but there have been many, many others.
Monday brought the news that storm clouds were gathering on the running back horizon as two-time Pro Bowler and, from where we're sitting, top-five fantasy back Jamaal Charles was carted off the practice field with a foot injury. Panic ensued. After all, the last thing anybody wants to hear less than a month before the start of the regular season is a dreaded reference to a vehicle that exists solely for the purpose of transporting injured players from the gridiron to the training table.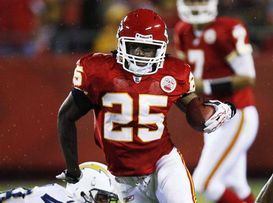 Charles has amassed over 1,700 total yards in two of his last three campaigns.
After the initial hysteria died down and those in the know were given time to flush out the details, the official word on Charles was that the running back had suffered a foot strain and that his X-ray had come back negative. However, Mike Florio of Pro Football Talk reported that, according to a source, the Chiefs were privately calling the injury a foot sprain rather than a foot strain.
For clarification on the matter we turned to David Chao, an orthopedic surgeon and sports medicine expert based in San Diego with over 17 years of NFL head team physician experience under his belt.
"It's likely that Charles' injury will not have a big effect on this season," Chao told the National Football Post on Tuesday. "The X-rays were negative for fractures or any widening, as in a Lisfranc injury, and he is already bearing full weight without a boot or crutches. Besides, Jamaal has proven to be a quick healer. Just like Adrian Peterson, Charles came off ACL surgery last year and still gained over 1,500 rushing yards for a losing Chiefs team."
Despite the scare, we still have Charles rated No. 4 at the running back position, behind Adrian Peterson, Arian Foster and Marshawn Lynch, and just above Buffalo's C.J. Spiller. For PPR owners, we're currently ranking Charles No. 3 behind Peterson and Foster.
Hit me up on Twitter: @JoeFortenbaugh
2013 fantasy sleepers
by Joe Fortenbaugh
August 09, 2013
We'll begin where most fantasy publications commence in regards to this topic and that's by addressing the definition of the word "sleeper." Like many other outlets in the industry, our definition of "sleeper" refers to players who are either relative unknowns poised to break out or guys who are being undervalued by the market at the current moment. Some of these names will be familiar to you, others not so much. But the bottom line is that we expect each of the following 23 names to outperform the current expectations established by the majority of the fantasy community.
ADP: Average draft position, acquired from the website Fantasy Football Calculator.com.
QUARTERBACKS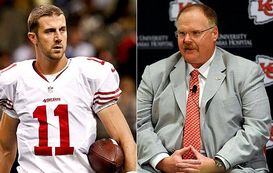 Reid won't be asking Smith to play the role of game manager.
Alex Smith, Kansas City Chiefs (ADP: 156.3): Recognized as the proverbial game manager during his time in San Francisco under Jim Harbaugh, we can assure you that Andy Reid doesn't plan on using the soon-to-be eight-year veteran the same way in Kansas City, otherwise he wouldn't have shipped two draft picks to the Bay Area to acquire Smith's services. Reid loves to throw the football and a new city and new conference isn't going to change that. From 2004-2012, Reid's Philadelphia Eagles ranked in the top-10 in the NFL in passing attempts seven times. In Kansas City, Smith will be given every opportunity to spread his wings.
Ryan Tannehill, Miami Dolphins (ADP: 161.2): Completed a respectable 58.3% of his passes as a rookie in 2012 and enters the 2013 campaign with a brand new arsenal that features wide receivers Mike Wallace, Brian Hartline and Brandon Gibson along with tight end Dustin Keller. Remember, head coach Joe Philbin was the offensive coordinator in Green Bay who helped to turn Aaron Rodgers from Brett Favre's backup into the league's most dangerous passer.
Sam Bradford, St. Louis Rams (ADP: 154.9): After three seasons it's time for Bradford to justify that ludicrous NFL rookie contract and first overall selection. And there's reason to believe it will happen after watching the Oklahoma standout post career highs in passing yards (3,702), touchdowns (21) and QB rating (82.6) during his first season under head coach Jeff Fisher. The running game in St. Louis looks a bit shaky at the moment, but Bradford will be able to lean on young wide receivers Chris Givens and Tavon Austin as well as offseason tight end acquisition Jared Cook.
RUNNING BACKS
David Wilson, New York Giants (ADP: 35.6): A case of fumble-itis derailed the first half of Wilson's 2012 rookie season, but the speedster from Virginia Tech rebounded late in the year to amass 256 rushing yards and three touchdowns on 47 carries (5.4 YPA) during the month of December. Ahmad Bradshaw is gone, but Wilson will still have to compete with 2009 draft pick Andre Brown for carries. Our money's on Wilson, as we believe the Giants spent a first round pick on this guy for a real good reason.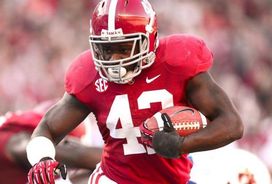 Lacy could be a touchdown machine in Green Bay's high scoring offense.
Eddie Lacy, Green Bay Packers (ADP: 46.1): Our bet is that Lacy will reach double-digit touchdowns with a couple of games left on the schedule. His power, pedigree and 230-pound frame give the Packers exactly what they need to jump-start a lackluster rushing attack.
Giovani Bernard, Cincinnati Bengals (ADP: 60.0): Patience is a virtue with Bernard, who will have to unseat former free agent acquisition BenJarvus Green-Ellis for the starting job in Cincinnati. But Bernard has the hands and quickness to contribute in a big way to the Cincinnati passing attack, which is why we believe the rookie from North Carolina's reps will increase as the season progresses. Quick-trigger owners are advised to stay away, as you might not like what you see during the first few games of the season.
Le'Veon Bell, Pittsburgh Steelers (ADP: 31.0): Few are talking about the 244-pound bruiser from Michigan State who could become a bell-cow back in the Pittsburgh offense this season. Good, because that's exactly how we like it. Bell ran roughshod over the Big Ten in 2012, amassing 1,844 rushing yards and 12 scores in 13 games for Sparty. Pittsburgh has been on the hunt for a reliable every-down ball-carrier over the last few seasons and could have found their man in the second round of April's draft.
Vick Ballard, Indianapolis Colts (ADP: 104.6): Worth a late-round flier due to Ahmad Bradshaw's bad feet and Donald Brown's overall ineffectiveness. The second-year back out of Mississippi State won't wow you with his speed and the big-time, gaudy performances will be few and far between, but Ballard comes at a cheap price and can provide nice depth as an RB4.
Lamar Miller, Miami Dolphins (ADP: 28.8): Hopefully that first down fumble in the Hall of Fame game sends some suitors running for the hills because the secret is out on Miller, who brings explosive speed and fresh legs to a Miami offense that upgraded in expensive fashion this offseason. Averaged 4.9 yards per carry as Reggie Bush's backup in 2012, but now inherits the starting gig and all the carries that come with it.
LaMichael James, San Francisco 49ers (ADP: 147.9): The show belongs to Frank Gore, so it's unreasonable to view James as a fantasy starter unless something happens to the 30-year-old 4-time Pro Bowler. But James is going to see an influx of touches this season and should something happen to the aforementioned Gore, the former Oregon product could become a regular in the infamous fantasy flex position.
WIDE RECEIVERS
Antonio Brown, Pittsburgh Steelers (ADP: 58.0): Has caught 135 passes for 1,895 yards and seven scores over his last 29 games with the Steelers and now becomes quarterback Ben Roethlisberger's top target due to the free agency departure of former home run threat Mike Wallace. There's no way Brown should be sliding all the way until the end of the sixth round.
Alshon Jeffery, Chicago Bears (ADP: 122.9): Will see an increase in stats across the board thanks to playing opposite pass-catching machine Brandon Marshall and the switch from the defensive-minded Lovie Smith to the offensive-minded Marc Trestman. Take note that quarterback Jay Cutler is entering a contract year, so don't be surprised if the Chicago signal-caller posts a fine stat line this season as well.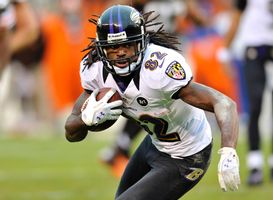 Despite being Joe Flacco's best and most reliable remaining weapon, Smith is receiving little love from owners this summer.
Torrey Smith, Baltimore Ravens (ADP: 56.0): Somebody has to catch the ball in Baltimore this season and with Anquan Boldin playing in San Francisco and Dennis Pitta down for the count, Smith will no doubt function as Joe Flacco's top target. So why is the soon-to-be third-year veteran out of Maryland falling all the way to the sixth round in mock drafts?
T.Y. Hilton, Indianapolis Colts (ADP: 81.4): Came out of nowhere to catch 50 passes for 861 yards and seven scores as a rookie playing with a first-year quarterback in 2012. Hilton already has five 100-yard games under his belt and should experience an uptick in production with quarterback Andrew Luck finding greater comfort playing at the NFL level in year 2.
DeAndre Hopkins, Houston Texans (ADP: 105.2): We've heard this story before: The Texans desperately need a No. 2 receiver to line up and produce opposite Andre Johnson and INSERT NAME HERE is going to benefit from more favorable coverage matchups as a result. To date, several players have tried and failed to fill the void, but Hopkins is probably the best of any that came before him. Caught 82 passes for 1,405 yards and a staggering 18 scores at Clemson last season, which is just one of the reasons Hopkins was viewed by many as the best receiver in this year's draft class.
Rueben Randle, New York Giants (ADP: 131.0): With starting receivers Hakeem Nicks and Victor Cruz nowhere near New York's offseason workout program, Randle capitalized on his increased reps in the Big Blue offense and drew rave reviews from offensive coordinator Kevin Gilbride. Currently the No. 3 wideout on the Giants depth chart, Randle could produce some quality numbers should something happen to either starter, especially when you consider the fact that Nicks has never played a full 16-game season in his four-year career.
Vincent Brown, San Diego Chargers (ADP: 110.7): Caught 19 passes for 329 yards (17.3 YPC) and two scores as a rookie in 2011 before missing the entire 2012 campaign with a broken ankle. But the upside here is that San Diego is somewhat depleted at the wide receiver position after Danario Alexander was lost for the year with a torn ACL. Throw in the fact that Robert Meachem has been a total bust since coming over from New Orleans and Malcom Floyd has only one full 16-game season under his belt in eight years and the door is open for Brown to emerge as one of Philip Rivers' top targets in 2013.
Chris Givens, St. Louis Rams (ADP: 144.4): First-round pick Tavon Austin will get all of the preseason attention, but it's the second-year Givens who brings the most value to the table this August. Caught 42 passes for 698 yards and three scores in 15 games as a rookie last season and has an edge over Austin when it comes to both timing and rapport with quarterback Sam Bradford.
TIGHT ENDS
Martellus Bennett, Chicago Bears (ADP: 128.8): There's going to come a time when Bennett finally realizes his potential and dammit, I'm not going to miss it. Posted a career-high stat line with the Giants last year (55-626-5) and was signed by the Bears this offseason as an additional weapon for quarterback Jay Cutler. Bennett is one of the most athletically gifted tight ends in the league, but he needs to work on his consistency and focus if he's ever going to become one of the league's best at the position.
Fred Davis, Washington Redskins (ADP: 141.1): Scored 12 touchdowns from 2009-2011 and posted a career-high 59 receptions for 796 yards in 2011 before playing in just seven games last season due to a torn Achilles tendon. But the 27-year-old is back, healthy and ready to make some noise with quarterback Robert Griffin III. Should be considered a TE2 until we witness some consistency.
Jordan Cameron, Cleveland Browns (ADP: 146.6): Limited to just 20 catches for 226 yards and one score in 14 games last season, but things are different in Cleveland this year with quarterback Brandon Weeden entering his second campaign and former San Diego head coach Norv Turner running the offense. Bonus: It's hard not to like Cameron's basketball background, as TE studs Tony Gonzalez, Antonio Gates and Jimmy Graham all played some hoops as well during their time in college.
DEFENSE/SPECIAL TEAMS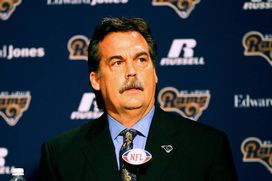 The St. Louis defense made a big turnaround in Fisher's first year on the job.
St. Louis Rams (ADP: 149.7): Take a look at what Jeff Fisher achieved in his first year at the controls in St. Louis:
2011: 358.4 yds/gm, 25.4 pts/gm, 18 forced turnovers, 39 sacks
2012: 342.6 yds/gm, 21.8 pts/gm, 21 forced turnovers, 52 sacks
Look for Fisher and the Rams to improve on those numbers once again in 2013.
Cleveland Browns (ADP: 164.5): Took a step back in 2012 after surrendering 363.8 yards per game compared to 332.4 yards per game the season prior, but spent the offseason addressing the issue by signing DE Desmond Bryant and OLB Paul Kruger as well as the expenditure of a top-ten pick on OLB Barkevious Mingo. Owners should view Cleveland as a D/ST2 with upside.
Hit me up on Twitter: @JoeFortenbaugh
What happens after 300 carries?
by Joe Fortenbaugh
July 24, 2013
In the ten years spanning from 2002-2011, there were 77 instances in which an NFL running back amassed 300 or more carries in a season. If we eliminate Ricky Williams' 2003 campaign and Tiki Barber's 2006 effort (both of whom retired the following season), we are left with a sample size of 75. And out of those 75 instances in which a running back recorded 300 or more carries in a season, 55 (73.3%) went on to score fewer fantasy points the following year (complete list located at the end of this article).
That percentage appears extremely daunting for the five players who will enter 2013 coming off a 300+ carry season, but it certainly doesn't spell doom for the fantasy owners who decide to pull the trigger on any of those five names come draft day. To get a better understanding of what that percentage is telling us, we must first establish: A) What constitutes a legitimate regression and B) What the key factors are that contribute to said legitimate regression.
We'll get to all of that in a minute. For the moment, let's take a look at the five running backs who recorded 300 or more carries in 2012:
Arian Foster, Houston Texans (351 attempts): Since taking the league by storm in 2010, no player has amassed more carries (956) than Foster, who led all running backs in rushing attempts last season. Ranked sixth in the NFL in rushing yards in 2012 (1,424), but posted a career-low 4.1 yards per carry average.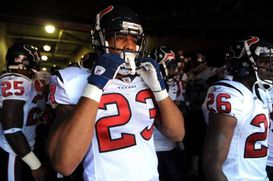 Since 2010, no NFL running back has carried the football more times than Houston's Arian Foster.
Adrian Peterson, Minnesota Vikings (348 attempts): All Day's 2012 MVP campaign showed the world that on the evolutionary ladder, the Minnesota running back falls somewhere between human beings and the X-Men. Fell just nine yards shy of Eric Dickerson's single-season rushing record while carrying the Vikings on his back to a ten-win season and trip to the playoffs.
Alfred Morris, Washington Redskins (335 attempts): Finished second to Peterson in rushing yards last year (1,613) despite his status as a rookie sixth-round selection out of Florida Atlantic. Averaged 4.8 yards per carry in his professional debut en route to fifth-place finish in fantasy scoring at the running back position.
Doug Martin, Tampa Bay Buccaneers (319 attempts): Immediately justified his selection in the first round of the 2012 draft by seizing control of the starting job and never looking back. Martin's contributions in the Tampa passing attack (49-472-1) led to a rookie season that resulted in 1,926 total yards from scrimmage, which ranked third in the league behind Peterson and Detroit's Calvin Johnson.
Marshawn Lynch, Seattle Seahawks (315 attempts): Has become one of the league's premier workhorse ball-carries since his arrival in Seattle three years ago. Averaged a career-high 5.0 yards per attempt last season (fourth in NFL among running backs) on his way to a top-four fantasy finish.
In standard scoring formats, each of those five players completed the 2012 season ranked in the top-5 in fantasy scoring at the running back position. But does that mean we can count on each of them to enjoy a similar level of success in 2013?
Here's what every running back who amassed 300 or more carries over the last ten years was up against the following season:
ELIMINATION
The first item of business we need to establish is what constitutes a regression, as it would be inaccurate to weight Priest Holmes' 2-point regression from 2002 to 2003 the same as Chris Johnson's 116-point regression from 2009 to 2010. For this study we're going to define a true regression as a drop-off of 50 or more fantasy points from one year to the next. 50 fantasy points is the approximate equivalent of 500 rushing yards, eight touchdowns or a combination of the two (ex: 250 rushing yards and four touchdowns). 50 points also signifies the difference between a fifth-place fantasy finish and an 11th-place fantasy finish in 2012 (difference of fifth place and 17th place in 2011, fifth place and 15th place in 2010).
Once again eliminating Ricky Williams and Tiki Barber, we have a total of 75 running backs who amassed 300 or more carries in a season sometime between 2002 and 2011. 55 of those running backs (73.3%) experienced a regression in fantasy points the following season, with 40 (53.3%) of those players suffering a drop-off of at least 50 fantasy points. What those statistics also tell us is that only 20 running backs in our case study (26.6%) came back the following season to post even bigger numbers than the year before.
Take another look at that last paragraph. More than half of the running backs who carried the ball 300 or more times in a season from 2002-2011 returned the following year to record at least 50 fewer fantasy points. That's a big percentage and an even bigger drop in production and it also means that at least two of our five running back candidates entering 2013 will, on average, fall victim to the same trend.
How did it happen?
INJURIES, SUSPENSIONS, ETC.
Ruptured Achilles tendons, blown-out knees, broken feet and bad backs. Nobody said it would be easy to sustain 300+ violent collisions over the course of a brutal 16-game season and then come back the following year to do it at a high level all over again.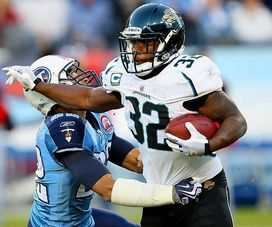 MJD appeared in just six games last season after carrying the ball 343 times in 2011.
To nobody's surprise, injuries are the No. 1 reason why so many 300+ carry running backs fail to sustain consistent production from one year to the next. Of the 55 running backs who experienced a decrease in fantasy scoring following their 300+ carry season, 35 (63.6%) played in fewer games the following year, with 19 (34.5%) missing three or more contests.
Of the 40 running backs who saw their fantasy production drop by 50 or more points following their 300+ carry season, 21 (52.5%) appeared in fewer games the next year while 19 (47.5%) played in at least three less matchups.
This information tells us two things. First, 19 running backs who carried the ball 300+ times from 2002-2011 came back the next season to play in the same amount or more games than the year before and still suffered a regression of 50 or more fantasy points. Second, this information indicates that, on average, we can expect at least two of the five aforementioned running backs entering the 2013 season to miss at least some time due to either an injury, suspension or some other reason (37 of the 75 running backs in this study appeared in fewer games the year after carrying the ball 300+ times).
The candidates: Morris and Martin both appeared in all 16 games during their rookie seasons. Peterson has appeared in 89 of a possible 96 regular season games since entering the league in 2007. Foster missed three games due to injury in 2011. Lynch has appeared in 88 of a possible 96 regular season matchups since entering the league in 2007.
AGE/WEAR & TEAR ON THE BODY
Father Time eventually catches up with all of us, but he appears to have a fondness for NFL running backs, who have arguably the shortest shelf life of any position in all of professional sports.
The 55 running backs who experienced a decrease in production following their 300+ carry season entered the next year with an average age of 27.09. That number raises slightly to 27.3 years of age for those who saw their production regress by 50 or more points following their 300+ carry season.
As for the 20 running backs who scored more fantasy points in the year after their 300+ carry campaign, the average age entering the next season for those players checks in at 26.6 years of age, with nine of those 20 ball-carriers beginning the season at 26 years of age or younger.
The candidates: Peterson turned 28 in March, Lynch turned 27 in April, Foster turns 26 in August, Morris turns 25 in December, Martin turns 25 next January.
NEW TEAM/NEW COMPETITION/DOWNGRADED SUPPORTING CAST
The ultimate team sport, football requires 11 members of the same unit to work in unison in order to move the rock down the field. LeBron James can drop 50 points simply by taking a large percentage of his offense's shots, while Miguel Cabrera needs exactly zero assistance from his teammates in order to go yard. But the same cannot be said about NFL running backs, who are dependent upon both blocking and an offense that can successfully throw the football in order to open up running lanes underneath. Three straight incompletions and you're headed for the sidelines.
While there's simply not enough space here to detail all of the transactions that have had an effect on the 55 running backs who suffered a drop in production following their 300+ carry season, here are a few noteworthy examples: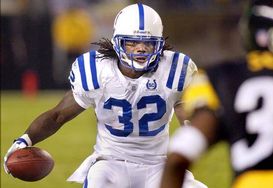 Edgerrin James experienced significant regressions when he left Indy for Arizona and Arizona for Seattle.
1. Four of the five players who changed teams following their 300+ carry season suffered a regression of at least 50 fantasy points the following year. Thomas Jones (2009-2010) signed with Kansas City where he had to compete for touches with Pro Bowler Jamaal Charles. Edgerrin James was 30-years-old when he departed Arizona for Seattle in 2008 and had to deal with the transition from Peyton Manning to Matt Leinart when he signed with Arizona in 2006. Eddie George was 31-years-old, worn down and competing with Julius Jones when he landed in Dallas in 2004. That leaves us with Jamal Lewis, who experienced an uptick in production when he left Baltimore for Cleveland in 2007. Take note that 2007 was the only time in the last ten years that the Browns posted a winning record during the regular season.
2. Tiki Barber suffered an 81-point drop in fantasy production from 2002-2003 despite averaging 4.4 yards per carry, rushing for 1,677 yards and staying healthy for the full 16-game slate. But you'll notice that the team around him performed at a much different level from one year to the next. In 2002, the Giants went 10-6 and averaged 20.0 points per game. In 2003, New York went 4-12, averaging only 15.2 points per game.
3. In 2006, Frank Gore ran for a career-high 1,695 yards en route to the greatest fantasy output (250 points) of his eight NFL campaigns. But 2006 was the only season in which Gore averaged over 19 rushing attempts per game (19.5). San Francisco opted to scale back the workload for the Miami product and Gore went on to average 18 carries or more per game just one time (2010) over the next six seasons.
Personnel, team and scheme changes are just a few of the additional reasons why NFL running backs have had trouble sustaining a high level of production following a 300+ carry season. Fortunately, our five candidates who fit the mold entering 2013 won't have to deal with as many adjustments.
The candidates: All five candidates return to the same team in 2013. Morris will have to contend with opposing defenses that spent the offseason learning how to defend the read-option. Lynch could experience a slight decrease in carries thanks to a more prolific passing attack under second year quarterback Russell Wilson. Martin's offensive line remains largely intact, with former Chicago Bear Gabe Carimi now manning the right tackle position. The effects of 956 carries over the last three seasons will eventually catch up to Foster, who could lose a bigger percentage of rushing attempts this season to backup Ben Tate. Peterson will once again be the focal point for opposing defenses, but that's nothing new.
Adrian Peterson, Arian Foster, Marshawn Lynch, Alfred Morris and Doug Martin are five names that hover at the top of every fantasy prognosticator's rankings entering the 2013 season. But is that due in large part to past performance or future potential? We've seen each of these five running backs slash and gash the opposition on a weekly basis, but recent history has shown us that at least two of these players will suffer a significant regression in fantasy production this season.
Oh, and just one last note: Of the 75 running backs who carried the football 300 or more times from 2002-2011, only two (Willie Parker & Corey Dillon) went on to win the Super Bowl the following season.
Hit me up on Twitter: @JoeFortenbaugh
YPC: Yards per carry
FP: Fantasy points

The rules
by Joe Fortenbaugh
July 19, 2013
The group text messages have been draining my cell phone battery with greater frequency over the past few days. Sporadic at first, the volume has increased like a 4:00am infomercial that abruptly wakes a passed-out soul content to a night spent unconscious on the couch. The suggestions (demands?) for dates, times and rule changes have been the primary topic of discussion, as the tyrannical fantasy football commissioners I have chosen to play under for the last decade attempt to get organized.
Draft season is upon us.
Editor's note: Ed, if you're reading this, I absolutely refuse to switch leagues this season. We've spent the last decade playing with the same format at the same location. It's not our fault that you're too damn lazy to get the early bird discount.
Indulge me for a moment as I share with you an example of how not to schedule a fantasy football draft. I hate group text messages almost as much as I hate 55 mile-per-hour drivers in the left hand lane. They veer of topic almost instantaneously, confining half of the unlucky recipients to cellular purgatory. Good luck trying to conduct a professional phone call with a cell that keeps vibrating crucial information such as the defending champion's recent weight gain.
In an effort to eliminate this nuisance from a summer spent managing the latest of several sunburns, I always agree to the first date and time offered. Living thousands of miles from the majority of leagues in which I play, virtually all of my drafts are conducted over the phone or computer. My rationale is that I'll find a way to make any date and time work just so long as it gets me off that damn group message.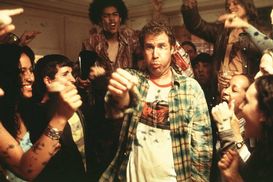 This approach has had several drawbacks over the last few years. In 2012 I conducted a three-hour draft from the LVH sports book because I didn't have enough time to race home from a bet I had just placed (it lost). Two years ago I put my Old Man behind the wheel of our Las Vegas-bound automobile in Iowa while I rode shotgun, orchestrating two drafts simultaneously. This was both uncomfortable and frustrating to say the least, but it reinforced the priceless concept of preparation, as Hannibal Smith's signature line, "I love it when a plan comes together" rattled around my half-empty dome.
The moral of the story is that I don't want you to be like me. Put the time into getting the perfect draft date set up and be willing to compromise with the other knuckleheads you call friends. As people get older they tend to lose touch, even if the marvels of twitter, facebook and FaceTime allow us the opportunity to stay connected more so than ever before. Draft day is special. It opens a four+ hour window of sloth, allowing every member of the league to forget his or her responsibilities for the time being while reverting back to their high school/college degenerate self.
Embrace the chaos. And follow these rules to make the most out of the big day.
Rule No. 1: Sacrifice whatever is necessary for the best possible date
Why: Friday night and Saturday afternoon/evening are the optimal options. You absolutely do not want a day at the office on the schedule for the following morning. Weekday drafts come complete with shackles, as owners limit the booze intake while keeping a close eye on the time. This is unacceptable. What you're striving for here is freedom. Freedom to stay up late, freedom to drink yourself stupid, freedom away from the wife and kids. You can cut the lawn on Sunday or when you get home from work on Monday. Fantasy drafts happen once a year. Give them the respect they deserve with proper scheduling.
Rule No. 2: Everybody brings something
Why: This isn't high school, when it was just as permissible to show up empty handed as it was to crash the party in general. You want this shindig stocked from top to bottom with food (ribs, steak, sausage, burgers…you get the idea) beverages and munchies. Gluttonous behavior is to be encouraged, not shunned. Embrace the team concept on this one, as it will be the last time that day that you attempt to help anybody but yourself.
Rule No. 3: Provide ancillary entertainment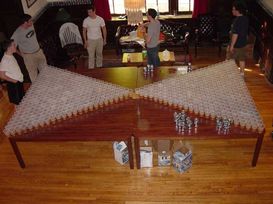 This is how fantasy championships are won.
Why: If the first thought that came to your mind was, "hire strippers," then I applaud you, good sir, for you know not the boundaries of decorum. But the hiring of exotic dancers for a fantasy football draft party may be a bit much for some, so it's necessary to suggest some less jiggly alternatives. I recommend a beer pong tournament, although cornhole and pool meet Rule No. 3's requirements as well. Remember, this is a party with a purpose, not an errand with a time limit. Go big or go home.
Rule No. 4: Leave the significant others and kids at home
Why: I don't want to watch my language, my alcohol intake or my attitude. For this one day a year, I do not want to set an example. I want to get inside everybody else's head and mess with their draft strategies. I want to remind the multiple deadbeats who still owe me money from last season's second-place finish that they are, in fact, deadbeats. I want to make them feel lousy about that, too. What I don't want is to watch moms changing diapers, hear girlfriends tell their boyfriends to "slow down" or listen to anything that pertains to weddings, honeymoons or interior decorating. Save that garbage for Couple's Pictionary Night. That check I gave you for your wedding cashed, right? You sent me a thank you note, didn't you? Good. We're done here.
--Rule No. 4 (b): If for some bullshit reason it is absolutely necessary to bring the Mrs., I don't want to hear her thoughts on which players I should be drafting. It is not ok for girlfriends from Buffalo to tell boyfriends from Philadelphia that, "You should draft more Bills players because they are going to have a good year (Sorry, Niki)." This is not my first rodeo. I know damn well that the Bills stink, but I'm exercising restraint by not saying that to your face.
Rule No. 5: Establish an "On the Clock" rule and stick to it
Why: While I absolutely want to enjoy myself at this party for as long as possible, I do not want to watch you sweat nacho cheese for 11 minutes while debating the pros and cons of Andre Johnson vs. Larry Fitzgerald. On average, fantasy owners have anywhere from 10 to 20 minutes in between each selection. Spend that time wisely. Nobody says you can't take a leak or grab another cold one, but dedicate at least a few minutes of that precious time updating your draft board and crossing off the names that have already been chosen. There's absolutely no reason why mass hysteria should break out because the player you wanted was grabbed one spot before you hit the clock. Have a Plan B on deck in the event that happens, so we don't have to watch your greasy hands fumbling around with the 46 printed sheets of rankings you brought to the party.
I suggest a clock limit of one minute, but I'm an impatient bastard. Two or three minutes, however, is plenty of time to make a selection. Fail to pull the trigger in the allotted time and the next man's up. Sorry, we aren't your parents. You're a big boy tasked with making big boy decisions.
Rule No. 6: Engage in post-draft reflection
Why: The selection process has reached its inevitable conclusion and the entire league is half in the bag. Gather everybody around the draft board for a final beer (or four) and proceed to berate each other for everything from individual selection mistakes to entire roster backfires. Message boards exist in fantasy football leagues to encourage trash talking, but the vitriol shouldn't be limited to in-season internet postings. Face to face slander is even more enjoyable and there's no better time to engage in this male bonding ritual than immediately after the draft.
Rule No. 7: Don't drive home drunk
Why: This one speaks for itself and should never be an issue. After all, if you followed Rule No. 4, then you've got a sober wife or girlfriend at home who can come scoop your drunk ass up and get you back to the casa safely.
Rule No. 8: Apologize to your significant other for getting too drunk at the draft party
Why: Also self-explanatory.
Hit me up on Twitter: @JoeFortenbaugh
Fantasy Scoring Systems
by Joe Fortenbaugh
July 17, 2011
Every fantasy football league is different.
And because of that, every fantasy league has a multitude of scoring options to choose from to determine the outcome of their league's weekly matchups. The purpose of this chart is to educate our readers on three of the most popular scoring systems employed by fantasy leagues across the Internet.