NFP Mobile Reader for BlackBerry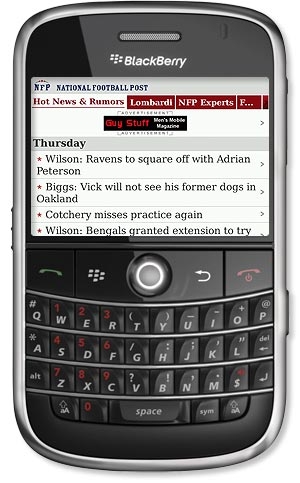 National Football Post is a distinctive forum where news, information, and insight come together through the voices of professional football insiders.
Get all the latest NFL Hot News and Rumors and columns from your favorite NFP contributors like Andrew Brandt, Matt Bowen, Joe Fortenbaugh, Wes Bunting, The Daily Jolt and more.
FEATURES
NFL Hot News and Rumors
Fantasy Football
Scouting Report
News from your favorite NFL Team
FAQS FOR THE BLACKBERRY
Installing Questions
Q: How do I install the NFP Mobile App?
A: Download the application directly from the Handmark App Store or the Blackberry App World. Just search "National Football Post."
Q: What phones are supported by the NFP Mobile App?
A: Supported Devices include:
Blackberry

BlackBerry 72xx Series
Blackberry 71xx Series
BlackBerry 81xx Series (Pearl)
BlackBerry 82xx Series
BlackBerry 83xx Series (Curve)
BlackBerry 88xx Series
BlackBerry 87xx Series
Blackberry 8900 (Curve)
Blackberry 9000 (Bold)
Blackberry 95xx Series (Storm)

Q: I've installed the Mobile App, now how can I find it again?
A: The placement of the "NFP" icon for the mobile App can vary: some phones place it in the "Games" menu, some place it in the "Games & Apps" menu and others place it in the "Applications" or "Downloads" menu. Some phones ask you during install where you would like to place it. Once you have the application downloaded to your phone you can choose to move your NFP application to your main desktop by clicking on the Blackberry menu button.
Q: Why do I get a "406 error" on the installation page?
A: Your company may have BlackBerry® Enterprise Server (BES) installed that restricts installation of third party applications.
How to use and customize your NFP Mobile App
Q: Why can't I find full stories I downloaded?
A: The full story was deleted from your device to make room for newer articles. To view the deleted story again, click "Full Story." To increase your cache size, go to "settings" -> "Cache" -> "Maximum" -> "Full story data stored"
Q: What does "Send" do?
A: Send allows you to share articles with your friends and colleagues. You can access your contacts, send an article to yourself, or enter an email address.
The following options are available:

Myself - Allows you to send an email to yourself.
Contact - Send from the contact list.
Blackberry Email – Allows you to send to blackberry emails.
Email - Allows you to send an email about an article using a regular email address.

Q: What does "Full Story" do?
A: Full Story allows you to download the full story for viewing either online or without a wireless connection.
How do I enter in my account information to use Facebook, Twitter and Delicious?
A: From the headlines view of the application click the Blackberry menu button and select the "settings" option. From there select the account you would like to add your information to and enter in your username and password. This will allow you to post stories you enjoy.
Q: How can I make the text bigger?
A: NFP Mobile App supports a variety of font sizes. These can be changed via the Settings -> Screen font.
Q: Can I download multiple articles at a time?
A: You can download 10 stories at a time by going to Refresh Articles -> Get 10 full stories.
Q: How can I add a new feed to my "My Feeds" Tab?
A: Perform the following steps:

Select the "My Feeds" tab.
Select one of the following menu items:



Add from URL
If you have a specific feed you'd like to add simply type in the url and feed name.
Add from search
Search for a feed using a keyword. This searches over 50,000 feeds on our server for the specified keyword and returns a list of the first 30 matches. You simply select the feeds that interest you.
Add weather
This allows you to enter a zip code for a US city and receive weather updates


Save your changes by selecting the "save changes" button. The phone will connect with the server and download the articles for your new feeds.
Technical Support
Q: How do I keep my backlight on when reading an article?
A: On your device go to "Settings", than select the backlight icon. Here you can set the length of time to leave the backlight on when your device is not in use. Remember that the longer the backlight stays on, the sooner you will need to charge your device's battery.
Q: What are the WAP Gateway settings for in the Personal version?
A: If you use your BlackBerry® outside of a company, then you must rely on your cell phone carrier's WAP gateway instead. In order for NFP Mobile App to work correctly, you must choose your carrier from the list provided in the application. If you can't find your carrier listed, then you need to select "Other" and enter your gateway information you received from your carrier. If you need a username to authenticate, then you can enter that as well.

Here is a list of carriers and their settings. If you do use a carrier setting that's not in the application, let us know in the forum and we'll add it in the next version.
Q: Why do I get a 502 error?
A: By default a WAP gateway and the BlackBerry® Enterprise Server (BES) limit the amount of data that can be downloaded in one request to 128K bytes (about 400 articles). During an Update, if the phone requests more than this amount, then you will sometimes get this error. You can change the maximum number of articles downloaded for feeds or turn off downloading logos to get the size under 128k. This can be done via "Settings -> Download" on the phone. Tip: If you use a BlackBerry® Enterprise Server, this value can be increased (assuming you can influence an Administrator to change it on your behalf!)
Q: Why do I get the following Error message: "Communication error: java.io.IOException"?
A: You may receive this error if your phone doesn't have a valid Internet connection. Please call your carrier to confirm that you have a data plan.
Q: Why do I get an error message and what do I do when it happens?
A: You may receive communication errors while using the service when your device has limited or no connectivity to the data network. To resolve this issue, change your location.
Q: How can I restart fresh and download all my feeds and articles again?
A: This removes all data from the phone and allows you to pull all of your articles fresh from the server. Perform the following steps:

Select the "Settings" menu within the application.
Select "Reset all data."
Answer "Yes" to the prompt.
Select the "Update" menu to start the article download.

Tip: Your account information or settings will not be erased by doing this.
For more information about using NFP Mobile, click here. Use the "Advanced Search" to navigate to NFP "Mobile App", then select your mobile platform.