NFP Mobile Reader for iPhone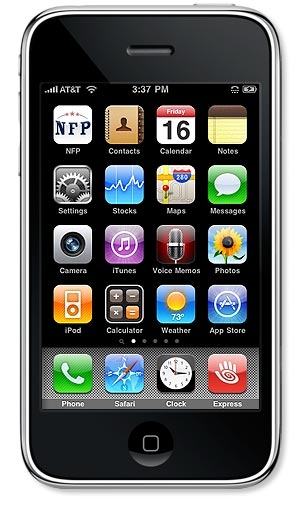 National Football Post is a distinctive forum where news, information, and insight come together through the voices of professional football insiders. Get all the latest NFL Hot News and Rumors and columns from your favorite NFP contributors like Andrew Brandt, Matt Bowen, Joe Fortenbaugh, Wes Bunting, The Daily Jolt and more.
FEATURES
Hot News and Rumors
NFP Experts
Fantasy News
Team News
Scouting Department
Daily Jolt
FAQS FOR THE iPHONE
Installing Questions
Q: How do I install the NFP Mobile App?
A: Download the application directly from the Handmark App Store or the iTunes App Store. Just search "National Football Post."
Q: What devices are supported by the NFP Mobile App?
A: Supported devices include:
Q: What does "Full Story" do?
A: Full Story allows you to download the full story for viewing either online or without a wireless connection.
Q: How do I enter in my account information to use Facebook, Twitter and Delicious?
A: From the headlines view of the application click the lower right hand corner on the settings icon. From there select the account you would like to add your information to and enter in your username and password. This will allow you to post stories you enjoy.
How to use and customize your NFP Mobile App
Q: Why can't I find full stories I downloaded?
A: The full story was deleted from your device to make room for newer articles. To view the deleted story again, click "Full Story." To increase your cache size, go to "settings" -> "Cache" -> "Maximum" -> "Full story data stored"
Q: What does "Email Story" do?
A: Email Story allows you to share articles with your friends and colleagues. You can access your contacts, or enter an email address.
Q: I've installed the Mobile App, now how can I find it again?
A: A new icon for the NFP mobile app will appear on your iphone or itouch desktop.
Technical support
Q: Why do I get the following Error message: "Communication error: java.io.IOException"?
A: You may receive this error if your phone doesn't have a valid Internet connection. Please call your carrier to confirm that you have a data plan.
Q: Why do I get an error message and what do I do when it happens?
A: You may receive communication errors while using the service when your device has limited or no connectivity to the data network. To resolve this issue, change your location.
For more information about using NFP Mobile, click here. Use the "Advanced Search" to navigate to NFP "Mobile App", then select your mobile platform.