2014 Big Ten Media Days notebook
by Dave Miller
July 29, 02014
Print This
CHICAGO — The Big Ten held its annual Media Days event on Monday and Tuesday at the Hilton Chicago.
Here are some news, notes and thoughts from the two-day gathering of coaches and players.
— Purdue head coach Darrell Hazell danced around the question of what his realistic expectations are for the new season, stating that he just wants his team ready to compete in Week 1. The Boilermakers were 0-8 in conference play last season, but the second-year head coach said his players are more confident and the program has made "significant strides" from year one to year two heading into the new campaign. Hazell isn't going anywhere, but progress needs to be made in West Lafayette.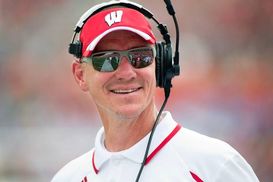 US PRESSWIREGary Andersen and the Badgers will face LSU in their season opener.
— There's no doubt that Wisconsin has a chance to be highly ranked by the end of the season because of the team's less-than-daunting schedule, which head coach Gary Andersen stated is "very challenging." Well, the truth is that it's not really difficult. The Badgers have a tough challenge in Week 1 in Texas against LSU, but the rest of the slate is very manageable even with a rebuilt front seven and questions at quarterback, where Joel Stave and Tanner McEvoy will initially split the reps at QB in camp. Andersen has put "no timeline" on naming a starter. While I believe Stave would start if the season began today, McEvoy is the dual-threat who could diversify the offense a bit more.
— Wisconsin is not the only team that has a manageable slate, as Iowa has a chance to enter November unscathed if it can get past Iowa State and Pittsburgh in nonconference play. If the Hawkeyes get good enough quarterback play, which is the question in Madison as well, the Big Ten could have a nice national presence by the end of the year. Hawkeyes head coach Kirk Ferentz said Jake Rudock has more confidence and has all of the intangibles to be a successful quarterback.
— Illinois head coach Tim Beckman said that former top in-state recruit Aaron Bailey will remain at quarterback and not switch positions. Oklahoma State transfer Wes Lunt is going to be the starter in Week 1 despite not having officially won the job yet, but Bailey has a bright future. Will he line up at various spots this fall if Lunt is the starter under center? On defense, eighteen of 22 defenders from last year's two-deep are back this year. Is that a good or a bad thing? Beckman said tremendous strides need to occur on that side of the ball.
— Michigan head coach Brady Hoke said new coordinator Doug Nussmeier has done a tremendous job since his arrival, and the team's offense will tell the tale of whether the Wolverines can once again be a Big Ten contender. "The only pressure is every day preparing those guys for life after football," Hoke said, when asked if he is feeling the heat entering the new season.
— Rutgers head coach Kyle Flood said he believes the school's affiliation with its new conference will be a "tremendous marriage," and he noted that the recruiting footprint for the program has expanded a bit since the news of the move to the Big Ten. Maryland head man Randy Edsall echoed the recruiting sentiments of Flood. But will either the Scarlet Knights or Terps be able to compete immediately in the tough East division? Flood said QB Gary Nova has really taken to what new OC Ralph Friedgen is teaching. Consistency has been Nova's biggest issue throughout his career. Meanwhile, the Terps have one of the nation's most exciting players in receiver Stefon Diggs, who caught 34 passes for 587 yards and three touchdowns before his injury last season.
— Ohio State head coach Urban Meyer said star dual-threat QB Braxton Miller is in the best shape of his life, and Miller later confirmed those words to reporters. Miller has been banged-up a lot in the past, so the Heisman Trophy contender should be the most prepared he's ever been to carry a lot of the load in Meyer's Power Spread scheme. Also keep an eye on Dontre Wilson, whom Meyer said will be an "impact guy" in a lot of ways. There has been a lot of offseason buzz for the talented hybrid athlete. Defensively, Meyer praised the work of Chris Ash, whose priority as new DC has been fixing the pass defense woes from last year.
— Michigan State head coach Mark Dantonio on what keeps the fire burning in the rivalry with the Wolverines: "I continue to live in Michigan. That ought to do it." Okay then. Meanwhile, expect the Spartans to have another dynamite season despite some key losses on defense. They still have Pat Narduzzi running that unit, and he's one of the top coordinators in the country.
— Nebraska head coach Bo Pelini, when discussing his sometimes demonstrative nature on the sideline: "I'm not that intense, competitive animal all the time." He said he's laid back off the field and trying to show that more on the sideline. Yeah, I don't buy it either. But I am buying the Huskers' defense, which should be consistent and strong enough to help Pelini get past his four-loss hex in Lincoln.
— James Franklin is going to own State College. He also inherited a quarterback in sophomore Christian Hackenberg, who could ultimately be the top overall pick in a future NFL Draft. Franklin said he's impressed by Hackenberg's hunger to learn and his humility, but the focus is on developing help around him.
And...
In regards to Bob Bowlsby's comments at Big 12 Media Days, Big Ten commissioner Jim Delany said that the major five conferences need to get together over the next year to eighteen months to achieve a new model for compliance and enforcement. Delany also said that he expects autonomy to pass in August and believes the desires of the major conferences will be met ... Northwestern head coach Pat Fitzgerald compared QB Trevor Siemian's personality to that of country music star Luke Bryan (laid-back if you're not familiar with the country music scene) ... Minnesota head coach Jerry Kill said he's well aware of the team's losing streak to Wisconsin ... Indiana head coach Kevin Wilson believes the Hoosiers will be "significantly better" on defense this fall.
Dave Miller, the college football editor for the National Football Post, is on Twitter @Miller_Dave.