While inquiring Ron Rivera about the obvious, you won't always get the obvious answer. The other day at the Carolina Panthers training camp in Spartanburg, S.C. Rivera had just admitted that his expectations for his very young team may have been too high. Or perhaps that was a clever message to a young team that underachieved in its preseason opener last Saturday. Rivera just might be a thinking man's coach. His quarterback just might be a thinking man.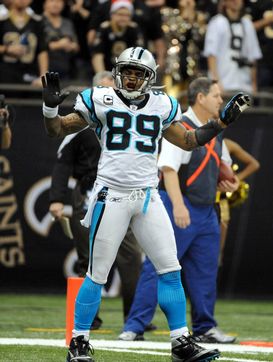 US PRESSWIREPanthers WR Steve Smith.
I asked Rivera bout his expectations for Cam Newton. A light shone behind his sunglasses and Rivera sat up in his chair. "Cam came to me this winter and said "I really don't want to go through that sophomore slump." Rivera's shrug and truncated response suggested that because this was Newton's answer, this was Rivera's answer as well. Then he added the obvious rejoinder. "He's doing all the things he can to avoid that," said Rivera.
Things that might seem obvious at Panthers camp aren't so obvious. You'd expect an offense that runs the zone read to practice the zone read. And that's what the Panthers do. But you don't expect Newton, when he keeps the ball, to run forty yards downfield the way running backs are encouraged to do. If he does that then the offense has to wait for the quarterback to return to the huddle before they can run the next play. But that's what they do, as Newton, after every energetic jaunt, jogs back to the huddle and somewhat breathlessly calls the next play.
Newton's youthful exuberance and potential permeate this camp. More on Newton tomorrow…
While the Saints are still the best team in the division, the Panthers are a year away from excellence. When they get there, one guy will already know the terrain. That's because he's never left. He's been a constant since 2001 and his spirit is consistent with today's fervor.
Steve Smith hasn't changed.
Individual period for the receivers begins with each of them sprinting round a big plastic hoop. Each guy hugs the turn and allows centrifugal force to propel him to the end, where he accelerates towards the quarterback and completes the exercise by looking the ball in and huffing it to the finish line.
Smith leads each repetition with his characteristic effortless scoot. His upper body is completely at rest while his lower extremities churn—sort of like a Segway at its highest concentration. Or the Roadrunner. It helps if the image is animated.
That's because Steve Smith is animated. Pretty much all the time.
During the team period, Smith faces press coverage from rookie cornerback, Josh Norman. Like any rookie, Norman is eager to impress and like any rookie he isn't fully aware of the possible repercussions. Norman is already committed to punching Smith in the chest when Smith releases hard inside.
The result is Norman landing a blow to Smith's earhole. After finishing his route, Smith in one gesture, rips off his helmet, tosses a glare in Norman's direction, and offers a muted, yet sincere expletive.
He seems on the verge of a scrap. Then again Steve Smith always seems to be on the verge of a scrap. His carriage suggests that: chest out, shoulders back, chin jutting forward, and an ambling gait full of swagger. Perhaps that's why when Smith smiles at a six year old boy and his mom standing on the sideline, they smile back, warily at first. Of course it could be the beard that Smith wears these days. It's in the early stages of growth, not yet in the James Harden area code, but more like Isaac Hayes, circa 1973.
There's a heat that emanates from Smith—in every game, practice, or drill. It's palpable. What's not so apparent is the fact he's 33 and has been at this for twelve years. Yet his preparation and intensity haven't waned. Rivera admitted last year that talking to Smith about job related issues can be "touchy" at times. But he also says Smith practices harder than most players he has on the roster.
That much is obvious.
Alan Grant was a four-year starter and all-conference player for Stanford University. Grant played five years in the National Football League with the Indianapolis Colts, San Francisco Forty Niners, Cincinnati Bengals, and Washington Redskins. He has written for ESPN the Magazine and The Postgame, and appears frequently on radio and television.