A look ahead to the 2014 NFL Draft.
by Russ Lande
January 02, 02013
Print This
With the NFL playoffs about to kickoff and the All Star junket beginning in a week most of the focus is on the upcoming 2013 NFL Draft. However, while watching the Outback Bowl where Michigan battled South Carolina, I could not help thinking ahead to the 2014 NFL Draft. Although Michigan offensive tackle Taylor Lewan is expected to declare for the 2013 Draft, South Carolina defensive end Jadeveon Clowney is a true sophomore who is not eligible to enter this year's draft.
After the 2013 Draft is in the books and the attention turns to the 2014 Draft, you can be sure that Jadeveon Clowney and USC receiver Marquise Lee will be atop the preliminary 2014 Draft boards. Over the last twenty seasons NFL offenses have developed into pass first units that must excel throwing the ball in order to win, which has increased the value of pass rushers and receivers higher than it ever has been. While Clowney still has some things he needs to work on, he is the premier defensive prospect in the country and likely would have been the first overall pick in the 2013 Draft if he had been eligible to enter it.
At 6-6 Clowney has the height NFL teams love and with long arms he can bat down passes and disrupt passing lanes. Blessed with rare explosiveness off the ball, Clowney has shown the ability to easily beat offensive tackles to the turn point and then can dip shoulder to turn corner fast and explodes to the quarterback to finish the play. He is not however just a "one trick pony" as he consistently has shown the ability to change directions in a flash to beat the pass blocker with a quick burst back underneath. With long arms and excellent foot/hand quickness, he makes it look easy beating blocker with a variety of pass rush moves. While he flashes explosive strength, he is not a dominant power rusher and can be stopped by pass blockers who get their hands on him first. As Georgia defensive end Jarvis Jones and Texas A&M defensive end Damontre Moore are expected to be first round picks in April, Clowney is a significantly better prospect than both with the potential to be a game changing defensive player in the NFL. If he stays healthy during the 2013 college season, you can expect to hear Clowney's name called very early in the 2014 NFL Draft. Even though pass rushers are the most valuable players other than quarterbacks, receivers who can change games are just a shade below them and Marquise Lee fits that mold.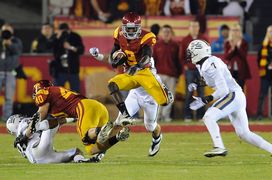 US PRESSWIREUSC WR Marquise Lee runs with the ball after the catch against UCLA.
Prior to the 2011 season all the talk at USC centered around receiver Robert Woods who was coming off a great freshmen season in 2010 and was expected to be USC's go to star receiver for the rest of his college career. However, things changed quickly when Lee exploded onto the scene as a true freshman in 2011 and almost immediately became USC's most dangerous receiver and offensive weapon. Although he lacks the great height of many of the premier receivers in the NFL like Calvin Johnson and A.J. Green, he has enough size at 6-0, good strength and elite speed to be game changing receiver when he gets to the NFL. Blessed with rare hands, Lee has consistently shown the ability to make high-lite reel catches. He makes it look easy twisting and adjusting to off-target throws and is able to get started up the field in a flash after the catch. Once Lee has the ball in his hands he has the elusiveness to make tacklers miss, the strength and balance to break tackles to gain yards after contact and the elite speed to out-run angles to score long touchdowns. Although he lacks A.J. Green's size, that is the NFL receiver that Lee reminds me most of and that is why Lee will be the first receiver drafted in the 2014 Draft and a likely top three pick.
There will no doubt be other elite players who make a name for themselves during the 2013 college football season to warrant consideration as the number one overall pick. However, right now I would put Clowney and Lee atop the list of players most likely to be the first player selected.

Email Russ at Russelllande@yahoo.com and Follow Russ on Twitter @RUSSLANDE