At first, Randy Moss seemed reluctant to show his backside.
After a Monday night game against the Cowboys in '99, Moss stalked from the shower, making his way through the throng of reporters. He was wrapped in a towel, revealing a narrow, bony torso that brought to mind two things: 1) one of the reasons he had fallen to number 21 in the '98 draft–in addition to some regrettable decisions in his youth—was the belief that he wasn't strong enough to beat press coverage against rough and tumble cornerbacks; and 2) the sight of a bare-chested Moss conjured images of a bare chested Jimmy Walker—the "J.J." character of Good Times fame.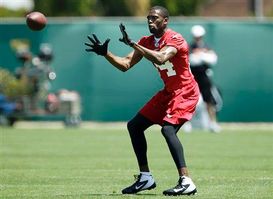 Now in San Francisco, Moss remains a mystery
The reporters were congregated around his locker. This annoyed Moss, who with one hand clutched the towel, keeping it from falling from his waist, and with the other hand, dispersed the crowd near his stall. "Clear this out right here," said Moss. "Clear all this out!"
The proper form of the expression is called "showing one's ass." It's used to denote the airing of one's worst habits and traits. I'm not sure about its origins, but there is no more apt expression when discussing Randy Moss. Throughout his 14-year career he's mastered both the literal and figurative interpretation of the phrase.
The first time was when he uttered what has become his catchphrase: "I play when I want to play," said Moss. Now, from a cornerback's perspective, I know this may be applied to most receivers in at least one context—blocking. But it's usually a practical issue.
If Moss is split outside the numbers, near the sideline, and a running play is taking place on the opposite side of the field, I don't know of many receivers, outside of Steve Smith, who would go out of their way to block the corner in front of him.
Of course Moss could make an effort to block, or at least get his body in front of the defender, but the sight of him in a towel will help you to understand why in such cases it's more beneficial for Moss to run downfield at a leisurely pace, taking the cornerback with him.
Jerry Rice is not known for having a leisurely pace. Rice was recently asked to assess Moss's habits and he came up with the following: "He could have been one of the greatest if he had worked just a little bit harder," said Rice." I don't think he wanted to give it 100 percent. Sometimes you'd get the unbelievable guy, the amazing guy. Other times you'd get the guy that took a couple plays off."
Rice is right. All of this is true, regardless of the source. But this particular source just happens to be the most perfect combination of insecurity, talent, and obsessive compulsive behavior.
I'm sure that after one of those early practices, Jerry Rice emerged from the shower and as he made his way to his locker, he surreptitiously glanced at stalls bearing the names MONTANA, CRAIG, and LOTT. On his way to the parking lot, he passed through a foyer that already housed two Lombardi trophies. The Forty Niners were already being called the team of the decade, a dynasty. Mastering his craft was Rice's ticket to acceptance. He became obsessed with it. Rice is the greatest ever because he needed to be the greatest ever.
Randy Moss doesn't appear to have any such personal requirements. He's elusive, but confident. No one knows what Randy Moss is after. And he won't tell us. He seems to shun acceptance and appears quite comfortable while doing so.
This explains his peculiar time in Oakland. In terms of an unwillingness to please people, Moss met his match in the late, great Al Davis. Davis had but two basic schemes—throwing the deep ball on offense and playing man-to-to man coverage on defense. In Oakland, Moss ran deep, many times uncovered. But there was no quarterback to throw him the ball. Despite lacking the necessary personnel to execute his formula, Davis wasn't about to change for anyone. Warren Sapp summed it up nicely: "Al Davis knows football, but it's 1970's football."
It shouldn't have shocked anyone a year later, that while in New England, Moss looked like he had in Minnesota. The Patriots were committed to present day excellence. Moss scored twenty-three times, the most in his career.
Then, in 2010 he wanted out. It was like when Michael Phelps wanted out of the pool. Sometimes people—even world class athletes—yield to the inner slacker. But a football player can't drive secretly into the Vegas night. People will notice. Moss engineered his exit. First he said he didn't "feel wanted" in New England. Bill Belichick didn't care to ask Moss about these feelings, he just sent him to Minnesota. After four games, Moss famously quit on a deep ball and effectively had himself banished from there, too.
About this time Jeff Fisher was on his way out as the coach of the Tennessee Titans. As the last act of the quintessential "players coach," Fisher gave Moss a few weeks to prove himself sane before announcing his retirement. That's what Moss did. Then he just disappeared.
Then he came back. It was sort of like when Michael Phelps came back. Except there's nothing left to prove. He's second all-time in touchdowns, trailing only Jerry Rice. He'll never catch him, though. (Did he ever want to?) All that's left are team pursuits. But when you're part of a team, you can't be your worst self. I think Randy Moss has always known this.
That's what brings us here—to Lambeau Field. It's because of what Moss did there in 2005, when the Vikings played the Packers in a playoff game. More hallowed ground you won't find in football, or perhaps in all of sport. Yet there he was, scoring a touchdown, then gliding to the goal post, dropping his pants, and rubbing his butt on the padding that encased the uprights.
Except Moss didn't actually do any of those things—save for the scoring. The rest of it was brilliantly pantomimed.
Yesterday, Moss found himself in Lambeau again. He scored a touchdown, too. It was no great athletic feat, though. The Packers simply lost track of him and he just sort of crept into the end zone. Afterwards, he turned his back to the Packers crowd and pointed to his name, as if to remind them.
They still remember. We all do. And seven years later, I think we're still trying to decide if what he did there before was rude or exceptional.
I guess that goes for pretty much everything he does.
Follow Alan Grant on twitter @ AlanGrant_NFL