Are 'Mid-Majors' in trouble?
by
June 04, 02012
Print This
I wonder what is going through the mind of Eastern Michigan Head Football Coach Ron English these days.
As conference realignment and a BCS Playoff System begins to snowball, I am compelled to think about the underdogs and mid-majors and up-and-comers like Eastern Michigan. Nobody seems to think about those guys as the monster of D1 college football grows hungrier. (Yes, I still call it D1, 1AA, and D2. The terms 'FBS' and 'FCS' are as ridiculous as the names of the Big 10 Football Divisions).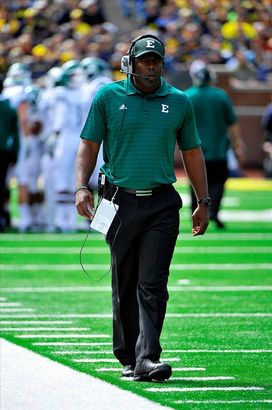 ICONEastern Michigan head coach Ron English.
But I digress. I believe that we are literally watching the D1 bracket split before our eyes into the haves and the have nots. We are rapidly approaching the Big 60 comprised of a few super conferences, and the rest of the D1 football programs will have no choice but to drop down and become the new 1AA. The current schools comprising 1AA will soon merge with the leftover D1 programs, or drop down to D2. Got all that?
Sounds crazy huh? Not if we follow the money, and more importantly, look at who's attending games at non-BCS schools.
I've got my magnifying glass on the Eastern Michigan football program in particular. In 2009, Ron English took over the reigns of a downtrodden program. He stumbled out of the gate, leading EMU to an 0-12 record. In 2010, the Eagles showed slight improvement, going 2-10. Last season, however, the Eagles were knocking on the door step of a bowl game. They went 6-6, but could have easily been 8-4 or 9-3 if not for a 2 point loss to Ball State and 6 point losses to Northern Illinois and Kent State. English has done a wonderful job, and with 9 returning starters on offense and 5 returning starters on defense, his squad looks poised to reach that 7 or 8 win level of play in 2012 competing in the MAC.
Going 6-6 or 7-5 still puts you on the bubble of being selected to a bowl if you are not a BCS Conference school, but winning 8 or 9 games in a season, while in a mid-major conference that is frequently featured on ESPN broadcasts, now that's a different story.
That school is going to a bowl game, and it almost happened with Eastern Michigan last year and it could very likely happen this year.
One problem: Since the economy crashed in 2008, people have stopped going to watch Eastern Michigan home games. As a matter of fact, my high school alma mater in Texas (which is a 4A program) routinely draws twice the crowd for home games that Eastern Michigan does. Seriously. In the past three seasons, Eastern Michigan has hosted 16 games in Ypsilanti. Of those home games, they've failed to surpass the 5,000 fan threshold 10 times. One October contest vs. Ball State drew an announced crowd of 1,535 fans. Those are very real numbers friends, and they aren't pretty. And they aren't unique to Eastern Michigan Football. The Idaho Vandals play in the 16,000 seat Kibbie Dome. And they've only sold it out one time in the past two seasons (a home game vs. Boise State).
The mighty TCU Horned Frogs, who've been the darling of conference realignment and have successfully joined the Big East Conference, play in a 44,000 seat stadium and didn't sell out a single home game last year. As a matter of fact, they had a minimum of 10,000 empty seats for every home game last season. If TCU isn't a huge draw in Ft. Worth, TX…you can imagine what the other 50-60 mid-major programs are facing when it comes to gate receipts and the challenge of balancing the books.
Each year, Eastern Michigan will endure a beat down at the hands of Penn State and Michigan or a school of that stature and glady accept the significant cash payout that comes along with it. Almost every mid-major program takes one on the chin each year, as do most of the nation's 1AA programs. On occasion, one of those lesser programs pulls off the upset and gets the entire country fired up even more about our beloved college game. But in actuality, that payout is what helps fund those programs, especially when 3,000 fans showing up to watch home games is the norm.
With the proliferation of the super-conferences and the scheduling that accompanies 12 and 16-team leagues, the non-conference games against the Eastern Michigan's and the Charleston Southern's of the world may quickly become a thing of the past. In order to pacify television execs that are paying astronomical rights fees, those who design the schedules will be forced to scrap those non-conference games and play two or three more high-profile conference games each season.
So what happens to the mid-majors and the 1AA programs that desperately need that big-game payoff? How will they continue to put forth a football program?
Maybe Ron English leads Eastern Michigan to a bowl game this season, and uses that success as a launching pad to a bigger program. But if that opportunity doesn't present itself, will English soon be coaching a 1AA program in Ypsilanti? For his sake and the sake of D1 Football, I certainly hope not.
Warren McCarty is the founder of My Passion is Football.
Follow Warren on Twitter: @mpifradio