Art Appreciation
by
September 08, 02012
Print This
While Art Modell lay on his death bed, we all gathered in various places to talk about the former Ravens owner and his contributions to the game. Then someone tossed a grenade into our midst. The resulting explosion interrupted our conversation and temporarily scrambled our senses. It wasn't a good thing because this particular conversation was never all that simple to begin with.
Many will say that Art Modell's legacy is a complicated one. In one way it's pretty straightforward. There's either love or hate. He's one of the league's founding fathers. He's also the guy who moved his team to Baltimore, leaving Cleveland without a team for three long years. I don't hate the man. I do love his vision, though. In fact, it's the trait I most admire in a person. A person who does his own thinking makes the most sense of his environment.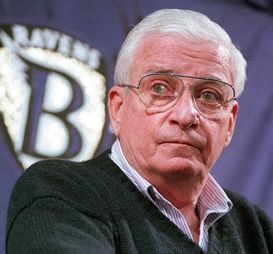 The late Art Modell
In 1958, Art Modell saw a game that should be played before a television audience. He told C.B.S. as much. They agreed. He saw those games being played on Monday Night. A.B.C. also agreed. Modell was the primary architect behind the current brand of professional football—arguably the most compelling and profitable industry in the country.
In 1961, when he purchased the Cleveland Browns, Modell saw Jim Brown. Modell befriended Jim Brown. That word, befriended, is significant because Modell treated Brown like a man. He invited him into his office, had dinner with him, talked business, and solicited his opinion on things. Did I mention this was 1961? It wasn't fashionable to see large black men as people back then.
Modell even saw black men in the front office. After he moved to Baltimore, he made former Browns tight end Ozzie Newsome the Ravens vice president of player personnel. Then, in 2002, Modell made Ozzie Newsome the league's first ever black general manager.
Last week, as we began to discuss this, Emmet C. Burns, a delegate to the Maryland General Assembly, sat in his office and typed a letter to current Ravens owner Steve Biscotti. He demanded the Baltimore Ravens punish linebacker Brendon Ayanbadejo for his passionate defense of same sex marriage. "I'm requesting that you take necessary action," wrote Burns, "…. to inhibit such expressions from your employee and that he be ordered to cease and desist such injurious actions."
Talk about "injurious actions." We were talking about football history when this guy blew the whole thing to smithereens. Why would he do such a thing?
Back in 2002, right about the time Ozzie Newsome was settling into the G.M. chair, Emmet C. Burns was wrapping up his term as chaplain for the Legislative Black Caucus of Maryland. Yeah, turns out old Emmet is a minister. He's also a 72 year old black man from Jackson, Mississippi. In many ways old black ministers from Mississippi are no different from old white ministers from Mississippi. Both are compelled to follow certain rules of behavior that have little to do with compassion, vision, or spiritual awakenings.
I say that because Burns didn't support his attack on Ayanbadejo by quoting scripture, he based it on the athlete's role in the community. "Mr. Ayanbadejo should concentrate on football," wrote Burns, "and steer clear of dividing the fan base."
Oh, so that's it. Emmet Burns doesn't see Ayanbadejo as a person. Certainly not the way Art Modell saw Jim Brown and Ozzie Newsome as people. Makes sense, though. Brendon Ayanbadejo hails from a place and time without limitations. Emmet Burns comes from a place and time defined by limitations. Maybe he doesn't remember. Or perhaps it hurts to crane his neck, looking back that far.
Just being black in Mississippi in the 1940's was hazardous to your health. The simple act of walking around, converting oxygen into carbon dioxide could get you lynched. Being openly gay or openly advocating gay rights? Not an option.
Ayanbadejo. So many letters and so many options. Today's option is tolerance. "You can't help how you're born," says Ayanbadejo. "We're all God's children, and we should be treated the same."
So how does a three-time Pro Bowl linebacker come to be an advocate of same sex marriage? Well, Ayanbadejo came of age in Santa Cruz, California—3,000 miles and several galaxies removed from 1940's Mississippi. If you've ever spent any time in Santa Cruz, then you know it's laid back. No, actually Los Angeles, where Ayanbadejo went to college, is laid back. Santa Cruz is the chaise lounge of living. It's where "radical" ideology smells a lot like the ocean and sounds a lot like hippies beating on drums. It's where tolerance is always the order of the day.
Santa Cruz is home to Angela Davis, that infamous firebrand of the sixties, who if she wanted to, could trademark the afro and the black power salute. They are hers. But these days she's like any other resident of Santa Cruz, resigned to discuss the hot button issues of the day in a civil manner.
That's no small task, especially when we're talking about people like Art Modell. That is who we were talking about, isn't it?
Yes, Art Modell. The guy who ran Paul Brown out of Cleveland, then later skipped town himself—taking Cleveland's football team with him. We really should talk about that guy. But civil discourse requires a view of the whole picture. We have to incorporate all of the variables—especially when discussing any kind of founding father. When we laud Thomas Jefferson for his vision of higher education and his unrivaled gift as a wordsmith, we tacitly accept the fact he was a man of simple lust—which he worked out in his slave quarters.
But sins of the past make for excellent discussion in the present. Cleveland eventually got itself another football team and the slaves got themselves a President, right?
It's not quite that simple, but you get the idea.
Follow Alan Grant on twitter @AlanGrant_NFL