Behind the Measurements: Height vs. Arm Length
by National Football Post
March 24, 02011
Print This
Every year NFL prospects strip down to their underwear and are paraded around in front of scouts and executives in an event known as the weigh-in. This is the first time official heights and weights are received on each player. However, two other important pieces of information are also recorded during the weigh-in that have just as much barring in relation to how "big" a potential NFL prospect can play. Those two numbers are reach (the length of a prospects arm) and hand size (the length from the pinkie finger measured to the thumb).
Football is a contact sport where collisions take place on every play. Most NFL players are asked to win battles at the point of attack and the players with the biggest frames and longest reaches have a clear advantage when engaging with an opposing player.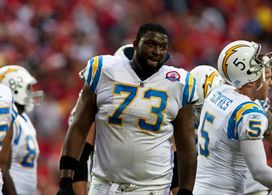 ICONMcNeill's length is a great attribute to his game.
The reach or arm length of an NFL prospect is a key attribute to any position, especially to those playing along the line of scrimmage. However, at no position is a prospects reach more vital then at the offensive tackle spot. To put it into perspective how offensive lineman are benefited and hindered from length, I want to take a look at two former prospects who both had similar height/weight numbers when they came out, but have both taken different paths so far in their NFL careers. OT Adam Terry (Baltimore Ravens) and OT Marcus McNeill (San Diego Chargers) are both former second round picks (Terry in 2005, McNeill in 2006) who both weighed in during their Combine appearances at 6-8 and around 330 pounds. However, the key difference during each player's weigh-in was the dramatic discrepancy in the length of the two player's reaches. McNeill measured in at 35½ inches and Terry posted a reach of 32 ¼ inches. Therefore, we have two men who are roughly the exact same size, however, McNeill has the length to match and maximize his 6-8 frame, while Terry's length forces him to play like a tackle closer to 6-3.
There are other variables that go into a comparison like this, however, the facts are that McNeill has been the Chargers starting left tackle for each of the past five years, while Terry is considered now as nothing more than an NFL journeyman. Again, there are other variables that go into comparisons like this, but you have to figure, the 3+ inch reach advantage that McNeill has over Terry has to be a significant factor as to why one player has been so successful in the NFL and why the other has not.
To put this all into perspective, I broke down this year's top left tackle prospects in order to give you a better idea of what lineman have NFL worthy arm length and what prospects will struggle playing to their listed size. But before we get to that, I constructed a range of arm lengths used only for the OT position, in order to put each measurement into context.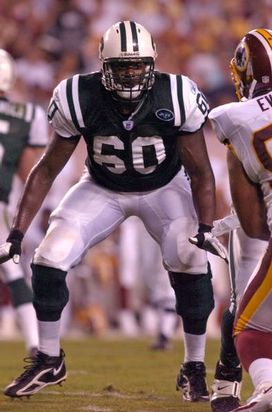 ICONFerguson possesses the length to consistently gain leverage.
A "Great" Arm Length (35+ inches)
D'Brickashaw Ferguson: Jets, 2006 (35 ½ inches)
Ryan Clady: Broncos, 2008 (36 inches)
A "Good" Arm Length (34 inches-34 7/8 inches)
Jammal Brown: Redskins, 2005 (34 ¼ inches)
Jeff Otah: Panthers, 2008 (34 5/8 inches)
An "O.K." Arm Length (33 inches - 33 7/8 inches)
Michael Roos: Titans, 2005 (33 5/8 inches)
Levi Brown: Cardinals, 2007 (33 1/8 inches)
A "Below Average" Arm Length (32 inches - 32 7/8 inches)
Robert Gallery: Raiders, 2004 (32 ¼ inches)
Chris Williams: Bears, 2008 (32 ¾ inches)
With an eye toward the 2011 draft class, we now rank the nations top offensive tackle prospects according to their arm length/reach and breakdown what each measurement means in relation to their potential at the next level.
Tyron Smith: Southern Cal (6050, 307) (Arm length 36 3/8)
Despite playing the 2010 season around 285-pounds, anchor strength was never a big question in my mind when breaking down tape of Smith. And the two main reasons why was because he possessed the flexibility to sit into his stance and he also displayed the kind of elite length to consistently gain leverage on contact with his hands. The guy is only going to continue to naturally mature and get stronger, but when you have a lineman with his kind of length and natural athleticism, you can't help but think he's going to mature into one of the better left tackles in the league with some time.
Benjamin Ijalana: Villanova (6035, 317) (Arm length 36-inches)
Coming into the year I thought of Ijalana as more of a guard prospect because of his overall height/weight numbers. However, after seeing that the guy possessed some of the longest arms of ANY offensive tackle prospect in the draft, at this stage I think you simply give him every opportunity to play left tackle before moving him to the right side or to guard. He's a strong kid with good feet, natural bend and despite lacking "ideal" height, when asked to anchor he certainly has the length to consistently gain leverage for himself on contact.
Nate Solder: Colorado (6082, 319) (Arm length (35 ½)
There is no denying that the physical skill set is there when breaking down Solder. He's an athletic, long armed kid who has the ability to bend. However, despite his size and length he still will struggle with power at times, gets upright and doesn't do a great job maximizing his length and gaining leverage for himself. A lot of those inconsistencies have to do with balance and getting overextended in his lower half, but overall in my mind he's still a work in progress, but has the physical capabilities to certainly develop.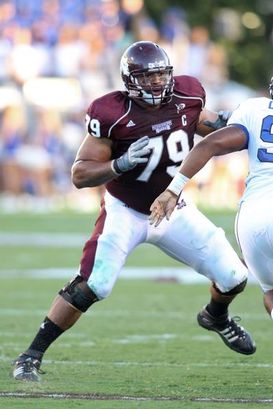 ICONSherrod looks like a capable NFL left tackle.
Derek Sherrod: Mississippi State (6053, 321) (Arm length: 35 3/8)
Unlike Solder, I would say based on tape that Sherrod is the much longer player due to the simple fact that he's a more coordinated individual in pass protection, which allows him to be more balanced and maximize his length more so on his punch. Sherrod makes it really difficult for opposing linemen to get into his frame, despite playing a bit high at times. Plus, he's another guy who can bend, just gets sloppy with his technique at times. However, as he cleans himself up technically, the athleticism, balance and length are all there for him to mature into a very good starting left tackle in the NFL.
Gabe Carimi: Wisconsin (6070, 314) (Arm length: 35-inches)
Carimi might not be the most athletic of tackles on this list. However, he understands angles, has a long set of arms, strong hands and sticks to blocks well on contact. He does a nice job maximizing his length into contact, displays good hand placement and once he gets his paws on you the battle is over.
Anthony Castonzo: Boston College (6070, 311) (Arm length: 34 ½)
Despite his "good" length, Castonzo struggles with longer armed pass rushers who want to get into his frame and force him to handle power through contact. Castonzo struggles vs. power players and needs to do a better job gaining leverage for himself on contact with a more forceful punch. Too often he's more of a "catcher" than "striker" and will make every defender he goes against look like a good pass rusher in the NFL if he doesn't improve in this area because of his struggles vs. the bull.
Overall, the measurement of a prospects arm length is simply another tool to help scouts determine the caliber of a prospect they are evaluating. Arm length helps determine the "true" size of a potential NFL player and allows scouts to establish just how big an offensive lineman can play. As I said before, there are always exceptions to the rule and by simply measuring the arm length of an offensive tackle will not guarantee success. However, when scouting offensive tackles, it is paramount to consider the length/reach of a prospect in direct correlation to the player's height and weight.