Combine weigh-in notes from day one
by National Football Post
February 24, 02011
Print This
Results and reactions from some of the top prospects to weigh-in at Thursday's NFL Combine.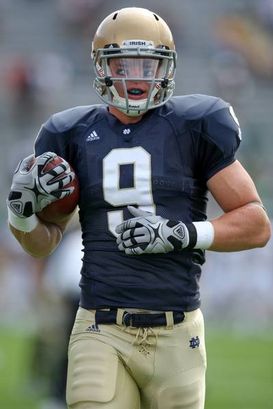 ICONRudolph has one of the bigger sets of hands in the tight end group.
Notre Dame tight end Kyle Rudolph was just over 6-6, but at 259 pounds was about seven pounds less than his listed weight. He recorded 34-inch arms and big hands for the position at 10 ¼.
Villanova OL Ben Ijalana was one of the unknowns going into the Combine after missing the Senior Bowl due to a sports hernia. However, he weighed in at 6035, 317 pounds and might be a bit short for the tackle spot by NFL standards. However, with 36-inch arms -- one of the tops among the offensive line group -- he certainly has the length to make up for his lack of ideal height and at least get a shot on the outside. He was a bit sloppy in the upper body, but possesses a strong, thick looking lower half with the natural base to anchor on the edge.
Much like his brother last year,OL Mike Pouncey weighed in nearly ten pounds less than his listed weight on the Florida roster at 303. He stood an even 6-5 with 32 ¼ inch arms, about a quarter inch shorter than his brother Maurkice in 2010.
TCU OL Marcus Cannon was another guy who we have yet to see during the All-Star game circuit. He measured in at 6050, 358 pounds with 34-inch arms, after being rumored to be playing around 375 pounds during the year.
I thought it was interesting that Baylor OL Danny Watkins, who measured in with 33 6/8-inch arms at the Senior Bowl, was "up" to 34 ¼ inch arms this morning. He's an underrated athlete who can anchor, moves well in tight areas and despite being 6033, with his length at 34+ inches, he could get some looks at offensive tackle as well.
Connecticut OL Zach Hurd measured in as one of the tallest offensive linemen at the Combine, even as a guard at 6066 and 316 pounds. He possesses good length for the position at 34 ¼, but had a really soft make-up overall.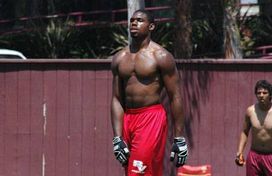 ICONSmith passes the eyeball test.
One of the slight surprises was the weight of USC OT Tyron Smith, who was listed anywhere from 280 to 285 pounds on the USC roster. However, he measured in at an even 6-5, was 307 pounds and looked far and away like the most athletic offensive tackle at the weigh-in. Plus, his nearly 37-inch arms are also very intriguing and I have a tough time seeing any offensive tackle go before him come draft day.
Another intriguing prospect in this year's draft is South Carolina TE Weslye Saunders who came in at 6051, 270 pounds, but was a bit soft overall. He's been out of football for a while now and looked it, seeming a bit soft and fleshy through the mid section.
Finally, Miami offensive lineman Orlando Franklin came in at 6054, 316 pounds and possessed 35-inch arms. He looked to be in good shape, was thick in the lower half and passed the eyeball test.