Could Tim Tebow end up in the CFL?
by Jeff Fedotin
July 21, 02014
Print This
Every so often Montreal Alouettes general manager Jim Popp checks in with Tim Tebow's agent in hopes of bringing the former University of Florida star north of the border.
"We would love to see him," Popp told NFP.
Perhaps that's not just wishful thinking by Popp, who has spoken with Tebow's father, Bob, but never with the quarterback himself.
After all, his Canadian Football League team holds Tebow's playing rights.
The CFL negotiation list
The CFL has a draft, but it is only for Canadian citizens. Free agents can be placed on a negotiation list of 35 players. It is a first-come, first-serve, private list only known to CFL teams and the league office.
The Alouettes could leave Tebow on that indefinitely. But if he wants to sign, Montreal, according to league rules, has to offer a contract within 10 days or take him off the list.
CFL teams can take a player off at any time but cannot tamper with someone else's list. Hypothetically, they could even put high school players on that list, though they cannot negotiate with them or college players until they have declared for the draft or already have spent four years in college.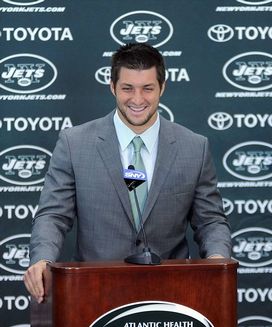 ICONTebow's stint with the New York Jets included just eight pass attempts over 12 games.
The latter was the case with Russell Wilson, who spent four years at North Carolina State (including one red-shirt season). Marc Trestman, the offensive coordinator at N.C. State before leaving to coach the Alouettes prior to Wilson's arrival, helped recruit the quarterback to the Wolfpack.
Because some deemed Wilson too short to play in the NFL, there was talk that he might join the Alouettes, who are always watchful for players overlooked by the NFL.
"This is what we have to do in our league," Popp said. "You've got to project pro players and how they fit into a system."
Wilson, of course, opted to transfer to Wisconsin, had an outstanding year and ultimately led the Seahawks to a Super Bowl victory.
Other noteworthy players who were once on the Alouettes' negotiation list include Clay Matthews (a former USC walk-on once considered too slight) and Colin Kaepernick (once considered a product of a gimmicky system at Nevada).
Michael Sam is on the Alouettes' negotiation list in case the pass rusher does not make it in the NFL.
Tebow, like Wilson, has a connection to the Alouettes through Trestman. Before entering the NFL, Tebow received tutoring from the quarterback guru, then-Alouettes head coach and current Chicago Bears head coach.
A welcome opportunity
If the CFL acquiring a former first-round pick and Heisman Trophy winner like Tebow still sounds preposterous, consider the Alouettes signed Chad Johnson, a six-time Pro Bowler with the Bengals, and the wide receiver plays for them this season.
Johnson catches passes from Troy Smith, the Ohio State quarterback who won the Heisman Trophy in 2006, the year before Tebow captured the award.
Smith was part of the plan to fill a void left by Anthony Calvillo, who threw for 79,816 yards — more than any other quarterback in pro football history — before retiring in January, five months after suffering a concussion.
"If there was ever a time when (Tebow) wanted a great shot," Popp said, "now is the time."
One obvious drawback, though, is that Tebow likely would have to take a pay cut from what he could potentially earn doing lucrative speaking engagements.
The CFL has a $5 million salary cap in 2014, and the average salary is about $89,285.
Tebow, who has joined the SEC Network as an analyst, has said that he will continue pursuing an NFL playing career.
"I'm training every day and feel like I'm the best that I've ever been," Tebow told The Tennessean last month. "I still love it, love playing, talking about it and I'm just excited about whatever the future holds. Who knows what could happen?"
The Patriots cut Tebow during the 2013 preseason. He spent the 2010 and 2011 seasons with the Broncos and 2012 with the Jets. Though his Broncos tenure included inconsistent play and wobbly passes, he led Denver to an AFC West title in 2011. Despite completing just 46.5 percent of his passes, Tebow used the read-option to pilot Denver during his 7-4 regular season record and won a playoff game on an 80-yard TD pass.
"He may not be conventional," Popp said. "We know the character. We know he's been a champion. We know he's a winner."
Even if the two-time BCS national champion decides to play in the CFL, some believe he would not be a good fit. The inclement weather represents a challenge for the passer — as does the wide field. Twelve yards wider than the NFL's, it places an emphasis on passing accuracy, which has been Tebow's greatest flaw.
Will Tebow ever take snaps on that wide field for the Alouettes?
"I don't really for sure know," Popp said. "His agent's always given us the same answer: 'He's still trying to get back in the NFL, and that's what he's concentrating on.'"
Follow Jeff on Twitter: @JFedotin
Jeff Fedotin has written for Packers.com, Pro Football Weekly, ESPN The Magazine, the Lawrence (Kan.) Journal-World and Rivals.com. After graduating from Northwestern University, he interned for the Buffalo Bills. During his football playing days at Pembroke Hill (Mo.) School, Fedotin was known for his bad knees and even worse blocking.