Do you want to be NFL Coach of the Year?
by
September 05, 02012
Print This
As one of the fortunate 50 who gets to vote for the Associated Press All-Pro team, I?m also asked to pass judgement on who should win all of the awards it hands out. There?s MVP, Offensive and Defensive Players of the Year, and so on. There is also the Coach of the Year award.

This one, I find to be a rather curious honor for a coach.

Why, you might ask? After all, it no doubt signifies you have done an exemplary job and your team won more games than it lost. However, the Coach of the Year usually goes to someone who?s team exceeded the public's expectations. It's not a guarantee of long term success or security, or even that you are a particularly effective head coach.

The first A.P award was given out in 1957. The inaugural winner was George Wilson,for leading the Detroit Lions to their last NFL championship. He lasted seven more seasons in Detroit, then became the Miami Dolphins first head coach. After four losing seasons there, he was fired.

Allie Sherman, who was serenaded on Sundays by Giants fans to the tune of "goodbye Allie" won the award twice. That?s once more than Vince Lombardi. Wayne Fontes was coach of the year as many times as Lombardi, Tom Landry and Bill Walsh.

If the voters think your team is going to stink and it doesn?t, you have a better chance of winning the award. It?s all about expectations. Surpass them, and the award could be yours. Match them and you could wind up with same number of coach of the year honors as Chuck Noll (zero). I?m sure four Super Bowl Trophy?s eased his pain. There are exceptions of course. Don Shula took home the award four times, Bill Belichick has won it on three occasions.

SO DO YOU WANT TO WIN THE AWARD?

Let begin this thought in 1995. The coach of the year was Ray Rhodes of the Eagles. He was fired three years later. In ?96 Dom Capers of Carolina got the honor. Two years later he was canned. And the hits just keep on coming. In "97 Jim Fassel was coach of the year. Three years later he had the Giants in the Super Bowl and three years after that he was fired.

Dan Reeves, who never won coach of the year in Denver won it with the Giants in ?93 and with the Falcons in ?98. He got fired by both teams. Jim Haslett and Dick Jauron were both award winners who got bounced when the winning soon stopped.
.
The most intriguing case is Marty Schottenheimer. He received his only A.P. Coach of the year award for winning 12 games for the San Diego Chargers in 2004. Two years later he coached the Chargers to 14 victories, did not get the award and was fired.
The 2008 winner, Mike Smith of Atlanta, could be the next Coach of the Year winner on his way out. I imagine award winner Love Smith of the Bears could be in trouble too if Chicago does meet this season's expectations.

I, like most voters, put a check mark next to Jim Harbaugh?s name last season. It?ll be nearly impossible for him to repeat. Why? This season we expect the 49ers to be really good and win the division. They could even be a better team, yet not match their 13 victories. Meaning Harbaugh won?t appear to be quite as smart or as good as he was a year ago. Remember we cast our vote at the end of the regular season.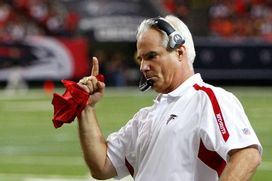 Could Atlanta's Mike Smith be the next former Coach of the Year to be shown the door?


THIS YEARS LEADING CANDIDATES ARE:

The best way to predict this years winner is to look at last year's standings from the bottom up. Scour the standings for a bad or mediocre team that has a chance to be much better this season.

There were a lot of terrible teams in 2011 that will be awful again. I don't think it's a coach in Miami or Buffalo, Jacksonville or Indy, Cleveland, Tampa, St. Louis or Minnesota who'll win the award.

This season I tend to look toward the mediocre. If Pete Carroll is right about Russell Wilson and having most of their toughest out-of-division games at home, the Seattle coach is a prime contender. I think Lovie Smith of the Bears is too. Mike Shanahan will look like that old genius offensive guru if RG3 turns out to be the Redskins first real franchise quarterback since Sonny Jurgenson.

One thing I'm certain of is that Denver's John Fox won't win coach of the year honors. Any success the Broncos have will be attributed not to Fox but to Peyton Manning.