The Minnesota-Jacksonville game is a significant one. It's not that either team is very good or has any chance of being very good this year. It's significant because on Sunday, the Metrodome will be a place where old philosophies go to die.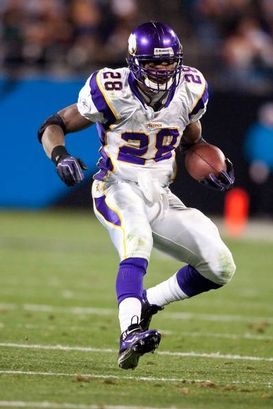 ICONPeterson is working his way back from a knee injury in 2011.
Adrian Peterson was once the Vikings featured back. But he won't be that on Sunday, and he might not be that again. The featured back is a dying breed. Running backs travel in pairs now. When the postscript on the featured back is written, Tennessee's Chris Johnson may be the last man standing. But Johnson's style isn't like Peterson's. Johnson conjures images of the mercurial Tony Dorsett—gliding through defensive fronts as if on rollerblades. Peterson's style is deliberate, punishing and lacking nuance and finesse.
When last we saw Adrian Peterson, he was rumbling into the second level of defenses, with lowered shoulders and a furrowed brow. He took a lot of shots, and delivered some too. And he just kept coming back for more. Peterson was a classic feature running back—one who gained celebrity by doing the dirty work. Once he made it through a hole, he went looking for contact. He found contact and pretty much got the best of it, too. For that he was admired.
Then Peterson unexpectedly cut back and found conflict. During last year's lockout, Peterson compared NFL owners to slave owners. This didn't go over well. He was speaking figuratively, of course, but that doesn't matter. A popular black man who compares himself to a slave will never fully engage his audience.
It was sort of like Oprah attaching herself to Beloved, a movie about slaves. Her audience didn't see her as "black," they saw her as one of them. They didn't hold it against her, they just ignored the film. Peterson's audience isn't as forgiving and is a lot more sensitive. It's not that his audience saw him as "one of them," they had never seen him as a person with a…perspective. Just like that Peterson went from soft-spoken role model to just-another-spoiled-black-athlete-who-doesn't-know-his-place.
Then, on Christmas Eve, Peterson tore both his A.C.L. and M.C.L. in his left knee. And thus began the rehab of his body and his image. Both appear to be on track at this point. His challenges are clear. In order to pacify his critics, soothe his fans, and prove himself to be of sound body and mind, Peterson will have to move between the tackles in furious silence, and should he score, simply hand the ball to the referee.
That's exactly what Jacksonville Jaguars coach Mike Mularkey would have all of his players do. In fact every time one of his players properly suppresses his emotion after a touchdown, Mularkey will pledge $250 to the Ronald McDonald House.
A suppressed Maurice Jones-Drew is not a Maurice Jones-Drew at all. Neither is an M.J.D. who only comes in on third down. Jones–Drew is, as we speak, being recast as something he's never been in all his days in Jacksonville—one of the Jaguars running backs. On Sunday, and then beyond, he won't be the Jaguars running back.
After the departures of Mark Brunell, Keenan McCardell and Jimmy Smith, and Fred Taylor, the Jaguars were left without personality. Since his arrival in 2006, Jones-Drew has shouldered both the style and substance in Jacksonville. The outcome of his celebrated holdout isn't short on symbolism. By denying Jones-Drew a raise, owner Shadid Khan in effect said "We're not gonna pay you to carry the ball 363 times because we're not ever gonna let you carry the ball 363 times again."
Starting Sunday, Jones-Drew and Rashad Jennings will become the latest running back duo whose role is to complement the quarterback and his merry band of wide outs. In this case it's actually just one wide out—Justin Blackmon, who after an arrest for public intoxication and a lengthy holdout of his own might not be all that merry, or productive. So in week one, Jennings and Jones-Drew will try to find their rhythm as a duet.
But Jones-Drew has been the man in such demonstrative fashion that this new edition, while better for him and his longevity, and better for his team and its diversity, won't be as intriguing to watch, at least for me. There was something almost medieval about knowing who was getting the ball, then watching him get it, and then watching no one stop him.
That applies, in spades, to Adrian Peterson.
On Sunday Vikings coach Leslie Frazier will ease Peterson into the fray. Necessity dictates he do so. Truth is, the level of play from Toby Gerhardt, Christian Ponder, Percy Harvin, Michael Jenkins, Jerome Simpson, and Kyle Rudolph will likely do more to determine Peterson's long term role than Frazier will. What they come up with remains to be seen.
We can be sure of one thing, though. Due to injury and time, gone are days like those in 2008, when Peterson carried the ball 363 times. In 2009 when he carried 314 times the Vikings fell just short of the Super Bowl. Had the outcome of the 2009 title game had been different I wonder if the landscape would be different, too.
That year, Sean Payton and his small parish of running backs (Bush/Thomas/Bell) made it clear that there was only room for one superstar in the backfield—the quarterback. The whole league is following suit. If the Vikings had won on the strength of Peterson's legs, maybe there'd be a place for the featured back.
Nah, there probably wouldn't. It was always coming to this. Old philosophies die. But they die hard. A running back should die hard.
That's what Walter Payton used to say.