Eagles' improved D
by
September 19, 02012
Print This
This story was originally published on NFP partner Sports on Earth.
Last year, Eagles defenders understood only a fraction of their playbook. This year, they understand it well enough to make their own interpretations of it.
Defensive coordinator Juan Castillo has been frank about the mistakes of last season, when the Eagles tried to integrate five new starters and implement a whole new scheme, with all new coaches, without minicamps or OTAs, with free agents such as Nnamdi Asomugha unavailable for the first week of training camp because of collective-bargaining issues. "Last year, it was a new system," Castillo said after the Eagles' 24-23 victory over the Ravens on Sunday. "It took us halfway through the season … let's not even talk about last year."

Castillo's defense looks much better than the unit that kept getting gauged for big runs and easy completions at the start of last season. The Eagles completely shut down the Browns' offense in a 17-16 win in the season-opener, with 10 of the Browns points coming directly from turnovers. Sunday's effort against a better offense was even more impressive and, as in the Browns game, the final score was a little misleading: Nine Ravens points came off field goals of 56, 51 and 48 yards.
Castillo has admitted several times that he had to rush to implement his defense last year, and players started the season uncomfortable with many of the concepts. During training camp, Castillo stressed the importance of defenders learning to play together in the system. "We didn't have the OTAs, so they didn't get to be around each other," he said in August. "A lot of times, in football, it's like: 'I know what he's doing because we've played together, we've been together on the field, spent a lot of reps.'"
This year, the defenders are not only more comfortable with each other, but confident enough in the system to make their own decisions. The Eagles' defense adjusted to the Ravens' strategy of trying to isolate tight ends against safeties in the open field on Sunday. But Castillo said that he was not the one who made the adjustments: The safeties themselves made the change.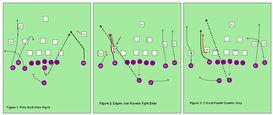 Figure 1
Figure 1 shows a typical Ravens play from early in Sunday's game. The Ravens have two fast tight ends in Dennis Pitta (88) and Ed Dickson (84), and their new no-huddle offense is designed to create mismatches by forcing defenses to keep their base personnel on the field, leaving one or both tight ends in coverage against slower linebackers or smaller safeties. Pitta is split out wide right on this play, with Dickson bunched on the left between dangerous receivers Torrey Smith (82) and Anquan Boldin (81).
To read the full article, Click Here