Girl-on-Girl Fantasy Action
by
November 23, 02010
Print This
Okay, so the title may have been a bit deceiving, but don't click the "back" button just yet. It might not be quite in the way you expected, but I'm still here to talk about football and girls. So, basically, not reading this makes you a sissy.
This past weekend in Procter & Gamble's Blogger Fantasy League, my Fresh 2 Death squad on Team Febreze went up against For a Better-Looking Tomorrow, representing Team Vicks and managed by Steph Stradley of FanHouse/TexansChick.com. For the first time this season, the two ladies of the league finally went head-to-head, and I'm happy to report that the Fresher woman came out on top.
Not only did all my star players have solid games (excluding Randy Moss…ZERO yards? "Straight AWFUL, homie."), but I also got major points from the Ravens D and my random pick-up of Atlanta Falcons kicker Matt Bryant. Don't know who that is, you say? Me neither – I literally just had to check to see if I got his name right.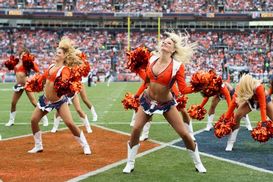 ICONSure, this is all right. But wouldn't you rather have a nice fantasy football battle with a female? No? Oh, okay then.
But the NFP team's unstoppable-ness isn't the point here (though we are in first place, in case you were wondering). The point is that my esteemed opponent and I are proving in this league that the words chicks, fantasy, and football can go together without involving pom-poms and sequined bra/panty combos or hot pants and pink children's extra-small jerseys.
I know it kills you guys to see it, but I think it's official now: the games against the women in your league are no longer automatic W's. Some of us ladies have become real contenders in the land of fantasy football and are a force to be reckoned with, goshdernit…even if we do draft players based on how pretty their team colors are. Teehee!
So to my upcoming opponents Jerod Morris and Dan Levy, I hope you're ready for round two of getting beaten up by a girl, and don't worry Josh Zerkle, I'll get my revenge on you, too. Too bad your teams aren't sponsored by adult diapers.
PLAYOFFS, HERE I COME!
Follow me on Twitter: @dinabanina

The P&G Blogger Fantasy League (BFL) is a group of 12 digital sports influencers competing on the NFL.com fantasy platform for the chance to win P&G product, a donation to a local charity, and a trip to Super Bowl XLV, all furnished by P&G. The NFL Entities have not offered or sponsored the sweepstakes in any way.