Has the RB position lost its value in the NFL?
by
June 14, 02012
Print This
While the questions linger about Matt Forte's contract situation, while coaches and fans ooh and ahh over Trent Richardson in shorts, and the rumblings get louder from Ray Rice and MJD about wanting new fat contracts, it seems pretty clear to me that teams are wise not to invest significant chunks of their salary cap in the runningback position.
Not only is that a gamble due to the pounding those guys take in today's NFL, but investing heavily in a franchise, work-horse runningback simply does not equate to wins on the football field. Not in today's NFL.
Those days are over, and they aren't coming back. I'm all for balance in terms of the offensive attack, but the ground-oriented offenses simply don't work anymore if the goal is to win the Super Bowl.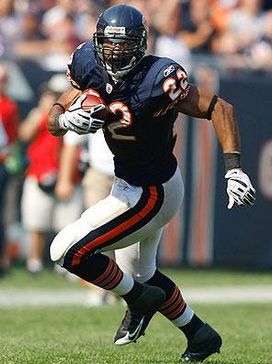 Forte is looking for a long-term deal in Chicago, but is he worth the investment?
Football purists are going to fire right back and talk about how the NFL is cyclical and that the NFL will get back to running the ball, the Wildcat will be hot again in New York, and coaches will try to emulate Jeff Fisher's approach and grind out wins.
In reality, the rules have changed. The college game has changed. The athletes have changed. I can look to several prime examples to prove my point:
Let's start in Minnesota. Adrian Peterson has ran over, through, and around NFL defenders for five incredible seasons now. Highlight after highlight after highlight. But other than the magical 2009 season with Bret Favre slinging the ball all over the field and Sydney Rice having a career year, Peterson and his Vikings have been mediocre. In his five seasons, the Vikings have made the playoffs only twice. In 2008, they got bounced at home by the Eagles in the first round. In 2009, they won their first round game, and then took the Saints to overtime in the SuperDome before falling in defeat. And that's the extent of it in terms of post-season glory and success for Adrian Peterson.
Outside of Favre's 4,000+ yard passing season in 2009, the Vikings have been below-average throwing the football, with very few legit weapons in the passing game, and they've failed to win football games. The fact that they've had a workhorse in Peterson has been irrelevant to wins and losses for Minnesota.
The same can be said for Chris Johnson in Tennessee. He took a great deal of criticism for a sub-par performance last season (which I believe to be unfair). Fans and my colleagues in the media continuously question whether or not he can return to his explosive form from 2009 when he ran for 2006 yards and added 503 yards receiving. Ultimately, it doesn't matter if he returns to that level of production or not. Tennessee didn't even make the playoffs in 2009.
Chris Johnson played all 16 regular season games in 2009, 2010, and 2011 for the Titans. He didn't appear in any post-season games for Tennessee, because they never made the playoffs in the last three years. That's right. For all of Chris Johnson's heroics, his team has gone 8-8, 6-10, and 9-7 over last 3 years. They've been in the middle of the pack in terms of throwing the football, and thus they've been a middle of the pack football team. Tennessee lacks special players in the passing game, and that certainly reflects in how Chris Johnson performs on Sundays. It also reflects in the win-loss column at the end of the season.
I shook my head in disgust when the Browns made the trade to move up one slot to select Alabama runningback Trent Richardson in April. I'm not a Richardson or Browns hater. I think Richardson can be a great NFL runningback and I'd love to see the Browns become a contender.
But Richardson's production will have no bearing on whether or not Cleveland wins football games. In 2010, Cleveland had Peyton Hillis blowing up defenders on his way to a 1,177 yard season on the ground (and 477 yards receiving through the air). He scored 13 touchdowns that season, and Cleveland went 5-11. We all saw Hillis drop way off in terms of his attitude, production on the field, and what he brought to the team each day in 2011. Again, it didn't matter. Cleveland was still awful, going 3-13. They couldn't throw the ball in 2010, and their record reflected that inability. Those problems continued into 2011, and the mediocrity continued. That won't change this year with Richardson taking carries.
Whether it's Colt McCoy, Brandon Weeden, or Seneca Wallace under center for the Browns, they still have no tight end and no playmakers at receiver. They'll still be dead last in the AFC North, regardless of how much of a moose Trent Richardson proves to be.
Whether we like it or not, the NFL is a passing league now, and the importance of the runningback position has been forever diminished. Win/Loss records certainly reflect that fact.
Warren McCarty is the founder of My Passion is Football
Follow Warren on Twitter: @mpifradio