Is Cam Newton for Real?
by
September 13, 02012
Print This
"He makes plays with his legs."
It's the most common euphemism for a quarterback of a certain stripe. Everyone uses it, some even in reference to themselves. But it's a loaded phrase.
Since the beginning, a quarterback has been measured by his ability to throw the ball. It seems that one who lines up under center and "makes plays with his legs" is viewed as one who merely plays the quarterback position, but not an actual quarterback.
And the quarterback who has demonstrated the ability to run, pass, and be a leader of men? He, my friends, is held to an impossible standard.
I can hear the murmurings of the spiteful chorus behind me.
The Panthers lost their first game. And the mighty Cam Newton struck out. He got nothing. Just 4 yards rushing. Sure, he threw for 300 yards, but he had two picks and they lost. You know what that means, don't you? It means that last year was a fluke, a complete aberration! We knew the truth had to come out because all of those people—bitter bloggers, fans of bitter bloggers, investigative reporters who broke the news that Newton was the first player in the history of organized sports to receive illegal payments, the scout who questioned his "fake smile"—just had to be right. That's what matters most—being right. I told you Can Newton wouldn't be any good. And he isn't. I was right! He cheated in college. Yeah, that's why I don't like him. He got money to play. I said it all along, he's a bad guy. Yep, and a bad quarterback. He proved it in that first game. I was right! I was right. By God I was right!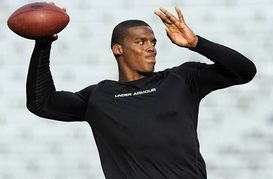 ICONCam Newton makes plays with his arm, too.
Except they're not right. Cam Newton is a fine quarterback. He had a bad game. But this makes him a bad player. These are the rules, I'm told. And the rules dictate that for today's episode, all the glowing things I said about Cam Newton in my earlier story should be retracted. For the record, nothing I said about Cam Newton was "glowing," it was just truthful. There will be no retractions.
Let's put away the hatred and entertain some forensics. Tampa Bay executed a great game plan. The Carolina Panthers run the ball. And when they couldn't do that effectively, they were limited. They aren't like the Giants. Last year, both Mario Manningham and Hakeem Nicks had the command of number one receivers. Victor Cruz added the essential explosive element.
Carolina has yet to demonstrate such a counter offensive. Steve Smith is still great at 33, but for the moment, Brandon LaFell and Louis Murphy are still largely unknown quantities.
But there's an essential play that's been overlooked in this discussion. On third and 9, the Panthers had the ball around midfield. With 13 minutes left, they trailed Tampa 16-7. The game was effectively in their grasp. On the several previous third downs, Newton had either forced a throw, run out of time, or been sacked. But this time, in the shot gun, Newton got what he wanted.
Newton waited for Murphy to get across the field on a deep arrow route. Then he made a great throw. But the defensive reaction to it was even better. Bucs safety Mark Barron got a jump on the ball, took the proper angle, and made a magnificent play to knock it down.
It was the play of the game and if you ask me, the play of the entire season. Whoa, maybe I should slow down. September isn't the time for declarative sentences of any kind. Football is played in the fall, and right now it's still summer.
We should all consider that heading into Sunday. But I suspect it'll get worse because right now, the Saints are still a better team than Carolina. After that game, we'll be back here again, listening to the rank and file casual observer talking about how Cam Newton is struggling because he's not a "top tier pocket passer" like Manning and Brady or that last year's success was just some myth created by the "liberal media."
If a guy can run really well, there's no way he can throw just as well. That's the thought process inside the prism through which the unimaginative crowd views Cam Newton. For some it's "he just can't be that good," while for others it's "he just can't be that good."
This conversation—the one we're having now, as well as the one that began in the days leading up to the 2011 NFL draft—isn't even about Cam Newton. Not completely. It's about this perverted desire to keep celebrity in check, even before it goes awry. The TMZ nation wants its pound of flesh and it won't be denied.
Over the past fifteen years, I've been told by more than one editor that I should try to take the fan's perspective. I laugh when I hear this because I am a fan. I love sports and I've been in and around football most of my life. Problem, is I don't hate athletes.This seems to be a requirement.
I'm really being told to say what fans want to hear. But when I peruse various media outlets, what I find is all the crap mentioned above. What I find is a need to reduce actual people to myths and to present talent as liability.
"He makes plays with his legs."
Great quarterbacks with personality are good for this game. Like Joe Namath was, like Terry Bradshaw was, and like Brett Favre was.
Like Cam Newton will be.
Follow Alan Grant on twitter @AlanGrant_NFL