Is Finnegan worth the investment in St. Louis?
by
May 10, 02012
Print This
Ideally, we'd all like to believe that NFL coaches and front office executives always make sound decisions with respect to the acquisition of veteran players, and that they never let personal feelings our external pressures cloud their judgment. They spend money wisely and efficiently to upgrade their team.
If only that were true.
Let's put our 'GM' hats on for a moment. Here's the scenario: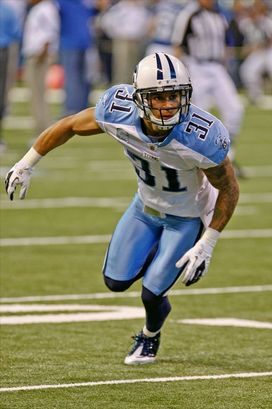 ICONThe Rams paid big to land Cortland Finnegan this offseason.
You are a brand new GM, but you've paid your dues in the personnel department of two NFL teams for 15 years. You've just hired a new coach, who's been to a Super Bowl, and he's a defensive guy. So, despite the fact that you inherited an offense that was dead last in scoring last season, you also inherited the 26th ranked defense. Your head coach wants to upgrade the defense first.
You mutually agree that you need an elite corner to elevate the play of your secondary. There are some stud receivers in the division, and therefore an acquisition is a priority. You need an impact guy. You need a playmaker. You need a game changer. This is your first big-time free agent maneuver, so this decision is crucial.
It just so happens that there is a veteran that knows your new system, knows your new coach, and happens to be considered the best corner available in free agency by everybody buzzing in your ear. He has the "reputation" of being an elite corner, a big-time hitter that isn't afraid to be physical, he's durable, he's dependable, and he is a playmaker. He's a game-changer. He's exactly what you are looking for.
What's a guy like this worth? Well, Terry Watson (Finnegan's agent), says $50 million over five seasons. And $24 million of that should be fully guaranteed. Big bucks for a big-time baller, right? Print that contract and let's get this done.
It all fell into place so quickly. Negotiations with Terry Watson are swift and precise. The contract is signed, the splashy press conference is a big hit, and the local media and the season ticket holders are all smiles.
Did I mention that the corner you just signed has made only 4 game-changing plays in his last 36 NFL games?
I'm sorry you just spewed coffee all over your computer screen, my bad. Yes, I'll repeat what I just said: The corner that you just gave a 5-year, $50 million contract to, with $24 million of that fully, 100%, absolutely guaranteed, has exactly 3 interceptions and 1 forced fumble in his last 36 NFL games. Oh, and he's really just 5'9. But he gets you about 5 tackles a game.
Let me put that into perspective for you: Matt Giordano has played for 4 teams in the last 4 years. He started 9 games in the secondary for the Raiders last year, and had 5 picks and a forced fumble. So, that's 6 game-changing plays for a journeyman safety in 9 starts last season, compared to 4 game-changing plays for your $50 million dollar man over the past 36 games. I'm sure this will work out just fine though, no worries bro.
In a nutshell, that's how things played out in St. Louis with the signing of free agent corner Cortland Finnegan. Whether Jeff Fisher's influence on Les Snead is to blame, or pressure from the local media and fan base is to blame, or Terry Watson has dirty pictures of somebody, the St. Louis Rams paid an absolutely absurd amount of guaranteed money to an undersized corner that simply doesn't make plays.
I've never heard an NFL coach or an offensive player say that they simply have to stay away from Finnegan's side of the field, or that they avoid him because of his playmaking ability. The dude isn't Deion Sanders by any stretch of the imagination. We all know that Andre Johnson isn't intimidated by him. The NFL is all about production, and this guy does not produce.
Finnegan is a trash-talker on the field and a quote machine off of the field with the media. Maybe that's why his public perception is that he's a ball-hawking playmaker. However, the actual stats, the actual on-field production, clearly show otherwise.
Warren McCarty is the founder of mypassionisfootball.com and MPIF radio.