It's a reporter's job to report
by
September 15, 02012
Print This
A sports reporter from the Los Angeles Daily News was suspended for two weeks of practices, and his credential to cover the Cal game was revoked by USC. Why did this happen? Because a reporter, whose job it is to report the news, reported the news. Scott Wolf reported that USC kicker Andre Heidari underwent knee surgery last week, and would be sidelined about three weeks.
The story seems so harmless, doesn't it?. No doubt it's another instance of a college football coach trying to intimidate and dictate what message goes out to the public. USC initiated a policy this summer prohibiting the reporting of injuries and strategy during in season practices. I'm not a big fan of news organizations agreeing to limitations on what they can and can't report on. This is a game after all. No one is putting people at risk by revealing plans for the D-Day invasion. Yet, I understand that organizations feel the information gained, even with limitations, can enhance the reporters knowledge therefore the reporting over the long term.
In this case, Wolf did not report on an injury that happened in practice. The injury was sustained in a game. Yet coach Lane Kiffin and USC wanted to make an example of the reporter (a cautionary tale for others who cover the Trojans).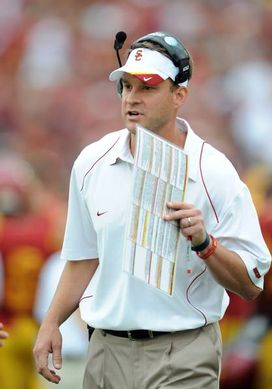 ICONDo college coaches like Lane Kiffin have the right to tell reporters what they can and can't report?
USC athletic director Pat Haden is a smart guy who knows bad publicity when he sees it. The suspension and revocation of credential were quickly overturned. Kiffin made a non-apology, apology.
USC isn't the only school with such a policy, but I think it rare that a reporter has been banned for what the school feels was violation of that policy.
Back in August Mississippi State coach Dan Mullen threw a hissy fit when a reporter asked him how much two players were able to do in pre-season camp. No reference in the question was made to injuries. Yet, citing a policy, Mullen began a series of shrugs and the whining ensued.
Many coaches, especially college coaches from smaller towns, believe the job of the reporter is not to report news but rather to convey the message the coach wants the public to hear. For a long time that's the way it was, and in some instances still exists. There are reporters who value access and perceived insider status over telling it like it is.
Having been on the broadcast team of the University of Miami back in Howard Schnellenberger's second season, I can recall Howard (who I like and respect greatly) coming down the aisle of our charter flight telling all not to speak or write negative stuff about the team. That was aimed not only at the guys who broadcast the game but those covering it for the Miami Herald and Miami News. I don't think his words had much impact on the words we spoke or those written in the paper.
Coaches are paranoid people by nature. They're control freaks and often times allergic to telling the truth. Why would anyone believe a word coming out of Nick Saban's mouth? Same for Urban Meyer, Bobby Petrino and of course, Lane Kiffin.
Coaches have a job to do and so do reporters. And the reporter's job is not to be a mouth piece for a coach and his program.
BEING POWERFUL IS TIRING: A video of WFAN's Mike Francesa taking a catnap on the air while conducting an interview has gone viral. The most powerful host in sports talk radio - as ranked by Talkers magazine - says he was just resting his eyes not sleeping. I side with sleeping, but cut the the guy some slack. You'd fall asleep too if you worked as many hours as Francesa does. Love him or loathe him ,the man sits by himself in a studio making radio for many hours a day much of the year six days a week. Take it from one who knows, it's not easy. I actually give him credit for seamlessly continuing the interview upon regaining consciousness. If you were listening on the radio, not watching on tv, you never would have known he'd fallen asleep.
One day I'll write about the many on air naps of Larry King.
Bob Berger is a 35-year veteran of sports radio. For the last 18 seasons Bob hosted "Around The NFL" on Network Radio. He's on the Panel of Voters for the Associated Press NFL All-Pro team and post season awards. In recent years Bob hosted weekends on Yahoo Sports Radio, Sporting News Radio and One On One Sports. He is a graduate of the University of Miami.