Makeover needed for Chargers front seven?
by
April 11, 02011
Print This
The San Diego Chargers have been running a 3-4 defense since 2005 and have had some of the most talented defenders in the NFL playing in that system. Impact players such as Jamal Williams, Donnie Edwards, and Shawne Merriman have parted ways with the Bolts in recent years and new defensive coordinator Greg Manusky will find it difficult to sustain and improve the performance of his defense without making drastic changes.
The foundation for any successful 3-4 starts with the nose tackle. Former Chargers NT Jamal Williams played at a Pro Bowl level for several years while clogging up the middle of the defensive line. However, Williams' nagging injuries (a torn triceps in 2009) and a $6 million per year salary forced the team to part ways with him prior to the start of the 2010 season. Since then, the Chargers have been playing musical chairs at the NT position with minimal success.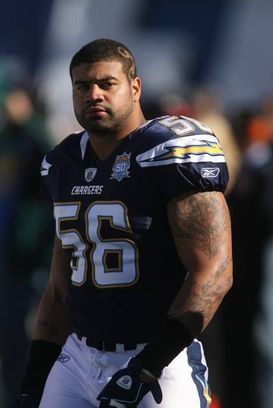 ICONGone are the days when former Pro Bowl linebacker Shawne Merriman led the San Diego defense.
San Diego currently has young defensive linemen such as Vaughn Martin, Ogembdi Nwagbuo, Cam Thomas, and veteran Antonio Garay on the roster and ready to contribute. Garay had a solid finish to 2010 but has yet to show he can maintain that level of play year to year. A rotation involving a few or all of these players at defensive tackle would be a better option than trying to find the next Jamal Williams.
The Chargers want their 3-4 defensive ends to tie up blockers, allowing their outside linebackers to apply pressure from the edge. The Chargers have been in need of an upgrade from Jacques Cesaire for several years and 2005 first round pick Luis Castillo has not developed into the dominant player they had hoped. The Chargers selected Northern Illinois DE Larry English in the first round in 2009 and have used him at OLB. English ranks fifth on the NCAA sack list and would be more effective playing DE in a 4-3 where he can concentrate on pressuring the quarterback. The Chargers hope he stays healthy in 2011. Parting ways with Castillo and his inflated salary and acquiring a veteran DE through free agency or a trade to line up on the other side of English would help this transition.
The 2011 NFL Draft has many pass rushing DEs expected to go high in the first round. Rookie pass rushers Aldon Smith (Missouri) and Ryan Kerrigan (Purdue) may not be there at No. 18, but might be worth sacrificing a draft pick to move up to select. Either of these players would provide the edge rush the Chargers have been lacking for years. Acquiring depth at DT in the third and fourth rounds with players such as Lawrence Guy (Arizona State) or Dranik Scafe (Boston College) would be a nice upgrade as well.
Only a few years ago, the Chargers had enough depth at the linebacker position that they used a 2007 third round pick to draft Clemson LB Anthony Waters knowing he was recovering from a severe knee injury and would not be able to play until 2008. Waters was cut in 2009 and injuries to former All Pro OLB Shawne Merriman (knee surgery - Released midseason 2010), Jyles Tucker (2010 IR), Stephen Cooper (limiting injuries plus a 2008 steroid suspension), and 2010 third round pick MLB Donald Butler (2010 IR - torn Achilles) have left the Chargers sorely in need of depth at LB if they are to maintain a 3-4 alignment up front.
Current MLB Brandon Siler has proven to be the Chargers' best linebacker against the run and starting OLB Shaun Phillips had a Pro Bowl year in 2010. Antwan Barnes and Antwan Applewhite both had solid 2010 seasons filling in for Merriman and Tucker.
With veteran depth at the OLB position but no real playmaker opposite Phillips, the Chargers can hope OLB Akeem Ayers (UCLA) falls to them at No. 18 or the team can build more depth with players expected to be there in the second round. Quan Sturdivant (North Carolina) played MLB for the Tar Heels and has the size (6-2, 230) and speed to play OLB in a 4-3 defense. Other intriguing prospects expected to be available in the second and third rounds include Steven Friday (Virginia Tech) or Mark Herzlich (Boston College).
A.J. Smith is famous for his saying, "You are a Charger one year at a time." If that statement reads true for 2011, making big changes to the front seven won't be hard to do.