Missed reviews and miscues in Week 10
by
November 16, 02012
Print This
By Ben Austro, FootballZebras.com, special to NFP
Even karma in the NFL has parity.
After benefiting from an incorrect ruling on a touchdown, the Panthers had a touchdown scored against them that also should not have counted. Two weeks ago it was an inadvertent whistle; last week it was a case of "premature exuberation."
On a punt return by the Broncos, Trindon Holliday crossed the goal line, raising his hands to celebrate. In the process, he lost control of the ball before he crossed the goal line. Replay official Bob Boylston, apparently only verifying that Holliday stayed in bounds, confirmed the touchdown call. In real speed Holliday's drop seems to be a touchdown, and a key replay angle was not shown by CBS until after the commercial break (long after a review could have been called). But those mitigating circumstances do not matter.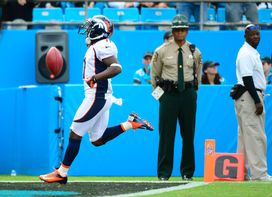 US PRESSWIRETrindon Holliday got one passed the officials on Sunday.
"Boylston should have stopped the game to initiate an instant replay review," a league spokesman said in a statement. "Had that occurred, [referee Alberto] Riveron would have had the indisputable visual evidence necessary to overturn the on-field ruling."
Because the ruling would have been fumble in the field of play, with the loose ball going out of bounds in the end zone, it is a touchback. That would mean the Broncos not only would lose the seven points, but they also lose the ball to the Panthers.
Replay officials are graded the same as the on-field officials as it relates to their specific responsibilities. The grades are used to determine 11 playoff assignments from the 17 available officials.
Clock and spot are off in San Francisco
Referee Clete Blakeman runs a very neatly threaded crew that apparently just unraveled Sunday. In fact, I have had him at penciled in for a conference championship this year. (Blakeman is ineligible for a Super Bowl this season indirectly due his lack of seniority.)
While Blakeman was measuring for a first down, the stadium clock began to run. More than a minute elapsed from the clock before line judge Ron Marinucci and field judge Buddy Horton conferenced with Blakeman, who announced "we are checking the game clock for accuracy."
The stadium clock is the official time of the game, run by a league-hired clock operator. The line judge has primary clock-watching duties, but, effectively all officials should be checking the clock regularly. In case the clock malfunctions, the line judge will take over the timing on the field, and the scoreboard clock must be turned off.
CONTINUE READING ABOUT WEEK 10 ON PAGE 2..