NFL Combine: Offensive Risers
by National Football Post
February 29, 02012
Print This
A look at the top offensive prospects who boosted their stock the most…
Georgia Tech WR Stephen Hill
The 6-4, 215-pound wide out blitzed his 40 in the mid 4.3 range and at his size could now make a run at the back end of round one. He's an explosive leaper as well who can routinely win down the field in jump ball situations. Plus, he displayed good quickness, posting one of the top short shuttle times as well at the position. Size/speed gets you drafted high and Hill has an elite combo.
Draft Status: Potential late first/second round pick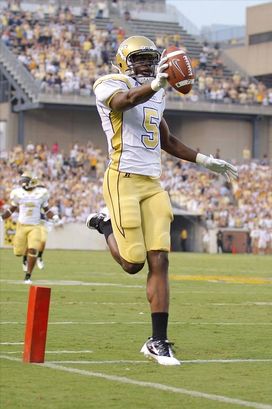 ICONHill's stock is on the rise.
Connecticut WR Kashif Moore
The underrated speedster showed well with a 40-time in the low 4.4 range. However, it was his elite 43.5-inch vertical, which was tops in the group that really opened some eyes. He also posted one of the fastest short shuttle times at the Combine, proving he possesses the quicks to go along with his top end speed.
Draft Status: Potential late round pick
Georgia OL Cordy Glenn
It's rare of see a guy at Glenn's dimensions (6-5, 345) run in the sub 5.0-second range and display the kind of overall athletic ability he possesses. Glenn also exhibited "plus" length (35 ¾) as well and despite not being the most fleet of feet laterally, you can still see the initial quickness/burst needed to get off the ball and into contact quickly.
Draft Status: Potential top-20 pick
Midwestern State OL Amini Silatolu
He didn't run the most impressive of 40 times (5.4 range). However, Silatolu showcased the ability to drop his pad level, maintain his balance and cleanly change directions laterally during positional drills. He's got an explosive element to his game when asked to mirror/re-direct and looks like a guy capable of starting early during his NFL career.
Draft Status: Potential top-50 pick
Baylor QB Robert Griffin III
Griffin III might have just "upped" the asking price for the number two overall pick after posting a sub 4.4 40 at the Combine. The former track star possesses elite top end speed for the position and despite not being nearly as sudden in the open field as Eagles QB Mike Vick, he proved that he has the straight-line burst to create big in space. Add in the fact that he "wowed" everyone this week on the board and you have a guy who isn't going to get past the second overall pick.
Draft Status: Potential top-2 pick
Oklahoma OT Donald Stephenson
Overall, Stephenson was the most explosive offensive lineman at the Combine this year. He ran the fastest forty (4.94) and recorded the best jumps in both the broad (9'6) and vertical (35.5). And at 6-6, 312-pounds he now gives himself a chance to get drafted late because of his "plus" athletic skill set.
Draft Status: Potential late round pick
Miami WR Tommy Streeter
Size/speed wins on draft day and at 6-5, 219-pounds Streeter was impressive running an official 4.4-second forty. He's a guy who is still developing at the position, but with a rare physical skill set, he displayed the athleticism needed at the Combine to rise.
Draft Status: Potential top 75-pick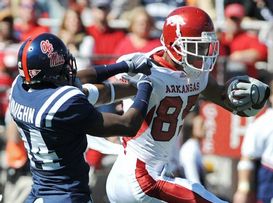 Childs has had a solid post-season.
Oklahoma TE James Hanna
The 6-4, 252-pound target ran in the high 4.4 range, posted a 36-inch vertical and a 10-foot-2-inch broad jump. He did look a bit unnatural at times catching the football, but showcased natural range down the field and overall it was an impressive display of athleticism from Hanna on Saturday.
Draft Status: Potential late round pick
Arkansas WR Greg Childs
It's been a rough year and half for Childs with all the injuries. However, the big target showed well during workouts Sunday. And what stood out the most was his 1.5-second ten-yard split. One of the fastest in the group and a great number for a receiver of his size 6-3, 219), displaying his ability to play fast out of his breaks.
Draft Status: Potential late round pick
Missouri TE Michael Egnew
Say what you want about Egnew not playing nearly as fast/quick on tape as his 40-time indicated (4.6). But, the guy still had one heck of a workout. He was one of the top performers at his position in the short shuttle, three-cone, broad and vertical jump and overall displayed the athletic ability needed to be an intriguing "off the line Y" prospect at the next level.
Draft Status: Potential mid round pick
Want to learn how to study the NFL Draft? Click here to sign up for the NFP's online scouting class.