NFL Draft: Ranking the OT Class by Tiers
by National Football Post
March 22, 02012
Print This
Breaking down the tiers of offensive tackle prospects…

Tier 1

Matt Kalil: Southern California (6-7, 295)
There are some negatives concerning his overall anchor strength. However, you have a "plus" athlete at the position with good foot quickness, natural change of direction skåills who knows how to bend. Might need a year to get stronger. But has the skill set to play in year one and develop into one of the leagues better offensive tackles as he matures physically.

Tier 2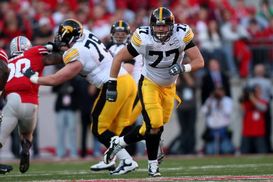 ICONReiff is natrual on the move.
Mike Adams: Ohio State (6-8, 320)
He's a talented kid with a big frame, long arms and natural movement skills. He can bend and if he can put it all together and continue to improve his footwork he could certainly mature into a starting caliber left tackle in the NFL.

Tier 3

Riley Reiff: Iowa (6-6, 300)
Showcases the ability to bend with good foot quickness and range in pass protection. Also displays an explosive element to his game as a run blocker. Needs to be more consistent with his footwork and would like to see him develop a bit more as a puncher in order to keep himself clean. Nevertheless, has the athleticism, flexibility and pedigree to mature into a solid starting left tackle in the NFL.

Jonathan Martin: Stanford (6-6, 304)
He's got the NFL size, length and overall athletic skill set. However, he's not a natural anchor player and doesn't strike me as a guy who is ever going to be real physical at the next level. He can mirror in space, but struggles to stick through contact and isn't real heavy handed. Looks like a finesse tackle who will get over drafted because of athletic talent, but is going to have a hard time keeping the edge clean at the next level.
For tiers 4 & 5 click to page two...