NFL post-career obligations, part two
by Jim Steeg
May 30, 02012
Print This
Click here for Part one of NFL post-career obligations
For the average fan, just imagine that you go to college to earn an accounting degree, then back it up with an MBA, pass the CPA exam with flying colors, work for five years and achieve partnership in your firm. And then, suddenly, at 40, you are fired. And then, you are inexplicably informed that there are no more accounting jobs for which you can apply. To me, this is like the story of Junior Seau: Unanimous first-team college All-American, fifth overall pick in the 1990 NFL Draft, 10-time All-Pro, 12-time Pro Bowl selection, soon-to-be Hall of Famer who grew up in a poor Samoan family in Oceanside, CA., played 13 seasons for his hometown San Diego Chargers, transcended American football and became a San Diego sports icon and the most successful Samoan athlete ever.
And then, boom, at the age of 34, he's fired by the Chargers and traded to the Miami Dolphins, where he spent three years before signing with the New England Patriots and playing another four seasons. And then, at the age of 40, he's fired again – for the last time.
His restaurant in Mission Valley – Seau's – was his most successful business venture. Although he did a TV show for Versus, Sports Jobs with Junior Seau, none of the networks clamored to hire him as a football analyst after he retired in 2009. He raised more than $4 million for his Junior Seau Foundation and was extremely involved in philanthropic work in San Diego, yet while rewarding on one level to him, it didn't come close to filling up the void – the hole – of retirement.
Colleges should not be exempt from criticism in the post-NFL career training. College football programs do not get evaluated by the NCAA for graduation rates for players who leave early for the NFL. This must change. More and more players are leaving school after their junior years. Those schools need to help, encourage and support players to get a substantive degree within three to five years of his departure. That should be an obligation in awarding a scholarship.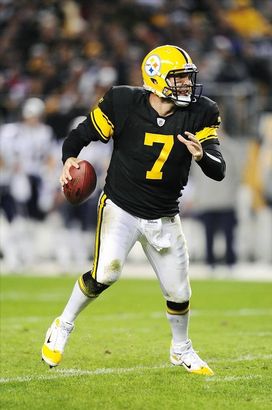 Ben Roethlisberger received his degree in education at Miami (OH) nine years after he left for the NFL.
It took an active professor to push Pittsburgh Steelers quarterback Ben Roethlisberger back to his alma mater, Miami University in Oxford, Ohio, nine years after he jumped to the NFL. He was four classes short of graduation. On May 6, Big Ben received his degree in education. It seems to me that universities are much more concerned about getting their pros to donate to the athletic program than getting them to fulfill their commitment to graduate.
The NFL has spent millions of dollars on the annual rookie symposium (only for drafted players) and the salaries of each team's Player Development Directors. Unfortunately, in the case of the latter, this individual filling the role as the team's Player Development Director, in most cases, reports to football operations personnel. Players are greatly afraid of taking Player Development Directors into their confidence as their issues may go straight to the General Manager and Head Coach. In addition, the clubs need to be careful that their Player Development Directors are true professionals, and not, as in many cases, a former player just off the field. These are important roles, and the people who fill them must be trained professionals, have independence from football operations personnel, and uphold complete confidentiality. This individual cannot be the players' friend; he or she needs to as professional as the psychiatrist is to his or her patient.
What I've always found ironic is that many of those who use many of the NFL's post-career education programs are not the ones who really need the help. Almost all the NFL's programs fall short because they are awareness oriented, but do not seek behavioral changes. Those most susceptible to experiencing problems think they have it all figured out. They have the money; they don't want someone to tell them how to manage their lives or their finances; and, they believe they will be the exception.
The NFL is the ultimate people business. Their product is the performance of the players. They can easily see their future, but it is important to get the best performance they need to have the concern over the future mitigated.
Adding to all these issues is the fact that many NFL teams treat their alumni poorly. Unlike the way players are treated as they return to their high schools or colleges, welcomed back to watch or coach practice and stand in the team benches at games, sadly, many NFL teams shut their doors to players once they are cut or are retired. There are far too many instances where NFL alumni are not welcome in team facilities at all. Oh, yes, they are welcomed back for Alumni Days, but do not have unfettered access to the facilities, aren't invited to watch practices or address the team, or even to attend games without paying for tickets.
There exists means to help make the transition to post football easier. The league may have to mandate procedures that each club would adhere to. Among these are ones that begin with the active players. The players need to be mandated to attend sessions, preferably each week, that address their post-NFL careers. This can be in conjunction with local universities, teaching the players money management, career counseling, entrepreneurship, testing for career paths, devising off-season internships, and most importantly, emphasizing continuing education. For example, an NFL player who has not graduated from college is not allowed to enter the workforce as a high school or college coach.
Once the player retires, the teams need to provide counsel for important issues, led by the player's health and physical well being. Many players need to radically change their diets, lose their football playing weight, and adjust to the lack of physical activity the designed workouts and practices provided. The teams should provide the counsel, either in person or through internet programs. There are so many players who were demanded by their teams to gain weight, and it puts them in jeopardy in their future lives.
Teams need to continue to provide access to their facilities for the retired players. It is so easy to provide access to weight rooms and physical training equipment, especially in hours that the team does not use these areas. How simple is it for a team to provide a small locker room for the retired players to use?
The NFL has the money and the power to positively affect the lives of their most important asset…the players. Is there not a moral obligation that exists?
The NFL is an organization that prides itself on establishing best practices for many club functions. Teams are always graded and evaluated by the league. It is time to establish best practices for transition programs for their players and alumni. Standards need to be developed and teams graded for achieving standards. The league has done this in many more subjective areas such as stadium security, fan behavior and game experience. They get graded each week on the field with team performance.
The NFL has been built on the blood, sweat and efforts of its players. Each group of players has passed down to others a better situation. So many NFL owners, staff and coaches owe their livelihood to the players of the past and present. The current NFL ownership have an obligation, and a responsibility, to make the transition of their alumni into the post-career life easier – and possible. Personally, I have attended too many funerals of players that are my age or younger. Perhaps the lasting legacy of Junior Seau will be a re-commitment by the NFL to their current and past players to ensure the lives they have will be as rewarding, and fulfilling, post-football as what they gave to so many while they were on the field.
Former NFL Head of Special Events Jim Steeg was responsible for changing the Super Bowl from a championship game into the event it is today. He also was the man who turned the NFL Draft from a behind-the-scenes meeting into a televised spectacle.