NFP Power Rankings
by National Football Post
November 29, 02011
Print This
Every week, the National Football Post brings you our weekly NFL Power Rankings: a breakdown of how we stack up the league.
Week 13 (previous rankings in parenthesis)
1. (1) Green Bay Packers (11-0): After watching that Giants' defense last night vs. Drew Brees, how many yards in Rodgers going to put up on Sunday in New York?
2. (3) Pittsburgh Steelers (8-3): An ugly game in K.C., but can we really drop the Steelers for winning on the road in the NFL?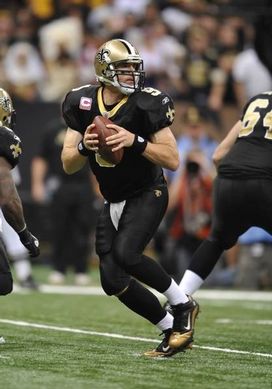 ICONBrees threw 4 TDs (and ran for another score) as the Saints blew out the Giants on Monday night.
3. (4) New Orleans Saints (8-3): How many of you want to see a Brees vs. Rodgers matchup in January up at Lambeau?
4. (6) Baltimore Ravens (8-3): Nine sacks vs. the Niners. That should tell you the story right there.
5. (2) San Francisco 49ers (9-2): One loss doesn't change a team, but was anyone else surprised at how the Niners' O-Line was handled by the Ravens?
6. (5) New England Patriots (8-3): That was too easy for Brady vs. the Eagles' secondary.
7. (7) Dallas Cowboys (7-4): After the recent slide by the Giants, Romo and the Cowboys look like the clear favorites in the NFC East.
8. (13) Cincinnati Bengals (7-4): Dalton and the Bengals win a tough divisional game in the AFC North and climb into our Top 10.
9. (14) Atlanta Falcons (7-4): The Falcons might just pick up one of the NFC Wild Card spots.
10. (12) Oakland Raiders (7-4): The Raiders struggled in the red zone in the win over the Bears, but when you have Jainkowski that is an automatic three points.
11. (9) Detroit Lions (7-4): The Lions now head to New Orleans this Sunday night without Ndamukong Suh. That's a problem.
12. (10) Houston Texans (8-3): T.J. Yates could get the Texans the AFC South title, but can he beat the top teams in the AFC in January?
13. (8) Chicago Bears (7-4): Turn the ball over in the NFL and you lose games. A simple message to give to QB Caleb Hanie this week.
14. (15) Denver Broncos (6-5): Tim Tebow is 5-1 as a starter and the Broncos' defense is playing at a top-tier level.
15. (16) New York Jets (6-5): Mark Sanchez threw 4 TD passes in the red zone in a game the Jets had to get vs. the Bills.
16. (11) New York Giants (6-5): No other way to say it: the Giants' defense was torn apart by Brees and the Saints last night.
CONTINUE TO PAGE 2 TO CHECK OUT THE BOTTOM HALF OF THE LEAGUE