As noted here several weeks ago, and as has become pretty obvious to everyone by now, the injury to Rob Gronkowski and the release of murder suspect Aaron Hernandez has left the New England Patriots woefully thin at tight end. But the Patriots also appear perilously inexperienced at wide receiver, as coach Bill Belichick and his offensive staff opted to dramatically turn over the depth chart at the key position, and to rely of an influx of youngsters.
The takeaway, though, on the remaking of the New England wide receiver corps: The change basically was a conscious one, the conclusion to go younger, and potentially more explosive on the outside, largely a decision that was arrived at relatively early in the spring, after an extensive evaluation of the passing game. Unlike the situation at tight end, over which New England had no control, it's hardly coincidence that the Patriots have so many fresh faces at wide receiver.
Yeah, maybe the changes wouldn't have seemed quite as extensive had slot receiver Wes Welker stuck around instead of defecting to Denver. But even had Welker agreed to an extension, New England coaches and officials had essentially decided to get serious about the development of younger, quicker, more vertical outside receivers after several seasons of utilizing veteran stop-gaps and striking out on some young prospects.
Notable is that the last "home-grown" wide receiver to have more than 40 catches in a season – not counting Deion Branch, who notched 51 in 2011, but in his second tour of duty with the Pats – was in 2006. Belichick hadn't invested heavily in the wide receiver position during his tenure until this year. But when he had, players such as Chad Jackson, Brandon Tate, and Taylor Price had bombed out.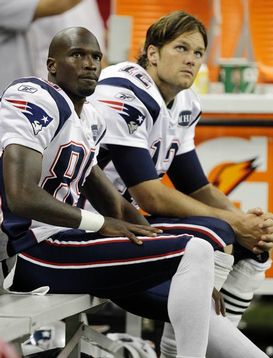 Chad Johnson flopped during his one season in New England, just before veteran Brandon Lloyd failed to meet expectations.
"We had been filling in, kind of 'patch-working' things (at wide receiver), because that's the way the chips fell," one team official told the NFP. "So maybe it was time to take some guys and develop them. . . . By and large, the (young wide receivers) have done pretty well, mentally and physically, so far. (Tom) Brady is going to make a lot of people look better. But these guys look like a pretty good bunch."
Statistically, the Patriots ranked No. 4 in the NFL in passing offense in 2012, so the easy call might be that there wasn't much room for improvement. But there were also some "numbers within the numbers" that definitely caught the attention of club insiders. New England averaged 12.05 yards per reception, and only nine teams were better than that, but that group included both Super Bowl franchises. The team's yards-per-attempt mark – a stat far more critical to coaches and scouts than to most fans – was 7.56 yards. That was the lowest for New England since 2008 (when it was 7.10 yards), the season in which Brady suffered a knee injury in the opener and Matt Cassel started 15 contests. In the seasons in which Brady started more than just one game, it was the Pats' lowest since 2006, when the number stood at a miniscule 6.81 yards. New England rated high in receptions of 20 yards or more, so-called "explosive plays," but was middle-of-the-pack in 40-yard catches. Tampa Bay, for example, which rated 10th in passing offense but had nearly 700 fewer yards than New England, had double the number of 40-yard plays.
It's convenient to suggest that the Pats aren't as concerned with yards per attempt, since they are designed to be a chain-moving offense, one that controls tempo and pace with its intermediate passing game, and that they don't necessarily gun the ball up the field. But Belichick, who has now gone eight seasons since his third Super Bowl championship, has never been about maintaining the status quo. His hackneyed axiom about "turning the page over" every season? He actually believes it. And he doesn't believe in just standing still. While the conventional wisdom is that Belichick eschews playing youngsters, that isn't really the case.
New England's personnel department, as usual, was just trolling for talented players in the draft. But if some of those players just happened to be wideouts, well, that wouldn't hurt. The club snatched a pair of wide receivers, Aaron Dobson of Marshall (second round) and TCU's Josh Boyce (fourth round), in April. It also added three undrafted wide receivers, most notably Kenbrell Thompkins of Cincinnati. All three rookies have flashed big-play prowess in training camp, and probably rate among the team's top five players at the position (even counting slot receivers, like Danny Amendola, who will replace Welker inside) halfway through the preseason.
All of the cases are interesting, but Dobson's kind of exemplifies the manner in which the Pats perhaps dug a bit deeper. A big receiver (6-feet-3, 210 pounds) with sub-4.4 speed, Dobson was projected by several teams to be a third- or fourth-round prospect. At Marshall, he played primarily in a "spread" offense, but his yards per catch were reduced every season. He caught a lot of "slip" screens and slants, but not a lot of deep balls. One reason, a few teams, including the Pats uncovered: While his quarterback, Rakeem Cato, had a sterling 69.5-percent completion rate in 2012, he didn't throw the deep ball particularly well. What stood out about Dobson in part, people saw on tape, was that he was often open when he ran deep, but rarely got the ball. The other stat that jumped out was that Dobson put the ball in the end zone with regularity. Not only did he register 12 touchdown receptions in 2011, but he averaged a score every 6.9 catches for his college career.
"You can't miss that," said an area scout for an NFC team that probably would have jumped on Dobson in the third round, had he lasted.
The Pats, who have missed on too many wide receiver prospects over the years, seem confident at this point that Dobson and the other rookies will be very solid contributors to their revamped passing game in 2013. The kids are going to have to be good, because there isn't much beyond them.
The release of nine-year veteran and former first-rounder (albeit well traveled) Michael Jenkins last week left 10 wide receivers on the roster, five of them rookies, and six of whom have never played in a regular-season game. Counting two-year veteran Kamar Aiken, seven of the group have played in three games or fewer. The only wideouts with much experience are newcomer Amendola and holdovers Julian Edelman and Matthew Slater, and the latter has principally been a special teams player during his five seasons, with only three career starts. Amendola accounts for 196 of the receptions, 1,726 yards and seven touchdowns from the group's cumulative 266 catches, 2,486 yards and 11 scores. Jenkins had 354 receptions, 4,427 yards and 25 touchdowns, while appearing in 130 games, with 79 starts. The Pats' current 10 wideouts have an aggregate 168 appearances and 33 starts. Still, the team knew exactly what it was doing when it overhauled the position. There are, to be sure, a lot of subplot reasons to watch the Patriots closely this season. But the conscious design to green up the wide receiver corps, and to finally draft and then develop talent there, is certainly one of them.
+AROUND THE LEAGUE
*First-round draft choice Sheldon Richardson of Missouri, the 13th player chosen overall in April, is getting solid reviews in the New York Jets' camp. And while the Jets still hope that second-year veteran and former first-rounder Quinton Coples (5.5 sacks as a rookie) grows into the edge rusher that Rex Ryan has yet to develop in his previous four seasons on the job – despite the perception that Ryan's defense creates sacks, the Jets have never registered more than 40 in his tenure and never had an outside linebacker net more than eight – Richardson seems to be continuing the club's estimable track record for developing active linemen in the 3-4. All three of the team's presumptive starters – Muhammad Wilkerson and Kenrick Ellis, in addition to Richardson – have come in the past three drafts. Wilkerson and Ellis were first- and third-round choices, respectively, in 2011. The ability to choose and then grow down linemen, for which Ryan probably doesn't get enough credit, has enabled the Jets to overhaul their three-man front while few were paying attention. And the trio should permit the Jets to finally play better versus the run, after four seasons in which Ryan's defense never ranked higher than No. 20 in that area, and were 25th or worse three times.
"(Richardson) just has a natural feel for the game," assessed defensive line coach Karl Dunbar. "He moves well, uses his hands well, plays with (economy) and instinct. He's a nice addition." At Missouri, Richardson played all over on the line, even some at linebacker, but figures to be used a lot as a three-technique lineman. But like the two other young linemen, Wilkerson and Ellis, he provides the Jets upfront versatility.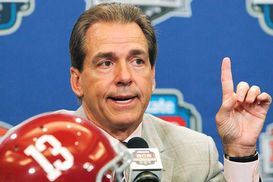 Alabama head coach Nick Saban continues to send top-tier talent to the National Football League.
*It's never too early for draft-related news, even if it falls into the "duh" category. No surprise here, but the sentiment among scouts who have gotten an early look at the Alabama prospects for the 2014 lottery, and who shared some assessments with the NFP last week, is that the Crimson Tide's pipeline to the NFL will certainly continue next April. "Loaded again," one scout acknowledged. Alabama has had at least one first-rounder in five straight drafts, 14 overall in that stretch, and at least three in each of the past three first rounds. In the 2008 draft, the first after Nick Saban arrived in Tuscaloosa for the '07 season, Alabama was completely shut out in the draft, the first time that had occurred since 1970. Starting in 2009, Alabama has put 33 players into the draft. The program had gone from 2001-2007 without a first-round pick before Saban was hired.
Offensive tackle Cyrus Kouandjio, linebackers C.J. Mosley and Adrian Hubbard, and safety Hasean Clinton-Dix are all regarded as first-round possibilities in 2014. It's still a long shot, but there is even some feeling that quarterback A.J. McCarron, despite some physical limitations, could possibly play himself into first-round potential by next spring.
*One of the feel-good stories of the summer probably has a couple more weeks to play out. But the chances of undrafted free agent linebacker Brian Banks making the Atlanta Falcons' roster, at least the active, 53-man roster to start the year, appear to be dwindling. And that's in part because Banks – who was exonerated after serving five years in prison on a wrongful-rape conviction in 2002 – is being outplayed to date by another undrafted rookie. Early camp sensations come and go, of course, but it appears that strongside linebacker Paul Worrilow, who signed with Atlanta after having been a four-year starter at Delaware (where he was a walk-on), isn't apt to disappear anytime soon. Worrilow led the Falcons in tackles in each of the team's first two preseason outings, netting 11 stops versus Cincinnati and then six and a sack on Thursday night at Baltimore, and has played well enough on special teams to earn the respect of kicking games coach Keith Armstrong. Banks hasn't performed poorly, although there are times when he looks every bit like a guy who hadn't played in a game since high school, where he was a big-time Southern Cal recruit, but the residual rust might make him more a practice squad candidate at this point, from indications of club officials. The Falcons aren't especially deep at linebacker, and the numbers might be reduced there by the fact that defensive coordinator Mike Nolan plans to use ends Osi Umenyiora and Kroy Biermann as standup rushers at times, so it might be tough for a pair of undrafted free agents to make the roster. At this point, Worrilow seems to have the edge.
*Traditionally, one of the positions most impacted by free agency, since the system's inception in 1993, has been the offensive line. Once the touchstone of a franchise's continuity, blocking units have become revolving doors, and establishing stability over the course of consecutive seasons is increasingly difficult. Not all of the change is attributable, of course, to free agency. Retirement, injuries, other manners of attrition, poor play, all have contributed to the annual makeovers. But the loss of consistency on offensive lines has certainly been a factor in the game's general decline the past several years. Statistics indicate that, since 1993, teams have changed an average of nearly two offensive lines starters yearly. This season won't move the needle downward very much. There's still a few weeks before the start of the regular season. But as the projections now stand, the 32 teams in the league will average 1.75 offensive line changes – either new players taking over or holdovers who have switched positions – for the beginning of the campaign. Fully one-quarter of the league, eight teams, project to have at least three changes. One of the reasons San Francisco is picked by many to return to the Super Bowl is the carryover of the club's offensive line, with Joe Staley (left tackle), Mike Iupati (left guard), Johnathan Goodwin (center), Alex Boone (right guard) and Anthony Davis (right tackle) coming back intact. "It's like having a security blanket," tailback Frank Gore said. "Not many teams bring back the same five (linemen) anymore."
*There has been some very cursory contact between the Saints and representatives for wide receiver Devery Henderson, who played his first nine years in New Orleans before signing with Washington this spring as a free agent, and who was released last week. But it's not a given yet that Henderson, 31, will rejoin the club with which he entered the NFL, and which perhaps could use a deep threat because of the recent knee injury to Joseph Morgan. A Saints official said the club is "checking out some things" on Henderson, but the interest isn't huge yet. A former second-rounder, Henderson started just nine games and had only 22 receptions in 2012. Both were his lowest totals since 2007. The New Orleans coaches might still want to get more of a handle on young wide receivers such as Kenny Stills, Nick Toon, and Hakim Saalim before reaching for a veteran.
*Ninth-year defensive tackle Jonathan Babineaux sometimes gets lost in the shuffle in discussing the Atlanta defensive line, but the veteran tackle is having a terrific camp and preseason. And it's notable that Babineaux could make himself an interesting name in unrestricted free agency next spring. Although he will turn 32 in October, Babineaux, who is making $4.7 million in 2013, plays bigger than his size, gets good penetration, and even moves outside to end once in a while as Nolan experiments with some unusual fronts. He's not a prototypical end, but playing there even in a "swing" role could lengthen his career. The league's current active leader in tackles for loss, Babineaux has at least three sacks in five of the last six seasons, plays the run well, and is a solid leader. Whether that adds up to a big contract for a 32-year-old guy, a good player who has never been to a Pro Bowl, remains to be seen. But if he makes it to free agency, Babineaux, who would probably prefer to remain in Atlanta if the Falcons offer an extension, could be one of the real sleepers of next year's unrestricted class.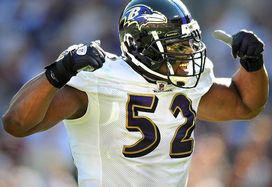 Ray Lewis' retirement has created a void that could be filled, in party, by Daryl Smith.
*On the subject of free agent steals, it sure looks at this juncture like Baltimore got a veritable heist when it signed veteran linebacker Daryl Smith to a one-year deal worth just $1.125 million for 2013. Nobody dares to suggest that Smith, who played nine seasons in virtual obscurity at Jacksonville before signing with the Super Bowl champions in the spring, is going to make Ravens fans forget about the departed Ray Lewis. But Smith, who played in just the final two games in 2012 because of a groin injury, after missing only four contests in his first eight seasons in the league, is very active in pass defense, and perhaps better against the run than people have credited him with being. No, he isn't the physical presence of Lewis – that's a "thumper" role the Ravens hope rookie second-rounder Arthur Brown of Kansas State will fill to some extent – and Smith won't provide the kind of emotionally charged leadership that the future Hall of Fame 'backer did. But he's far better (even though this will be regarded as sacrilege in some Baltimore quarters) in coverage than Lewis was late in his career, gets his hands on plenty of balls, and has more overall range. Smith has been outstanding in the Ravens' two preseason games and has had a strong camp. Credit linebackers coach Ted Monachino, an assistant with the Jaguars for four of Smith's seasons there, for pushing for his addition.
*It's not all that surprising that Brady played in Friday night's preseason game against the Bucs despite his tweaked knee. Despite his standing as one of the game's biggest names, the New England star has actually been among the league leaders in preseason snaps/series worked for each of the past five years. One of the more downplayed elements of Brady's game is his toughness. "The guy," said defensive tackle Vince Wilfork, "is definitely a baller."
+SHORT YARDAGE
*Ten-year veteran cornerback Rashean Mathis, who earned both Pro Bowl and All-Pro nominations in 2006 but who has missed considerable time the past two years because of injuries, insists that his balky knees are better than they've been in some time. Mathis, 32, was scheduled to meet with Detroit officials over the weekend and, if even close to healthy, could provide some help in "sub" packages. Mathis probably is one of the bigger-name free agents still without a job. . . . There are at least two teams checking out sixth-year veteran kicker Dan Carpenter, released by Miami last week in favor of rookie fifth-rounder Caleb Sturgis of Florida, and despite hitting 81.9 percent of his field goal attempts with the Dolphins. Carpenter has said he will wait until his wife gives birth to the couple's first child before deciding on his next move, but no one has guaranteed him a spot yet. That said, Carpenter almost certainly will be the first name on teams' "ready lists" if they opt to make a change at kicker early in the season. . . . The aforementioned Henderson isn't the only former New Orleans high-round wide receiver who is having a tough time. Former first-rounder Robert Meachem, who signed with San Diego as a free agent in 2012 but had just 14 catches and three starts in his first season with the Chargers, is having an uneven camp. A guaranteed $5 million base salary for 2013, and over $10 million in "dead money" if he is released, might save Meachem from the chopping block, but he is struggling. . . . Speaking of San Diego wideouts, you've got to feel for youngster Danario Alexander, who averaged over 17 yards per catch as a part-timer in 2012, but the poor guy can't avoid serious knee injuries. He tore his right ACL in camp and underwent his sixth major knee surgery (including five on his left knee) since entering the league as an undrafted free agent with St. Louis in 2010. . . . Future Hall of Fame tight end Tony Gonzalez is scheduled to return to the Atlanta training camp this week. Gonzalez participated in the first few days of camp, then was excused for a couple weeks, to be with his family as his son began his football career. The arrangement was an agreement with coach Mike Smith and team officials when Gonzalez delayed his retirement plans for a year. So respected is Gonzalez by his teammates that no one raised even a hint of objection to him being excused for two weeks. . . . The Jets' choice of West Virginia quarterback Geno Smith in the draft wasn't exactly designed as a motivational ploy to get incumbent starter Mark Sanchez to work harder. But it seems to have unwittingly worked out that way. Smith hasn't had a sharp camp, in part because of an injury, but nonetheless, teammates insist that Sanchez, who was to have been legitimately challenged for the No. 1 job, has taken control. And part of that has been an uptick in his work habits, his rapport with teammates, and his leadership. . . . On other "quarterback battlefronts" around the league, it sure appears that most if not all of the head-to-heads have already been settled. It will be an upset if Kevin Kolb (Buffalo), Blaine Gabbert (Jacksonville), Brandon Weeden (Cleveland), and Michael Vick (Philadelphia) aren't the opening day starters for their respective teams. Vick has been sharp, seems to have a good grasp of rookie coach Chip Kelly's uptempo offense, and appears more motivated. Challenger Nick Foles hasn't had a terrible camp or preseason, but observers contend he's playing things too safe.
+BY THE NUMBERS
*The scary knee injury sustained by Brady last week in combined practices with Tampa Bay, which proved to be nothing serious and allowed Patriots' officials to exhale, fired a synapse relating to quarterback safety in the league. The football purists (this correspondent among them) suggest that the league has perhaps done too much to protect quarterbacks. But the raw numbers at least imply that the NFL's initiative to insulate its most high profile players has had an effect on reducing attrition. Yeah, even with the offensive line problems cited earlier. In 2012, there were only 47 different starting quarterbacks during the regular season, the fewest in at least 14 years, and a number that is somewhat reflective of the safety measures enacted at the position. In the 12 seasons spanning from 2000-2011, the league averaged 55.6 different starters, never fewer than 50. Twenty of the 32 franchises in 2012 had the same starter for all 16 games. That included all but two of the playoff teams.