NFP Sunday Blitz
by Len Pasquarelli
December 29, 02013
Print This
There is the usual number of worthy contenders for the NFL's "Comeback Player of the Year" award for the 2013 season, but Julian Edelman probably isn't one of them. After all, while the five-year veteran New England wide receiver was a serviceable player during much of his previous four-season tenure, he hadn't enjoyed a singular standout year, followed by a slump, and then the requisite "comeback."
Truth be told, there wasn't much memorable about Edelman from 2009-2012, except perhaps for his three punt return touchdowns or his Troy Brown-like rescue duty on defense when the Patriots were perilously thin in the secondary a few years ago.
Not much on his resume to come back from, right?
But if you want to debate unappreciated players or unsung heroes or any manner of those kinds of figurative titles for this season – the NFL doesn't officially recognize such imaginary honors – then Edelman clearly belongs in the discussion.
It would be hard not to cite quarterback Tom Brady, who has led New England to another AFC East title with most of his prolific pass-catching corps from a season ago either released, defected, injured or in jail on murder charges, as the team's most valuable player. But it would likewise be pretty difficult to imagine the Pats securing another division title, their fifth straight championship and 10th in the past 11 seasons, without a significant Edelman assist.
The guy flat-out rescued Brady and the New England passing game.
"Obviously, he's had a tremendous year for us," coach Bill Belichick told area reporters last week. "There are a lot of things to like about Julian: his toughness, his speed, his quickness, his ability to run with the ball after he catches it, and break tackles, and be elusive and have good run skills in the secondary. He's a tough kid who can come in and block. He's smart. He's got versatility."
He's also got 96 receptions and, barring an injury on Sunday or uncharacteristically tight coverage from the Buffalo secondary, he will finish with 100-plus grabs. If you had Edelman tabbed in the preseason as a guy who might catch 100 balls, or you scrambled to snatch him for your fantasy football team, raise your hand.
Uh, yeah, we thought so.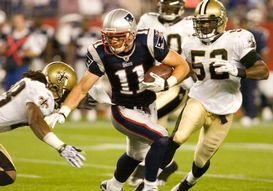 ICONEdelman currently ranks fourth in the league in receptions, with 96.
Edelman came into the 2013 season with 69 total receptions, had 20 or more just twice previously in his career, and hadn't approximated the 37 he registered in '09 as a rookie. And so he's already caught nearly 40 percent more passes in one season than he did in his first four.
He's also got 991 yards after entering '13 with 714; and six touchdown catches, two more than he'd managed his first four years. Heck, he'd had almost as many scores on punt runbacks (three) as he did on receptions prior to this year. Edelman has six catches of 20 yards or more and two catches of 40-plus yards; his first four seasons, he registered nine of the former and two of the latter. And he has four 100-yard performances, something Edelman hadn't accomplished since the final game of his rookie season in the league.
OK, the former Kent State standout isn't Calvin Johnson, but there's a reason that Brady has dubbed him "Minitron." For starters, Edelman isn't particularly big (5-feet-10 and 200 pounds) or physically imposing, and certainly big things were not expected of him this season. But he's come up huge in a season when the Patriots needed him the most.
"It's been gratifying," Edelman said. "It feels good to have people rely on you and be able to contribute."
Remember, Belichick and the New England front office had remade the wideout corps in the offseason, cutting ties with Brandon Lloyd and allowing Wes Welker to defect to Denver as an unrestricted free agent. Deon Branch wasn't re-signed. The Pats drafted wideouts Aaron Dobson (second round) and Josh Boyce (fourth) and signed undrafted free agent Kenbrell Thompkins. The trio of youngsters, plus unrestricted free agent Danny Amendola, signed to supplant Welker in the slot, were supposed to comprise the new wide receiver group. They would presumably buttress a receiving corps that featured tight ends Rob Gronkowski and Aaron Hernandez.
But then Hernandez got arrested and Gronkowski got hurt. Amendola did what he always seems to do, which is sustain injuries, too. Thompkins, Dobson and Boyce, while contributing, suffered the usual rookie breaking-in struggles, and each had a case of the "dropsies" at some point. Shane Vereen, who was supposed to take the place of departed third-down tailback Danny Woodhead, was injured as well. And that pretty much left Edelman, who had started 13 games his first four seasons. He responded by becoming not just Brady's familiar security blanket, but his go-to guy.
"He's been tremendous," Brady said. "He stepped up. The opportunity was there and he obviously made the most of it."
And now one would think that the 27-year-old Edelman, who was a quarterback at Kent State, although drafted as a potential wideout in the seventh round in 2009, will make some money as well. As a free agent after the 2012 season, Edelman attracted scant attention in the unrestricted market, and ended up re-signing with New England on a one-year, $765,000 contract. He received a roster bonus of just $40,000 and a $10,000 workout bonus, with a base salary of $715,000. None of it was guaranteed. It should be fairly noted that Edelman has earned a $250,000 performance bonus, because of his 96 receptions (the bonus maxed out after his 70th catch), but his contract has topped out now at $1.015 million.
After missing an average of four games per season 2009-2012, Edelman, who had been plagued by foot injuries, demonstrated in 2013 he could stay healthy. That has been, Belichick acknowledged, a major factor in his success.
"A lot of times (because of injuries), you're just kind of playing catch-up there, whereas this year I think he's really been able to continue to build on all those practices and games, and it's gotten ahead and gone to much higher ground," Belichick said.
"Fundamentally, I think he's still the same player, but the consistency and the ability to build on where he's been has really been impressive this year."
And while Edelman's average of 10.32 yards per catch could be one of the lowest ever for a wide receiver with 100 receptions in a year– just T.J. Houshmandzadeh (10.2 yards in 2007) and Hall of Famer Cris Carter (10.29 yards in 1994) are lower among wide receivers – one would think there should be some team out there willing to pay, and to offer a multi-year contract in unrestricted free agency. Edelman has led New England in receptions seven times and in receiving yards in four games. He has caught five or more passes 11 times in 2013, seven or more passes on eight occasions.
Not only has Edelman been one of the most unappreciated players in the league, but also one of the most underpaid as well. Both distinctions should end soon, given his clutch performance this season.
+AROUND THE LEAGUE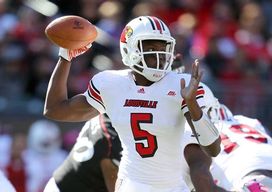 Louisville standout Teddy Bridgewater should be one of the first signal-callers to hear his name announced this spring.
*It's a fairly astounding number, but there could be as many as 11 teams—more than a third of the league—with different quarterbacks in 2014 than the ones who started the 2013 regular-season openers for those clubs. At a position that once was all about creating stability, that's a lot of potential turnover. So many changes figures to have an impact on the 2014 draft, because five of the franchises potentially seeking new quarterbacks currently hold choices in the top 10 of the lottery. That could mean that, for the first time in history, there might be four quarterback prospects among the first 10 selections. That's especially true since teams no longer are concerned about putting young quarterbacks on the field immediately. The old "it takes three years to develop a quarterback" mindset is passé. The apprenticeship that used to accompany the position is history.
"Anymore, you draft 'em and play 'em," one offensive coordinator told NFP. "You sure don't sit on 'em."
In the 47-year history of the "common draft," there have been some notable first-round quarterback hauls. In 1983, of course, there was a record six quarterbacks chosen in the opening stanza, and the historic bounty produced a trio of Hall of Famers: John Elway, Jim Kelly and Dan Marino. There were five quarterbacks chosen in the 1999 first round, all of them in the top 12 picks, with Tim Couch, Donovan McNabb and Akili Smith the first three names off the board. Then, NFL general manager Bobby Beathard correctly predicted that two or three of the bunch would be wash-outs, but that memory probably won't hold the number down in 2014. Jim Plunkett, Archie Manning and Dan Pastorini were the top three picks in 1971. But there has never been a draft that featured four signal-callers in the top 10 names called.
In two of the past three drafts, 2011 and 2012, there were four quarterbacks chosen in the first round, three in the top 10 each of those years. Indicative of how critical the position has become in what everyone agrees is a now quarterback-driven NFL, three of the four occasions in which there were three top 10 quarterbacks have come since that '99 lottery. From 2001-2013, the league averaged 3.3 quarterbacks in the first round, with an average of 1.9 of them among the top 10 picks. Both of those averages could be topped in May. There certainly seems to be plenty of demand and, at least at this early evaluation point, the supply could justify such an early run on quarterbacks.
*Rookie draft choices likely won't be the only quarterbacks available to teams who want to make a change at the position. There could be eight players who began the 2013 season as opening day starters – Jay Cutler, Josh Freeman, Blaine Gabbert, Christian Ponder, Terrelle Pryor, Matt Schaub, Michael Vick and Brandon Weeden – available in free agency. Cutler, Freeman and Vick (who reworked his contract this season and voided years) are all scheduled to become unrestricted free agents. The others could be released.
In addition, Matt Cassel, Josh McCown (who played so well in replacing the injured Cutler) and Chad Henne will be free agents. And that doesn't include the backup types, such as Tarvaris Jackson, Jason Campbell and Rex Grossman who figure to be in the market. Said one general manager who already has his pro personnel director studying video of some veterans: "There's going to be the usual (quarterback) carousel." Word is that Oakland, whether Dennis Allen is retained or not, may look hard at a veteran like Schaub.
*With between 8-10 head coaches probably on the hot seat, it won't be surprising if the day after the conclusion of the regular season is another "Bloody Monday," the likes of which the NFL has witnessed the past few years. But while Washington's Mike Shanahan definitely could lose his job after posting double-digit losses in three of his four seasons with the Redskins, the axe might not fall immediately. Which isn't to say it won't at some point. Shanahan is under contract for 2014 at a cost of $7 million, and it might take almost that much to pay off his bulky staff of assistants. People close to the situation have suggested to NFP that a coaching change would probably require some sort of "sit-down" between Shanahan's representatives and owner Dan Snyder's army of attorneys. And to the best of anyone's knowledge, that has yet to occur.
*Looks like the third time won't be a charm, either, for Houston Texans interim head coach Wade Phillips. The veteran coach, who is 0-2 since taking over for a deposed Gary Kubiak, is in his third incarnation in the thankless job of fill-in coach. And as was the case with the first two temporary gigs, it doesn't appear that Phillips will be retained as the permanent Texans' coach. Phillips was granted an interview with owner Bob McNair and general manager Rick Smith shortly after inheriting the job, but the likelihood is that Houston will seek a fresher presence. There aren't a lot of coaches who engender the kind of loyalty and support Phillips does, but those elements probably won't factor into McNair's decision about who should take over a roster the owner strong believes underachieved in 2013. For the record, Phillips was 1-3 with New Orleans in 1985 (which must seem a lifetime ago to him) when he took over for his father, Bum Phillips, who resigned. With Atlanta in 2003, he was 2-1 in replacing Dan Reeves. He really wasn't legitimately considered for those jobs, and almost certainly won't be on the real "short list" of viable candidates this time.
*The pool of potential unrestricted free agent wide receivers for 2014 looks like a strong one again (Eric Decker or Jeremy Maclin, even coming off injury, anyone?), but a couple guys from the first-round class of 2009 certainly haven't helped their stocks this season, and it will be interesting to see how big a chance some teams are willing to take on Hakeem Nicks of the New York Giants and Tennessee's Kenny Britt.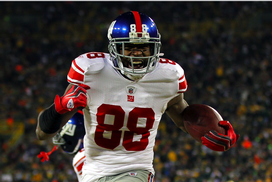 How much is Hakeem Nicks worth on the open market?
The two were chosen back-to-back in the 2009 first round, with Nicks in the 29th slot and Britt 30th, and both possess tremendous talent. But the two have combined for zero touchdowns in 2013, both have battled some petulance in their careers, and will command more scrutiny than interest. Britt's laundry list of off-field indiscretions can't be ignored and there seems little chance he can return to the Titans. Again last week, Nicks insisted his preference is to remain with the Giants, but the team might be more than ready to sever ties.
Sure, Nicks will be only 26 in a couple weeks, and he's had some big seasons. In 2010 and 2011, he averaged 77.5 receptions and went over 1,000 receiving yards each year. But he's barely over 100 catches total for the past two seasons, had only three scores in 2012, and has the bagel next to his name this season. Nicks has now gone 17 straight starts without a touchdown. His three 100-yard games in '13 are offset by the nine games in which he was held to 60 yards or fewer. There were unsubstantiated rumors at the trade deadline that the Giants were fielding offers for him. And it seems that, his entreaties about staying aside – he noted last week that he loves the "stability" of the Giants and hinted he might consider a hometown discount to stay—the club is ready to move on from this disastrous season without him. Some franchise might be tempted by Nicks, even Britt, but the money gamble might not be large.
*There were a lot of dismal moments for Atlanta in 2013, but few sadder than watching tears stream down the face of defensive tackle Corey Peters as he sat on the bench with a torn right Achilles at San Francisco last Monday night. The four-year veteran was doubtless sobbing not only because the injury prematurely ended his best season in the NFL, but probably because of what it could mean financially. The former Kentucky standout, a third-round choice in 2010, is scheduled to become an unrestricted free agent and, now facing an eight- or nine-month rehabilitation, teams may be reluctant to invest too much until he can demonstrate that he is whole again and not damaged goods. The ironic twist could be that the injury, in a sort of convoluted way might actually aid an Atlanta franchise that could be in need of tackles. If the consensus around the league is that Peters should only get a one-year deal to prove he's healthy, then the Falcons might be able to make a competitive offer. And Peters might decide that, on a one-year "show me" deal, he's best off proving himself with the team he knows best, and then going back into the market in 2015.
Then again, there is this twist as well: When Peters injured his foot in 2012, the Falcons placed him on the non-football injury list and paid him at a reduced salary, which cost him nearly $100,000. It remains to be seen if there are any residual hard feelings from that. Peters, just 25, had career bests in both tackles (46) and sacks (five) in his 15 games this season, and has outplayed his draft level. Both of the Falcons' other two top tackles, Jonathan Babineaux and Peria Jerry, are slated for free agency as well. One of the league leaders in tackles for loss (not counting sacks) during his career, Babineaux possesses the best resume of the trio, but is 32 years old.
*It will be interesting to see if Sunday's home game against Cleveland is the last time the Pittsburgh safety tandem of Troy Polamalu (strong) and Ryan Clark (free) are together, or if the Steelers break up the longtime partnership.
"We've been back there so long together, there's just an (intuitive) feel to it," Clark said. "Like the old married couple that finishes each other's sentences."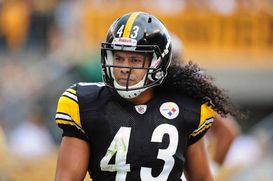 ICONCould the Troy Polamalu era in Pittsburgh be coming to a close?
There's no doubt neither of the safeties is the player he was a few years ago, hardly surprising since Clark is 34 and Polamalu, chosen Friday for his eighth Pro Bowl appearance, is 32. But the Steelers also are confronted by the salary cap problems they have faced for a few seasons, and it's not hard to guess that at least one of the veterans might not return for 2014. Plus, the Steelers coaches are high on Shamarko Thomas, even though the fourth-round pick from Syracuse started in just two games as a rookie in '13, and played principally in "sub" packages and on special teams.
The undersized Thomas is a big-time hitter and the Steelers chose him in part because they feel he could fit either safety spot. Clark and Polamalu both have just the '14 season remaining on their contracts. Polamalu, who because of injuries was forced to take considerable snaps as a hybrid inside linebacker this season, is due a base salary of $8.25 million and has a cap charge of nearly $10.9 million. Clark's base and cap charge are significantly less, $3.5 million and $4.8 million, respectively. Despite all the cap machinations Pittsburgh has been forced to make over the past few years, the Steelers have never requested that Polamalu consider a pay cut or even a restructuring. They may have to do so for 2014.
*Just as there is a ton of worthy candidates for "Coach of the Year" honors in 2013, there is a considerable group of assistants who have done admirable jobs as well, and Philadelphia defensive coordinator Billy Davis is among them. Eagles rookie coach Chip Kelly, whose staff certainly includes a lot of college guys, made a wise move in hiring the veteran Davis to run the defensive side. One of the several veteran players brought in by Davis to help the transition to a 3-4 defense after so many years of playing a 4-3 front, linebacker Connor Barwin termed Davis a "special football mind," and he certainly has been that. In a season in which much of the focus has been on the Eagles' offense and the frenetic pace Kelly imported with him from Oregon, the defense has been overlooked. But the transformation of the unit in terms of discipline, takeaway mentality and stopping the opposition running game has been remarkable.
"I wasn't here last year, and a lot of us weren't," Barwin said. "But the guys who were say it's like night and day."
*When three-time Pro Bowl cornerback Nnamdi Asomugha announced his retirement last week after 11 seasons in the league, it marked not only the end of a career that seemingly had fallen off the deep end, but also the conclusion of one of the most overrated tenures in recent NFL history. There was a time not too long ago – like when Philadelphia signed him to a five-year, $60 million contract in 2011, with $25 million in guarantees – when the raging debate was whether Asomugha or Darrelle Revis was the league's premier cornerback. But even with a bum hip, Revis is still playing and productive. Asomugha? When San Francisco released him earlier this season, the 49ers were the third team in four seasons to give up on him, following Oakland and Philadelphia.
For his career, Asomugha has just 15 interceptions, and eight of those came in 2006. In only one other season did he manage more than one pick. It was fashionable, in defending Asomugha, to suggest that he didn't rack up big interception numbers because quarterbacks didn't throw at him. Baloney. The best cornerbacks find a way to somehow get the ball in their hands. Hall of Famer Deion Sanders, for whom Jimmy Johnson coined the term "shutdown corner," averaged five interceptions the first six years of his career, essentially his prime. You think quarterbacks made a living throwing at Sanders?
"Hell, we were afraid to even throw his way in practice, because he'd embarrass you," quarterback Bobby Hebert told NFP.
Sanders even had 12 interceptions after he turned 32, the age at which Asomugha is retiring. Revis has 21 career interceptions. Asomugha is a bright, articulate, philanthropic guy who will probably find a job in the media. But it's notable that, in the past few years, the thing for which he is most noted is his June marriage to "Scandal" star Kerry Washington.
+SHORT YARDAGE
*The questionable employment status of Shanahan in Washington, coupled with the recent retirement announcement by Mack Brown, reminds that, in the early '90s, some Redskins executives privately sought out the Texas coach to see if he had any interest in moving to the NFL. The Redskins were one of the teams that was actually willing to match the big salary Brown was making with the Longhorns, but he never got serious about listening to overtures made quietly by some of the Washington front office types with whom he was friendly. . . . In the wake of the Friday announcement of the Pro Bowl squads, there was the usual flurry of stories about players who were "snubbed." But how about an entire position being ignored once again? There were six tackles selected for the all-star teams, and all of them are left tackles. Then again, essentially disenfranchising the right tackle spot has been a matter of course for the Pro Bowl for several years now. Since 2008, there have been 47 tackles either elected to the Pro Bowl or chosen as injury replacements. All but two of them were left tackles. The league changed the rules this year to do away with conferences, and Hall of Famers Deion Sanders and Jerry Rice instead will "draft" their respective all-star teams. Requiring the squads to be selected according to the positions that the guys play – and, let's face it, there's a world of difference between the left and right tackle spots – won't make for a special on the NFL Network or increase fan interest in the meaningless-exercise game. But it would be a lot fairer and better reflect the way the sport is actually played. . . . Penn State coach Bill O'Brien is probably a fine candidate for the Houston opening and will come complete with the Belichick seal of approval if he is hired. But the Belichick coaching tree, oddly enough, historically hasn't had the strongest limbs. The last time an offensive coordinator from his staff was hired as a head coach in the league, Josh McDaniels lasted only two seasons in Denver and was 11-17 before the Broncos dumped him and he bounced back to the New England staff. . . . Cleveland sent five players to the Pro Bowl, the most since the Browns had six in 2007. It's doubtful, though, that's the kind of "progress" that team president Joe Banner and GM Michael Lombardi said they wanted to see in 2013. Expect another offseason of change for the Browns starting, of course, at the quarterback position. . . . Arizona is 14-3 when the Cardinals wear all-red uniforms, which they will do Sunday against the 49ers. . . . Speaking of the Cardinals, oft-sacked quarterback Carson Palmer can become the first player in league history to throw for 4,000 yards with three different teams. . . . Ranked last in the league in defense versus the rush, Chicago plays slightly better at home against the run, but not significantly so. Even with Aaron Rodgers back in the lineup, the Packers probably won't forget Sunday that they rushed for 199 yards against the Bears in the earlier meeting this year, with rookie Eddie Lacy getting 150 yards. . . . Green Bay, but the way, has limited Chicago to 20 points or fewer in its past six visits to Soldier Field. . . . Hard to keep ignoring the solid season of Colts tailback Donald Brown, who is averaging 5.6 yards per carry and catching the ball well, and will be eligible for free agency. Brown may not get rich, but there already are teams that have him on their radar screen as a nice complementary player to consider in the spring.
+BY THE NUMBERS
*The city of Houston witnessed one of the monumental one-year collapses in league history, when the Oilers went from 12 victories in 1993 to just a pair of wins in 1994. Since the league adopted the 16-game schedule in 1978, that represents the biggest one-year free-fall by any franchise that won at least a dozen games in a season. Now, almost 20 years later, the same city could suffer a similar feat, albeit with a different team. The Texans won 12 games a year ago, when the club claimed its second straight AFC South crown. But unless the Texans win on Sunday at Tennessee, they've have slipped to just two victories in 2013. That would earn the Texans the top pick in the draft for a third time in history, but probably would be small consolation for such a catastrophic plummet. By the way, since the NFL went to eight divisions of four teams each in 2002, only one of the 45 clubs with 12 or more wins from 2002-2011 won as few as five games the following season. Atlanta can top that if the Falcons don't beat Carolina on Sunday.