A couple of months ago, not many people would have bet on the Cincinnati Bengals being 6-2 and in first place in the AFC North at the midway point of the season.
They might have been more inclined to be optimistic if they had thought Carson Palmer would be guiding the Bengals. But with Andy Dalton? A rookie picked in the second round? The fifth quarterback taken?
Many scouts had Dalton pegged as a "system" guy coming out of Texas Christian. That means they thought he succeeded in college more because of the offense he played in than his abilities. They questioned his arm strength. Some people even wondered if he had the wrong hair color to win in the NFL.
What everyone was missing, except for the Bengals, was his feel for the game. Isn't that right, Marvin Lewis?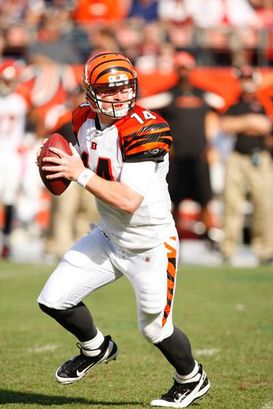 Andy Dalton might not have everything scouts look for in a quarterback, but he knows how to play the game.
"He doesn't have the big arm strength Carson does," Lewis told me. "He's not 6-5. But he has a mind that's very effective. He has an ability to release the football. He plays well with his lower body. He anticipates. He gets the ball in and out of his hands because how efficient he is with the rest of his body. He stays within the core of his body on all his throws. He has great, great spacing concepts of football. He understands the concepts. He has an innate understanding. He has an innateness of how guys line up, when they are leaving the huddle the wrong way. And he has an air about him, he can joke with guys, because he is so aware of what everyone is doing. With that, he's ahead of his time."
Before the draft, Lewis believed Dalton was prepared to play and play well early in his NFL career. They thought he had the preparation in college and the knowledge to make an early impact. It's also helped Dalton that the Bengals have a new offense this year with Jay Gruden running the show.
"It's not like he was coming in having to learn things other people already knew," Lewis said. "The receivers and everyone else were learning with him."
When training camp opened, Dalton actually knew more about the Bengals offense than any other player on the team. "He had more coaching from us than anyone by that point," Lewis said. "We spent more time with him in all the draft preparation. We spent time together in Indianapolis at the combine, at his pro day, night before and the night after. The Thursday night before Good Friday, then Good Friday. Then we brought him to Cincinnati for a pre-draft visit. Then we brought him to town day after draft."
Because the Bengals were starting from scratch offensively, they were able to build the offense around Dalton. Gruden put in what Dalton responded well to, no more, no less. "The way Jay envisions the offense, he does it through the eyes of the quarterback," Lewis said. "That's how it's put together, that's how it unfolds. It has helped quicken the pace of return on Andy. He is our offense."
Dalton has a passer rating of 85. He has completed 61.5 percent of his passes. But what's most impressive is his win total. He has won as many games as a starter as the rest of the rookie class of quarterbacks combined.
It is going to get more difficult for Dalton, probably starting Sunday. That's when the Bengals host the Steelers and defensive coordinator Dick LeBeau, who is known for his ability to dissect inexperienced passers.
Dalton is likely to see some things Sunday that he's never seen before. Then again, all season long he's been seeing things he never saw before. And he's been dealing with them pretty darned well.
Things I Didn't Used To Know
*Willis McGahee's best days were supposed to be behind him, but the 30-year-old has been revitalized in Denver. Instead of being slower as an older back, McGahee might even be a better total package than he was early in his career. Broncos running backs coach Eric Studesville, who also coached McGahee in Buffalo, told me McGahee has become a leader and a positive influence in the latter stages of his career. He also has remained in great shape and maintained a positive attitude. McGahee put up 163 rushing yards on the Raiders last week. Part of his success was due to the presence of Tim Tebow and Denver's read option offense. Tebow's threat to run has the same effect on McGahee as a good passer would — defenses have to be concerned with another weapon so it opens up things for McGahee's runs. But not all of McGahee's yards are coming on option plays. The Broncos still are using many of the same plays they used when Kyle Orton was the quarterback, some even going back to last year.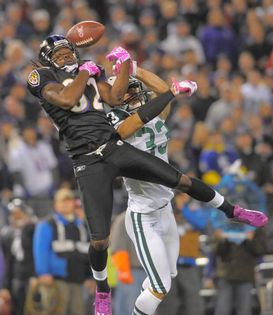 If Torrey Smith can improve his hands, there is no telling how good he can be.
*Torrey Smith's 4.41 speed is too hot for most NFL defenders to handle, as evidenced by his 26-yard touchdown catch against the Steelers last Sunday. Smith has routinely run by defensive backs in his rookie campaign for the Ravens. But he also has routinely let passes clank off his hands. According to Stats, Inc., he has dropped five of the 43 passes thrown his way. Scouts say Smith is not a natural catcher who sometimes tries to body catch and doesn't always adjust his hands well. Ravens coaches are looking forward to working with him for an offseason. The Ravens knew Smith's hands were inconsistent when they chose him in the second round last April, and they also knew his route running was inconsistent. But due to the coaching of Jim Hostler and Smith's effort, his route running has improved dramatically.
*The player who gets all of the attention in the middle of the Lions defense is Ndamukong Suh, but the player who has changed their defense this year is Stephen Tulloch. The middle linebacker has played all four downs and been consistent in every phase of the game. Tulloch, who like Suh plays with a mean streak, has made tackles all over the field. Scouts say when he puts a ball carrier in his sights, he rarely misses. And he connects with power. Before every game, as part of their warm-ups the Lions do a tackling drill. It has become quite a show for the team, as Tulloch routinely makes mincemeat out of rookie Doug Hogue. It's gotten so bad, defensive coordinator Gunther Cunningham told me he has to look the other way.
*Redskins middle linebacker London Fletcher is playing at a very high level for a 36-year-old. He's been one of the Redskins' best defenders. One of the reasons why, according to people close to him, is Fletcher doesn't take anything for granted. He still approaches his job with a free agent mentality 13 years after the Rams signed him out of John Carroll. Like a lot of older players, Fletcher is committed year round. Fletcher has a weight room in his home in the Washington area, and he also has a weight room in his offseason home. And he makes good use of both.
*The Rams might be making big changes in the offseason, based on some rumblings around the league. The feeling is new owner Stan Kroenke might want to put his stamp on the team and is figuring out the best way to do that.
*The Titans have gotten a boost from their rookie defensive tackle combination of Jurrell Casey and Karl Klug. Casey, the third-round pick, has played the run very well on first and second down. He's a powerful, tough defender with good instincts. On passing downs, he frequently is replaced by Klug, the team's fifth-round pick. A former wrestler, Klug uses leverage, hustle and quickness to his advantage in getting after the quarterback. He also benefits from good instincts.
My Sunday Best: Veterans
Friday was Veterans Day, so to honor all who have served our country, here is a team of NFL greats who have been involved in our country's war efforts. It's not easy to choose because so many have served. There were 1,009 NFL players who served in World War II, 231 in Korea, 30 in Vietnam and two in Operation Enduring Freedom – Titans fullback Ahmard Hall and the late Pat Tillman. I stress this is just a sampling of the courageous men who deserve our thanks.
I left some Hall of Fame players out, and some Hall of Fame servicemen. Among them were Mario "Motts" Tonelli, the former Cardinal who survived the Bataan Death March, Rocky Bleier, who came back to the Steelers after being told he would never play again after suffering leg injuries in Vietnam, Bob Kalsu of the Buffalo Bills, who lost his life as a member of the Army in Vietnam and Don Steinbrunner, the former Brown whose perished in a plane crash in Vietnam.
You also should know the story of Maurice Britt, who played for the Lions in 1941. Britt became an army platoon leader under George Patton who led invasions in North Africa and Italy. In a battle with Germans in 1943, he did calisthenics to draw gunfire. His troop repelled the enemy, but Britt lost his right arm in the battle. For his multiple acts of heroism through the war, he won a battlefield promotion to captain and was awarded the medal of honor, the purple heart, the bronze star, the silver star and the distinguished service cross. He became the first recipient of three combat decorations in a single war.
Here is my team.
Front office—Pete Rozelle. The great commissioner served as a Yeoman Second Class in the Navy in World War II.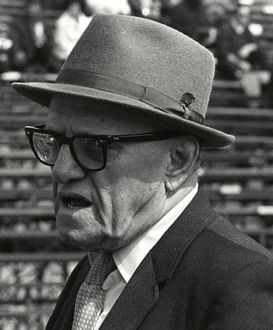 George Halas served our country as well as the Bears.
Head coach—George Halas. Before he became Papa Bear and won 324 games and six championships, Halas was an ensign in the Navy in World War I.
Offensive coordinator—Paul Brown. Considered the father of modern offense and one of the greatest pioneers in coaching history, Brown coached the Great Lakes Naval football team during World War II.
Defensive coordinator—Tom Landry. The man behind the 4-3 defense, the Flex defense and the Doomsday Defense was a second lieutenant in the Air Corps during World War II. He completed 30 combat tour missions as a co-pilot on a B-17 Flying Fortress, surviving a crash landing in Belgium after his bomber ran out of fuel.
Special teams coordinator—Marv Levy. He served in the Army Air Forces during World War II, and often used World War II stories in speeches. Levy made the Hall of Fame for his work as the head coach of the Bills, but he was a special teams coach for the Eagles, Rams and Redskins.
Quarterback—Otto Graham. The player some believe is the best quarterback of all time spent two years in Coast Guard during World War II before his NFL career began. There also should be a place on this team for Sid Luckman (was a Merchant Marine during World War II), Norm Van Brocklin (served in the Navy in World War II), and Roger Staubach (he served one year in Vietnam as a supply officer for the Navy).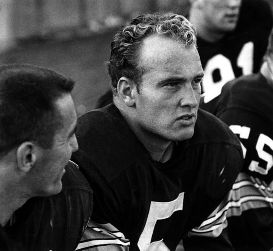 The Golden Boy found time to play for the Packers while he served.
Running back—Paul Hornung. The first pick of the 1957 draft was in active duty during the Vietnam conflict. In 1961 coach Vince Lombardi had to prevail upon his friend John F. Kennedy to get the Golden Boy a pass so he could play in the championship game. There were a number of great running backs besides Hornung who served.
Fullback— Marion Motley. He played for Paul Brown on the Navy team at Great Lakes during World War II, and then followed Brown to Cleveland, where he averaged 5.7 yards per carry and established himself as one of the all-time greats.
Wide receiver— Gino Cappalletti. A veteran of Korea, Cappalletti was the AFL's MVP in 1964 and led the league in scoring five times.
Wide receiver— Charlie Joiner. After serving in Vietnam, Joiner played 18 seasons and made the Pro Football Hall of Fame.
Wide receiver—Dante Lavelli. The legendary "Gluefingers" fought in the Battle of the Bulge in Belgium during World War II for the U.S. Army. He and Otto Graham later formed one of the all-time great quarterback-receiver combinations.
Offensive lineman— Lou Groza. He served in the Philippines and Okinawa in World War II before going on to a stellar career with the Browns as both an offensive tackle and kicker.
Offensive lineman—Joe Stydahar. This two-way tackle from the great Bears teams of the 40s also did a stint in the Navy in World War II.
Offensive lineman— Clyde "Bulldog" Turner. A seven-time all-NFL player who was in the middle of seven championship teams, Turner played linebacker and center. He also served in World War II.
Offensive lineman— George Connor. A member of the Navy in World War II, this Pro Football Hall of Famer made it to four Pro Bowls with the Bears. He played defense too.
Offensive lineman—Lou Creekmur. The Lions great is a veteran of eight Pro Bowls, as well as World War II.
Defensive lineman— Andy Robustelli. The Pro Football Hall of Famer from the Rams and Giants was one of the first true defensive ends, and also served in the Navy in World War II.
Defensive lineman— Leo Nomellini. "The Lion" played in 10 Pro Bowls for the 49ers. He saw active duty with the Marines in the invasions of Okinawa and Saipan in World War II.
Defensive lineman— Ernie Stautner. Before he was a nine-time Pro Bowler for the Steelers and a Hall of Fame player, he was a Marine in World War II.
Defensive lineman—Gino Marchetti. The Hall of Fame Colt fought in Germany as a member of the Army in World War II.
Linebacker— Chuck Bednarik. "Concrete Charley" spent two and a half years serving in the Army Air Force World War II and was a waist gunner for more than 50 aerial missions over Nazi Germany. Known as the NFL's last iron man, Bednarik is a Philadelphia legend.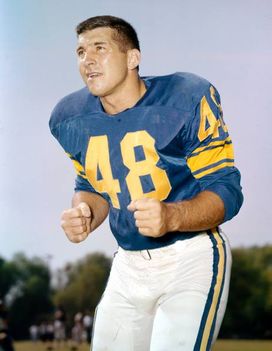 Before embarking on a career that saw him make eight Pro Bowls, Les Richter did a two-year stint in the Army.
Linebacker— Les Richter. The 2011 Hall of Fame inductee served two years in Korea as a first lieutenant in the Army before beginning his NFL career.
Linebacker— Ray Nitschke. The heart of the defense for the great Packers teams of the 1960s also served in Vietnam. Can't you just picture toothless Nitschke in the jungle, fighting for old glory?
Defensive back— Night Train Lane. Before embarking on his Hall of Fame career, he dropped out of junior college and spent four years in the Army, including a tour during the Korean conflict.
Defensive back—Tony Canadeo. Mostly known as a running back, this Hall of Famer from the Packers played defense too. He missed the 1945 season while on duty in World War II.
Defensive back—Bill Dudley. A member of the Army Air Corp in 1943 and 44, Dudley was a three phase player who led the league in interceptions, rushing yards and punt return yards in 1946. He played for the Steelers, Lions and Redskins.
Defensive back—Charlie Trippi. More renowned as an offensive player, Trippi also played defense for the Cardinals. He was in the Air Force for nearly three years during World War II.
Scout Talk: Guards In the 2012 Draft
At this point no senior guard has established himself as a sure-fire first round pick. There are five seniors who could be chosen as high as the second round though.
If underclassman David DeCastro of Stanford elects to forgo his final year of eligibility, he likely will be the consensus top guard in the class, and a first round pick. Other underclassmen who could impact this draft at the top end are Alabama's Barrett Jones (he likely will be moved from tackle to guard in the NFL) and Chance Warmack, and Miami's Brandon Washington.
As for the seniors, the hot name of late has been Amini Silatolu. The Midwestern State product has been dominant at the Division II level and can really help himself if he can stay with the big boys at an all star game and the combine. He plays tackle in college but NFL scouts I've spoken with see him as a guard. He is a little raw, but Silatolu's traits are very good.
NFL teams like the nasty, aggressive style of Washington's Senio Kelemete. He also has some athleticism and quickness to help in pass pro.
Gigantic (6-4, 345) Cordy Glenn remains a highly debated prospect. Teams love his big frame and positional versatility but have questions about his ability to control his weight and his consistency on the field.
A couple of blue collar players who are likely to be third round considerations are Pittsburgh's Lucas Nix and Wisconsin's Kevin Zeitler.
One Man Yelp: Insightful Player
We hear a lot about NFL players who do foolish things, who are corrupted by fame and who have misplaced priorities. So it's nice sometimes to hear about players who have tried to do the right thing to overcome hardships. Chrissy Carew has written a book full of 32 such stories. Insightful Player uses the stories of players such as Roger Staubach, Devin McCourty, Aaron Kampman and many others to show how courage, hope, humility, respect, faith and other virtues can lead to success.
There are feel-good stories like Rashied Davis'. His father was murdered when Rashied was eight, and he had to dodge bullets in his own home in South Central Los Angeles. One of nine kids, Davis escaped that life with guidance from his mother. After high school, he didn't have a job and was drifting. He signed up at West Los Angeles Junior College and joined the football team. San Jose State came calling, followed by a career in the Arena Football League. He wound up with the Bears, and now the Lions.
At the end of each chapter are "guiding principles" from each player. Davis advises to "learn how to play every bad hand well," to "never listen to people who knock you down and tell you can't," to not "let your.. profession define who you are," and to "lean on God."
If you are looking for hope, you will find it in this book.
Hot Reads
*It is ironic that Penn State, a program that has mastered the art of concealing truths from NFL scouts, apparently also has been pretty good at concealing truths from the rest of the world.
*Football fans everywhere should stand up and join the applause for Tom Moore in a pregame ceremony before the Colts game Sunday. Nice to see a great assistant coach recognized.
*Bill Belichick had little to lose by giving Albert Haynesworth a shot. As it turned out, he also had little to gain.
*Matt Forte, Ray Rice, Jermichael Finley, DeSean Jackson and any other players who are candidates for franchise tags might have a bone to pick with DeMaurice Smith.
*Charles Woodson just jinxed the no-hitter.
*Next thing you know, Todd Haley will be singing Sharp Dressed Man, Gimme All Your Lovin' and Legs.
Dan Pompei covers pro football for the Chicago Tribune at chicagotribune.com. Follow him at Twitter@danpompei