NFP Sunday Blitz
by Dan Pompei
October 02, 02011
Print This
Joe Flacco is feeling it. He wants to throw the ball more, and he has lobbied privately and publicly to do so.
And the thing is, it looks like the Ravens' fourth year QB can deliver. He threw for a career-high 389 yards one week ago against the Rams. It will be a little more difficult to do that Sunday against the Jets, but Flacco appears to be more capable than ever.
"There are probably very few quarterbacks in this league who have a higher ceiling than Joe," Ravens offensive coordinator Cam Cameron told me. "He's continuing to improve. He hasn't leveled off in technique, in accuracy or in any area. He just gets better every week. I'm really encouraged."
The perception in some corners of Baltimore is that Flacco has not lived up to the expectations that came with being the 18th pick of the 2008 draft. That's mostly because of how he has performed in big games.
But last week, the 26-year old threw his 1,500th career pass and subsequently broke into the all-time passer rating list. His 88.9 rating puts him 13th on the list. Now, we all know he has not been the 13th best quarterback in history, and the passer rating statistic is misleading. But he's probably been better than he's gotten credit for. And it's all ahead of this 26-year old.
Consider some of the ways he has taken his game to a higher level this year:
*Flacco has gained 10 pounds of muscle. The extra strength is helping him take hits.
*He is playing with more knee flexion. Flacco thought it could help his delivery to play with better bend, and it has been a point of emphasis for him since last season.
*He is being more aggressive with downfield throws. Flacco has a bazooka for an arm. Always has. Now he is taking more chances with it.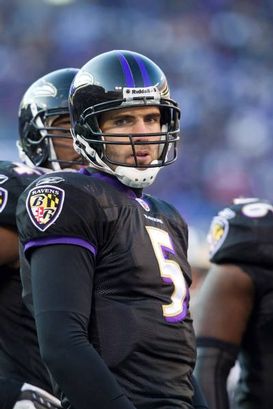 Joe Flacco is playing some of his best football.
Part of that is because he has better down the field weapons. Where he was throwing to Derrick Mason, T.J. Houshmandzadeh and Todd Heap last year, he is throwing to Torrey Smith, Lee Evans, Ed Dickson and Dennis Pitta this year. There is a noticeable difference in the Ravens' offensive speed.
The Ravens offense also is younger, which may be good for Flacco. He's been able to exert himself more. "The longer you play, the more you can play outside yourself and help others," Cameron said. "The last few years he's had to really focus more on what he's had to do. Now he's grown outside of himself."
Giving Flacco more freedom at the line of scrimmage to change plays is another logical step. "The more you can give Joe, the more he can use to his advantage and our advantage," Cameron said. "Joe basically has the green light to some degree to improvise on every play."
The coaching staff's confidence in Flacco has been evident in their willingness to throw. The Ravens have been more of a run first team in the past, but that may be changing. Cameron called for 58 passes against St. Louis, and said he wouldn't mind throwing every down if he believed the Ravens could protect Flacco every down.
Throwing that much against the Jets and Darrelle Revis and Antonio Cromartie would be risky. "At times, you can put it up against them," Cameron said. "We did it last year a lot. Against Revis and Cromartie, there are challenges. But you can't not do it, or they will sit on you all day and make you miserable."
If Flacco can make the Jets miserable, it's going to be impossible not to acknowledge him as one of the best young quarterbacks in football.
Things I Didn't Used To Know
*More than just a few people are puzzled over how the Dolphins are using Reggie Bush. In New Orleans, Bush' primary value was as a pass catcher. He caused matchup problems galore from the slot. But in Miami, he's had only two passes thrown his way the last two games and rarely lined up anywhere other than the backfield. It seems as if the Dolphins acquired Bush to be a blocker, because that's mostly what he's done. It's also interesting that the Dolphins are not disappointed with Bush a bit. I've been told he has been one of the hardest workers they have. In fact, he has worked so hard they have had to tell him to get out of the weight room and save his body for Sunday.
*The Packers have made a radical improvement in their run defense by shifting B.J. Raji and Ryan Pickett in their "Eagle" front. Last year Raji played nose and Pickett played five technique. This year, Pickett has been on the nose and Raji at three technique about 60 percent of the time, he told me. The move was made by defensive coordinator Dom Capers in part to offset the loss of Cullen Jenkins and to allow Raji to use his quickness as a pass rusher. But it's paid off in the run defense as well, as the Packers have gone from allowing 4.7 yards per carry last year (second worst in the NFL) to 3.1 yards per carry this year (fourth best). "It's hard to move us," said Pickett, who together with Raji brings close to 700 pounds of beef to the table. "Plus they never know where we are going to line up because they do a good job of mixing us up."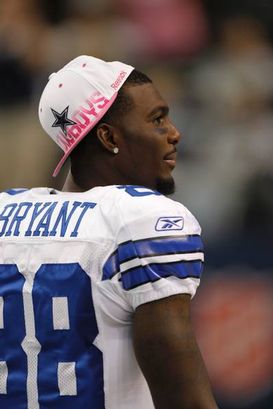 Is Dez Bryant starting to get it?
*Cowboys wide receiver Dez Bryant has become more accountable this year under Jason Garrett. The Cowboys coach has stressed the importance of being on time, paying attention to details and staying on course, and the team believes it is starting to sink in with Bryant. However, Bryant is not where he needs to be yet. He still has had lapses this season, including showing up late to functions, but he has gotten "significantly better," according to a Cowboys source. Cowboys coaches believe Bryant is not a prima donna or a bad apple—rather, they think he is merely immature and naïve and subject to getting off track.
*Rocker Jon Bon Jovi no longer is an owner of the Arena League's Philadelphia Soul, but he would still like to be an owner—of an NFL team. Bon Jovi, a football junkie and shrewd business man with lots of ideas, recently negotiated a deal to purchase 15 percent of an NFL team, but it fell apart. Those familiar with the situation think he might attempt to buy a portion of another team. Bon Jovi has a passion for the game and privately refers to his stint with the AFL as "my warmup league."
*The Bucs made it a point to go bigger on defense, drafting Adrian Clayborn, Da'Quan Bowers and Mason Foster, and opponents are beginning to notice. The Falcons struggled to move the ball on the ground Sunday against the Bucs, and it's likely the Colts will have a hard time Monday as well. Clayborn and Bowers each is about 10 pounds heavier than the man he replaced, and although Foster weighs about the same as Barrett Ruud, he plays with a more physical style.
My Sunday Best: Wide Receivers
Cris Carter said Calvin Johnson was not one of the top six wide receivers in the NFL. Jason Garrett said Johnson is arguably the best player in the NFL at any position. Rob Ryan thinks Miles Austin and Dez Bryant are better than Johnson. I say Garrett is closer to the truth than Carter or Ryan. Here are my best wide receivers. Any arguments?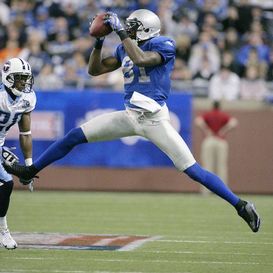 ICONIs Megatron No. 1 on your list?
1. Calvin Johnson, Lions. He's still improving and just starting to play his best football. If he had some consistency at the quarterback position before now, Johnson might be the undisputed No. 1.
2. Andre Johnson, Texans. He is the complete package, and you can make a case that he belongs ahead of Calvin Johnson given his longer history of production. Calvin Johnson has a couple of inches and a little more juice than the 30-year old Andre Johnson at this point.
3. Larry Fitzgerald, Cardinals. No one makes the catch away from his body better than this guy.
4. Greg Jennings, Packers. He is the best pure route runner in the league.
5. Roddy White, Falcons. He edges out Reggie Wayne for this spot because he has more speed and athleticism at this stage of their respective careers.
Scout Talk: Player Tracking
With Moneyball cleaning up at the box office, this is a good time consider a new frontier in player evaluation: player tracking.
The league, as well as several individual teams (especially the Cowboys, Eagles, Falcons, Saints and Seahawks), are very interested in a motion capture technology called SportVU that can re-shape the way football is interpreted. The system, which is owned by Stats LLC, has created a quiet buzz in NFL circles.
It's a similar concept to GPS, but it's more accurate and does not require chips on players or the football. Brian Kopp, head of the Sports Solutions Group for Stats, explained it to me. Here is how it works. Four small cameras are set up around a football field and connected to one another, and they capture all relevant motion on the field 25 times per second (a less inclusive version with three cameras from one spot also is possible). X and Y coordinates are assigned for every motion, as well as a time code and a player ID. The speed and distance of every action is measured.
It is a technology that was borrowed from the Israeli Air Force, one of the most scientifically advanced defense units in the world. The IAF used the technology to track missiles.
How can this benefit the NFL? In a variety of ways. For instance:
*Game planning. This system will enable coaches to quantify what they see on video. For instance, is the receiver breaking his route at the right point, or is he breaking it early? There is no guesswork here. Is the cornerback fast enough to cover the receiver on a nine route? You can measure each players' speed on those routes. SportVU and Stats have created new and relevant statistics, which can be synced to the ICE evaluation system, and it also syncs to video. The video can become animation—from any angle. For instance, you can watch a real play that's animated from a bird's eye view with numbered dots replacing players.
*Injury prevention. A player being tracked can be evaluated regarding injury susceptibility. It would be particularly useful for lower body muscle pulls. One general manager told me if a trainer knows precisely the point when a player's muscle begins to fatigue based on where he begins to lose speed, he can address the issue. Soccer teams in the UEFA already are using the system for injury prevention and evaluation, and some are sharing info with NFL teams.
*Broadcasting. This could be an enticing chip in network negotiations because player tracking could enhance broadcasts and internet feeds. It already has been used in some soccer broadcasts around the world.
*Player evaluation. This is where it gets really interesting. SportVU can be set up at the combine or at pro days to help evaluate quarterbacks. The system tracks the trajectory, velocity and flight path of the football, as well as the release point.
Last year, six NBA teams (the league champion Mavericks, Celtics, Rockets, Spurs, Thunder and Warriors) used the technology primary for player evaluation.
Think of the football possibilities. Want to know if a player has lost a step in real time? This system can tell you exactly what a player has lost in true football speed. You never would need to test a receiver in a 40-yard dash if you knew exactly how fast he runs a skinny post in pads.
The greatest benefits would come in evaluating skill position players. The system can measure separation between a cornerback and wide receiver at various points of a route. It can time the burst of a running back going through the hole, and tell you how quickly a linebacker closes on the football. It can measure linear distance traveled versus actual distance traveled on a given route or run.
It can help identify undervalued players, as well as overvalued players.
The league is a little sensitive about individual teams purchasing this system (it likely will cost somewhere in the vicinity of low six figures) because the NFL doesn't want to foster the perception that teams can buy a competitive advantage. No policy has been established yet, but a subcommittee, consisting of ten club executives and league employees, has been established to study the system.
Last year SportVU did a trial run on several games at Lambeau Field, and the results were presented to the competition committee last February.
The hope is the system will be deployed in some way, shape or manner by next season. This is a compelling development that has flown under the radar publicly, but could have significant implications in the way the NFL does business.
One Man Yelp: In the Garden of Beasts
If you ever wondered what it was like to live in Nazi Germany when Hitler rose to power, Erik Larsen does a wonderful job of describing it in the book In the Garden of Beasts: Love, Terror, and an American Family in Hitler's Berlin.
The story follows the true story of William Dodd, a University of Chicago professor who is the surprise pick of FDR to be the American ambassador to Germany after four others turned down the job. His 24-year old daughter Martha, an assistant literary editor for the Chicago Tribune, accompanies him as they embark on an incredible journey that has them surrounded by some of the most powerful evil the world ever has known. They lived in an old house on the 630 acre main park in Berlin called the Teirgarten. The literal translation of Teirgarten was "garden of beasts" because it once was a hunting preserve for royalty.
The Dodds had no idea what they were getting into in 1933, which was Hitler's first year in power. They didn't understand what Hitler was about initially, and didn't think or do much when they observed German stormtroopers beating up innocent Americans, or when they heard of Germany's plan to revoke the citizenship of Jews. But over time, they saw Hitler's power grow and the vitality of the city wither, and recognized the wrong.
Martha had quite the active love life, and at one point was even considered to be a potential mate for Hitler. He kissed her hand upon their initial meeting, telling her not to wash the area his lips had touched.
The author derives great detail from the written recollections of William and Martha, and ties it all together with powerful research. It's an entertaining read with historical value—can't beat that.
Hot Reads
*The NFL isn't quite as good as it used to be without Mike Heimerdinger. It was a privilege to know him.
*Now Mark Sanchez will look better in Ring Magazine than GQ.
*Joe Namath may be guilty of what Rex Ryan often is accused of: talking too much.
*Patriots fans better hope Tom Brady didn't get this done by someone named Delilah.
*If Jim Caldwell is Charley McCarthy, then why don't Bill Polian's lips move when Caldwell talks?
*If you want to know why watching football is becoming like watching tennis, read this by Matt Bowen.
*If you've watched him closely, you know there is nothing wrong with Clay Matthews. By the way, he leads the NFL with 10.5 quarterback hurries, according to Stats, Inc.
*If it's true that Chad Ochocinco is Hue Jackson's son, doesn't Mama Ocho have some 'splainin' to do?
Dan Pompei covers pro football for the Chicago Tribune. Follow him at Twitter@danpompei