Greg Schiano likes it cool inside and hot outside, and if you want to be a Buccaneer Man, you will too.
Schiano has been the subject of some attention over the last couple weeks. He traded away tight end Kellen Winslow, the Bucs' most productive receiver a year ago, and then my friend Peter King reported Schiano monitors the temperature in Bucs meeting rooms.
Screw loose? Hardly. Schiano has reasons for doing everything he does, and he is one impressive coach. I don't say this about many coaches, but I will be surprised if he isn't very successful in the NFL.
So I asked Schiano what he was looking for in "Buccaneer men." He said, "Guys you can trust. Guys who believe in what we're doing. Guys who are accountable to each other--things that are becoming more rare every day in our world."
Winslow was not a Buccaneer man, so he was traded to Seattle for a seventh round pick that could become a sixth rounder. Schiano explains. "I thought he competed well. The time he was here, he did everything I asked him. He did it the way we asked him to."
But Winslow was not working out with the team for much of the offseason. "Some of it his voluntary," Schiano said. "I can't make them be here for every part. Would I have liked him here? Sure. We had 87 guys here. But that wasn't the only reason we decided to do what we did. We just didn't think it was the best fit for us. It was a bunch of things, an accumulation of things. Some of it is projecting, how will this project moving forward."
While Schiano was not trying to make an example out of Winslow, he is trying to establish a culture. As a result, he isn't in a position to make exceptions for players like Winslow.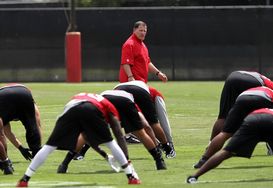 Schiano wants everything done a specific way.
"The key I learned early is when you are establishing a culture you really have to make sure it's non-negotiable," he said. "After you have established the culture and built a program, then a program can accept one or two guys who maybe aren't seeing things the exact same way. Usually that strong culture either transforms that person or spits him out. We're nowhere near that. We're just establishing who we are, what we want to become."
That was a lesson Schiano learned from Joe Paterno, from whom he worked for six years. He also lists Bill Belichick and John Wooden strong influences on his coaching personality.
He isn't sure how long it will take to establish his culture with the Bucs, but he knows he has to do it quickly. It took him six years to turn around a perennial loser at Rutgers. Bucs fans won't be as patient.
Like Belichick, Schiano wants to make it very clear to his players what is expected of them, and why. "Most times people get angry and frustrated is when they have unfulfilled expectations," he said. "And most times unfulfilled expectations come because you are not clear on what you want. I try to be clear on what we expect. Most of the times people will do what you ask them to do. If you aren't clear on it a lot of times they do what they think."
One of his expectations is that his players work hard in the Florida sun and make playing in the heat their advantage. So Schiano demands they sprint between drills and keep a fast pace throughout practice. Doing things players may not be comfortable doing, he says, will develop mental toughness, and ultimately, discipline.
Schiano won't be just a heartless drill sergeant of a head coach. He will try to connect with players and make personal appeals, as he did during his 11-year run at Rutgers. Of course, coaching in the NFL is a little different from coaching in college.
"I'm not naïve to the fact that this is a business," he said. "You release people and sign people. But while we're in this together, while we are Buccaneers, let's make that a special bond and a sacrificial thing. I didn't do this to be a business man and neither did you. So let's let the business people be business people and as long as we're playing football together, let's do that. I know that's a little pollyanna maybe with the society we are in, but I do think that carries you through tough times and helps when you are having success."
Schiano is turning up the heat on the Bucs. Except in meeting rooms. He has found that it helps players to stay alert if they are a little cooler.
So they practice in the heat and then meet at 67.5 degrees.
That's pretty cool if you ask me.
Things I Didn't Used To Know
*Philly defensive end Jason Babin told reporters he is planning on running with the bulls in Spain, but the reality is he is planning on attending a wedding in the area. People who know Babin say they believe he was just joking about running with the bulls. And that should be a relief to Andy Reid and the Eagles, who would not likely look lightly on their sack leader being chased by an angry, 3,000 pound beast with sharp horns.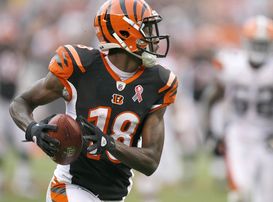 Bad news for teams on the Bengals' schedule: A.J. Green has room to improve.
*One of the Bengals' OTA projects has been cleaning up A.J. Green's routes. Green had a fantastic rookie season, but the team believes he can take his game to another level with more attention to detail in his routes. "He's always been such a good receiver that he could beat guys a lot of times just by running around them," Bengals offensive coordinator Jay Gruden told me. "There were times last year when he wasn't as detailed as he should be in terms of getting off the line, his depths and his route running. I think some of those routes will be cleaned up. He's working on it. He's so receptive to it. Has a ways to go, but he wants to be great. With the talent he has, throw in the desire he has, the work ethic he has, and the sky is the limit."
*The Packers lost Matt Flynn and did not sign a veteran to replace him as Aaron Rodgers backup, but they are not uncomfortable with their depth at the position. That's mostly because they have confidence in Graham Harrell, given what he has done in practices last year and in the offseason. The Packers consider him a "natural quarterback," and a "natural leader." And it's not like the team is unaccustomed to going with an inexperienced backup quarterback. They did the same thing when Flynn initially was the No. 2. Ultimately, the Packers are banking on Mike McCarthy's ability to develop the quarterback as much as they are banking on the player himself.
*Some NFL teams didn't know what position Melvin Ingram would be in the NFL, but the Chargers saw that as an advantage. Their plan is to move him around like South Carolina did. He will mostly be an outside linebacker, but he is likely to rush the passer from a number of places, according to San Diego sources. The hope is that Ingram becomes the type of defender that offenses have to identify pre-snap. The Chargers believe Ingram can acclimate fairly quickly even though they plan on throwing a lot at him.
My Sunday Best: Triplets
It has been awhile since the NFL has seen a set of triplets like the Cowboys' three hall of famers—Troy Aikman, Emmitt Smith and Michael Irvin. But there are some pretty good triplet trios in the NFL today. Here are my best triplet (quarterback-running back-wide receiver) combos:
1. Texans. Each of the Texans triplets has led the league at one point—Matt Schaub in passing yards; Arian Foster in rushing yards and Andre Johnson in receiving yards. Johnson and Foster are among the top three in the NFL at their positions, according to pro scouts I've talked with. And while Schaub is a few notches lower, he is an efficient quarterback who operates the system well and gets the ball in the hands of playmakers. That makes the Texans triplets very difficult to defend.
2. Panthers. They actually are more like quads because they have the two-headed running back combination of DeAngelo Williams and Jonathan Stewart. Either probably could be among the league leaders in rushing if not for the presence of the other. Receiver Steve Smith was rejuvenated last season and remains a matchup problem at the age of 33. And quarterback Cam Newton makes all of them better with his multidimensional play.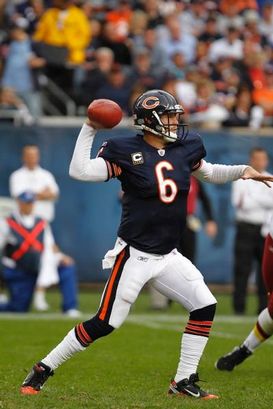 ICONJay Cutler, Brandon Marshall and Matt Forte will form quite the trio this year.
3. Bears. Unlike the others on this list, the Bears triplets are a new combination. Jay Cutler and Matt Forte have worked exceptionally well together, and now Brandon Marshall should complete the trio. Of course, Cutler and Marshall were part of another trio in Denver but they didn't have the benefit of a running game like the one the Bears have. This triplet group has the potential to be as good as any in the league.
4. Eagles. This is the fastest, most elusive trio group and these triplets are particularly effective between the 20s. It starts with Michael Vick, who forces defenses to compromise by making sure he doesn't take off running. LeSean McCoy may be the best running back in space in the NFL. And DeSean Jackson has exceptional quickness and cutting ability.
5. Steelers. With a little more consistency from Rashard Mendenhall, this triplet group could be as good as any. The Ben Roethlisberger to Mike Wallace combination is absolutely lethal. Mendenhall had only two 100 yard games last season, but he is a gifted back who is capable of being among the top runners in the league.
6. Falcons. This is an underrated group of triplets. Matt Ryan has improved in each of his four NFL seasons, and he's not done getting better. Roddy White and Michael Turner help him move the chains and get the ball into the end zone, and the triplets should get plenty of help from Julio Jones and Tony Gonzalez.
7. Chiefs. If Jamaal Charles and Matt Cassel can return to 2010 form, when Charles averaged 6.4 yards per carry and Cassel had a passer rating of 93, the Chiefs can have quite the set of triplets. Dwayne Bowe is a big play receiver who can capitalize on defenses stacking the box.
8. Ravens. The Ravens might not have as dynamic a passing game as some of the teams on this list, but Joe Flacco and Anquan Boldin usually make the plays they need to make. And Ray Rice is a top notch all-around running back.
Scout Talk: Forgotten Wisdom
When high ranking team executives are let go by their teams, many of them have a difficult time getting back in the game. It's easy to forget that each one of those men were in that position for good reason. All anyone remembers is their team experienced some level of failure.
It's a pity really. And that's how the Eagles see it too.
In the past they have hired former Browns general manager Phil Savage, former Bears pro personnel director Bobby DePaul and former Saints player personnel director Rick Mueller. Savage and DePaul have moved on, but Mueller remains part of the Eagles' evaluation team as a personnel executive.
And he was recently joined by former Bills and Steelers architect Tom Donahoe, who was named senior football advisor. It's pretty incredible that a man who knows as much as Donahoe does has been out of the league for six years.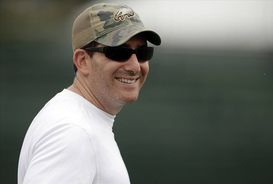 Howie Roseman and the Eagles are smart enough to take advantage of resources that are all too often ignored.
Why are the Eagles going where few teams have gone? "You have talented guys, they fill a role," general manager Howie Roseman told me. "It's a worthy thing to do for me, because Tom is someone who has had the job before and I can bounce things off of We try to get the best people around, get as many smart opinions as possible, and then make decisions."
Roseman is 36 years old. He's wise enough to know he doesn't have all the answers, and that someone of Donahoe's experience can help him.
Per Roseman, Donahoe will be a road scout, but he also will be a consigliere. He will help the Eagles front office evaluate the Eagles, as well as how they do things.
Some other deposed executives have been helpful to other teams. Among them are Floyd Reese (Patriots), Ron Hughes (Steelers), Randy Mueller (Chargers) and Bill Tobin (Bengals). Chris Polian recently was hired by the Falcons.
But for every one who gets back in it seems there are several who don't. Among the former executives who left the NFL and could offer something to ant team include Dom Anile, Jerry Angelo, Andrew Brandt, Charley Casserly, Vinny Cerrato, DePaul, Billy Devaney, Jeff Diamond, Fran Foley, Greg Gabriel, Jim Goodwin, John Guy, Bill Kuharich, Will Lewis, Tom Modrak, Carl Peterson, Bill Polian, Tim Ruskell, Ted Sundquist and Jay Zygmunt.
Some teams would rather hire twentysomethings with little to no experience who will not challenge authority. The Eagles don't worry about bringing in a loud voice.
"For us, it's always been real clear," Roseman said. "At the end of the day Andy [Reid] has final say and then you don't worry about those guys coming on too strong. We've always structured it in a way where, feel free to voice your opinion but once we make picks everyone is on board with them. We're talking about good people, guys who have been team players and just want to be part of something."
Other teams may worry that bringing in an experienced executive could intimidate other evaluators. That's not a concern for the Eagles either.
"It's very important we make sure our young scouts know you don't always have to agree with everything everyone says, but the worst thing you can do is change your opinion to one that's not yours," Roseman said. "We want people to have different opinions. We say a lot of times in our meeting that if everyone is agreeing, you probably are not making the right decision."
Everyone should agree on one thing—a lot of these men could help NFL teams.
Hot Reads
*Greg Cosell, now he is a winner. And so is this column about winners.
*The Dolphins might not have been in HBO's first 31 choices for Hard Knocks, but watching them still will be more interesting than watching grass grow.
*Some people think Jim Harbaugh's nose is looking rather long these days.
*The chances of a Super Bowl being granted to Chicago are roughly the same as the chances of a Super Bowl being granted to Jupiter.
Dan Pompei covers pro football for the Chicago Tribune. Follow him at Twitter@danpompei