NFP Sunday Blitz
by Dan Pompei
March 11, 02012
Print This
On one day, it was Brandon Weeden the Broncos were entertaining. The next, it was Peyton Manning.
At first blush, you might say Weeden, at 28, is too old to be a high round draft pick. And you might say Manning, at 35, is too old to bring to a new team because his presence would delay the development of young passers.
But this isn't a long-term NFL anymore, and the wide-spread interest in these two players proves it. The NFL is about short windows of opportunity and finding ways to capitalize quickly.
The first thing we need to understand is there aren't enough Andrew Lucks to go around. If the choice is 22-year old Luck versus. 35-year old Manning, you go with the guy who still gets carded, hands down. But only one team had that choice.
Manning won't give his new team many years, but he can give them quality years and impact a team and an organization like few players could for a short period of time.
Manning is going to be Joe Montana joining the Chiefs, 19 years later. After being traded with David Whitmore and a third round pick for a first round pick, Montana had an incredible comeback year and led the Chiefs to an 11-5 record. He took them to the AFC Championship game before Montana got knocked out of the game with a concussion in the third quarter.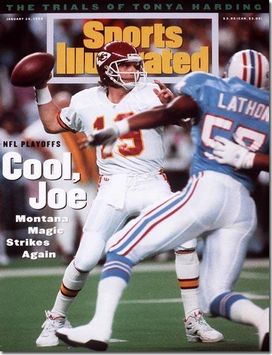 Joe Cool wasn't finished after leaving San Fran.
The agent who brokered the deal that sent Montana to Kansas City was Tom Condon--the same Tom Condon who will broker Manning's deal. The general manager who pulled the trigger on that deal was Carl Peterson--the same Carl Peterson who now advises Dolphins owner Stephen Ross on Manning and many other matters.
"Steve and I are in the same office," Peterson told me. "I do try from time to time give him some sage counsel. He does ask my advice, but he doesn't always take it. It's quite obvious Peyton has to be a consideration for Miami."
Peterson said this feels a little like déjà vu for him.
In Montana's case, he had missed most of the previous two seasons with elbow injuries. What was most important, and what will be most important with Manning, is his medical exam.
"It was a calculated risk," Peterson explained. "Joe, like Peyton and most guys who play quarterback in their mid 30s, was coming off some injuries. Our medical staff felt he could still play at a high level. They were very correct on that. The key is if your doctors are comfortable with the guy's physical condition."
Montana lasted only two seasons with the Chiefs. But in that short period of time, he helped the team on numerous fronts.
The first thing he did was make the Chiefs a destination spot for other players. Marcus Allen chose to play for the Chiefs over four or five suitors when he found out Montana would be handing him the football. Manning is likely to have a similar effect for his new team in free agency.
Manning also is likely to bring out the best in his new teammates the way Montana did. "Absolutely, unequivocally, Joe Montana coming to the Chiefs made every player at every position seemingly a little better," Peterson said. "It took everybody's play to another level. Peyton is the same type of player.
"We had a pretty good offensive line. They would kill themselves to protect him, and whichever line is blocking for Peyton will do the same. They used to refer to Joe as a porcelain doll. Nobody touches him. Even after the ball is gone. Guys seem to play a little better even than they think they are capable when you get a guy of that stature coming in because they really believe he can take us to where we want to go."
The other way Montana impacted the Chiefs was marketing. They didn't need him to help sell tickets because they already were selling out, but his Chiefs jersey became one of the most popular in the NFL, and Chiefs fans began following the team all across the country. In this sense, Manning could be much more valuable to a team like the Dolphins, who are challenged from a marketing perspective, than he could be to a team like the Broncos or Chiefs.
The price it will take to sign Manning includes knowing you will have to start all over again at the most important position on the field in two or three years.
"It's something you have to weigh," Peterson said.
If you don't have a quarterback you have complete faith in, there really isn't much to weigh though. You can't worry about 2018 if you can't solve 2012.
That's why Weeden might be drafted higher than you think. There are some front office men who I've spoken with who say he will be dinged a round or two because of his age. If for no other reason, an older quarterback is usually a less durable one.
But if a team needing a quarterback in the second round thinks Weeden is a better player than the other quarterbacks on the board, why shouldn't they take him?
Kevin Colbert of the Steelers shared an interesting perspective on the topic. "You always view any player you draft as a one contract guy anyway, because honestly you don't know if you will like him, want him or have him after that first contract," the Pittsburgh G.M. said. "You will weigh it in for sure. But it's unrealistic to think everybody can be more than a one-contract guy. Even a guy you love, you may not be able to afford him when his contract is up."
In the NFL, Weeden, Manning and everyone really is just a one contract guy.
Things I Didn't Used To Know
*From the early returns, it appears that the concept of trading down is going to be in vogue this year. A number of front office men have expressed a desire to do so. Now that the Browns won't be moving up for Robert Griffin, they are a candidate to move down witht the fourth pick. The Rams could even move down again from the sixth spot. And a number of teams that pick after the Rams have been sending out trade feelers to move down. Given the strengths and weaknesses of the draft, teams are thinking they rather would have multiple second, third and fourth round picks than one first rounder.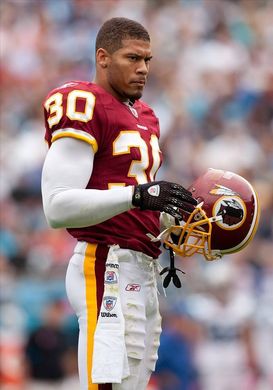 It's likely we've seen the last of LaRon Landry in a Redskins uniform.
*It was a mutual decision between LaRon Landry and the Redskins to divorce. Landry will be leaving as a free agent. The Redskins made a decision to move on from the gifted safety in part because Landry has not stayed healthy. He still is recovering from an Achilles injury that landed him on injured reserve. Landry did not have surgery on the injury as the team advised him to do. Landry, meanwhile, is looking for a fresh start in a new environment. It is likely he will sign a short term deal.
*The public perception was that Ndamukong Suh did not play as well in his sophomore season as he did in 2010, but that is not the perception in the team's offices. After the Lions went through their postseason review, the team came to the conclusion that Suh's performance was better in 2011, both against the run and pass. And the good news for Lions fans is the coaching staff believes Suh still can get a lot better in 2012.
*NFL teams received only 700 Super Bowl tickets apiece this year, which led to a lot of unhappy employees (as well as unhappy scalpers). It wasn't that long ago when NFL teams each received 1,200 tickets for the big game from the league. The NFL has gotten smart about it and is selling extra tickets themselves.
My Sunday Best: Great QBs Who Changed Teams Late
In the coming season Peyton Manning will join a group of quarterback greats who changed teams after their 35th birthday. In some cases, changing teams didn't seem like such a good idea in retrospect. In others, it worked out just fine. The unmistakable trend is very few of the quarterbacks had more than one good season after joining a new team. Some star quarterbacks such as Y.A. Title, Joe Namath, Bobby Layne, Archie Manning, Kurt Warner and Donovan McNabb jumped teams shortly before turning 35. Here, in alphabetical order, are my best quarterbacks who changed teams after 35.
Randall Cunnigham, Vikings to Cowboys and Ravens. Cunningham's big move came at the age of 34 when he came out of retirement, essentially going from the Eagles to the Vikings. The following year, at the age of 35, Cunningham played the best football of his life, leading the Vikings to a 13-1 record and throwing 34 touchdown passes to 10 interceptions. But the success was short lived. He was benched for Jeff George six games into the next season and later released. From there, he signed with the Cowboys in 2000 and Ravens in 2001. With both teams, he was a backup and performed decently when called upon.
Brett Favre, Packers to Jets, Jets to Vikings. Going from the Packers to the Jets didn't work out so well for Favre, who didn't fit in with the Jets on a number of levels. But it worked out much better when he went to the Vikings at 38. Favre showed he still had game in a storybook season, registering the highest passer rating of his career, making it to the Pro Bowl and falling just shy of the Super Bowl. Things fell apart the next year for Favre, which was his last in the NFL (so far).
Jeff Garcia, Lions to Eagles to Bucs to Raiders to Eagles to Texans. Garcia re-established himself as a starter after the age of 35 when he went to the Bucs in 2007. He had a fine season, going 8-5 as a starter and leading the Bucs to a wildcard game in the playoffs. He had a passer rating of 94.6 and made his first Pro Bowl since 2002. That was really the only season Garcia had a big impact after leaving the 49ers in 2003.
Matt Hasselbeck, Seahawks to Titans. After joining his new team last year at the age of 35, Hasselbeck had his best season since 2007, proving he isn't quite washed up yet. This year, it's likely Hasselbeck's job description will be more about helping Jake Locker play than actually playing himself.
Brad Johnson, Bucs to Vikings and Cowboys. Johnson made his big move at 32, going from the Redskins to the Bucs. He won a Super Bowl with Jon Gruden there, but couldn't sustain his high level of play. After being cut, he went back to Minnesota, where he had begun his career. This time he was the backup to Daunte Culpepper. He eventually took over the starting job and finished the season by winning six straight. It fell apart on him the next year though, as he went 6-8 as a starter with new coach Brad Childress. He then moved to Dallas where he served as Tony Romo's backup for two years but didn't play a lot.
Joe Montana, 49ers to Chiefs. He had missed most of two seasons when he was traded in 1993 at the age of 37. He had a Pro Bowl season and led the Chiefs to the AFC championship game. He also led the Chiefs to the playoffs the following year before retiring.
Warren Moon, Oilers to Vikings to Seahawks to Chiefs. Moon switched teams three times after his 35th birthday, which might be some sort of record. After being traded to the Vikings, he had two 4,000-yard passing seasons before being injured and replaced by Brad Johnson. He had a pretty good season in 1997 for the Seahawks at the age of 41 before tailing off the next year. He then signed with the Chiefs as a backup and 37 passes over two seasons.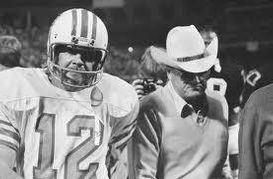 The Snake with Bum Phillips in Houston.
Ken Stabler, Oilers to Saints. The Snake first jumped from the Raiders to Oilers at the age of 34. After a couple of so-so years in Houston, Stabler followed Oilers coach Bum Phillips to the Saints. His best days were behind him, however, and Stabler couldn't get much going in two seasons. During his third seasons in New Orleans, he retired.
Johnny Unitas, Colts to Chargers. Johnny U was at the end in 1973 when he tried to hang on for one more season at the age of 40 after being traded to the Chargers for $150,000 in cash and future considerations. Unitas started just four games in one season for San Diego, winning only one of them, and then being replaced by rookie Dan Fouts.
Scout Talk: Fastest On Tape
At this time of year, everyone is talking about how fast draft prospects are based on 40-yard dash times. Three months ago, everyone was talking about how fast draft prospects were based on game tape. And there is a difference. With that in mind, I asked front office men to recount who were the fastest draft prospects they saw on tape. Some of their answers might surprise you.
Zach Brown, North Carolina LB. 40 time—4.50. He is a sideline-to-sideline, pure speed linebacker. Brown didn't need to run a 40 for the NFL to know he's fast.
Vinny Curry, Marshall DE. 40 time—4.98. His 40 time was puzzling because scouts say he explodes off the edge and shows excellent speed in games. Curry is a player who merits further examination.
Coby Fleener, Stanford TE. 40 time—has not run. If Fleener runs like he plays, he'll run a 4.4.
Stephon Gilmore, South Carolina CB. 40 time—4.40. On tape, he looked like more of a straight line speed guy, according to one personnel man. But the 40 is all about straight line speed.
Robert Griffin, Baylor QB. 40 time—4.41. He played like he runs a 4.41. I really doesn't matter how a quarterback runs in the 40, but it's still an eye-grabber when any quarterback runs that fast.
Ronnie Hillman, San Diego State RB. 40 time—4.45. He did well in the 40, but he played even faster.
James-Michael Johnson, Nevada LB. 40 time—4.68. Despite his 40 time, one front office man said his best quality was his speed.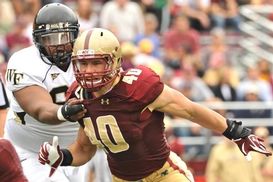 ICONKuechly is fast by any measure.
Luke Kuechly, Boston College LB. 40 time—4.58. He plays really fast, in part because he is fast, and in part because he is instinctive.
Harrison Smith, Notre Dame S. 40 time—4.57. His speed showed up in his range. His ability to diagnose quickly makes him play faster than he is.
Kyle Wilber, Wake Forest DE. 40 time—4.86. He played much faster than his 40 time. At the East West game, he was so fast no one could block him.
David Wilson, Virginia Tech RB. 40 time—4.49. Wilson, according to one front office man is fast through the hole, and he has long speed.
Kendall Wright, Baylor WR. 40 time—4.61. His may have been the most misleading 40 time of the combine. Said one scout, "Based on tape, he has tremendous speed, burst and explosion."
One Man Yelp: Super Bowl XLVI Champions
Anyone who would like to relive the Giants' Super Bowl season will enjoy the recently released DVD Super Bowl XLVI Champions: New York Giants. The DVD does a wonderful job of encapsulating and commemorating a special season. They should make one like this for each of the past Super Bowl winners.
The DVD follows the Giants' journey from training camp through the 6-2 start, the 1-5 rut, the amazing finish and the celebration that followed. There is a lot of content here, segments on each game, Super Bowl media day, an Eli Manning interview and an interview with Victor Cruz, Hakeem Nicks and Mario Manningham.
This is an NFL Films production, so you know it's done right. It has many of the NFL Films trademark touches, including the sideline reactions, players and coaches with mic'd up comments, spirals in slo-mo, and excessive use of the timpani.
My favorite parts: Just before Manning's incredible 38-yard sideline pass to Manningham in the fourth quarter, NFL Films caught Patriots coach Bill Belichick imploring his defense to make sure Victor Cruz and Hakeem Nicks were well covered. "Make them go to Manningham," he said. "Make them go to [Bear] Pascoe."
Then, with 1:04 remaining in the game and the Patriots leading by two, Patriots linebacker Jerod Mayo is heard telling his teammates, "Got to let them score! Got to let them score!" Of course, the Patriots allowed Ahmad Bradshaw to run it in for what turned out to be the game winner.
Hot Reads
*Les Snead has been on the job for less than one month, but already he is the NFL executive of the year.
*Mark Sanchez went from the reason for all the problems to the solution for the future in the time it took to sign his name.
*Bill Polian. Chris Polian. Jim Caldwell. Peyton Manning. Dallas Clark. Joseph Addai. Gary Brackett. Melvin Bullitt. Probably Dwight Freeney, Reggie Wayne and Pierre Garcon soon. Will there be anything left of the Colts?
*It would take a very special quarterback to unseat Tim Tebow in the eyes of fans. Since Otto Graham, Johnny Unitas and Joe Montana are not available, maybe this guy will have to do.
*Nice take by Bernie Miklasz: Gregg Williams is the NFL.
*It's a good thing for Gregg Williams that he doesn't work for Brady Poppinga. And it's a good thing for Brady Poppinga that he no longer will be working for Gregg Williams.
*Miss America should know that this guy can make a pass.
Dan Pompei covers pro football for the Chicago Tribune. Follow him at Twitter@danpompei