NFP Sunday Blitz
by Len Pasquarelli
November 24, 02013
Print This
As is the case with most coaching staffs during their bye week, the Cincinnati contingent did a lot of "self scouting" last week, poring over video of the first 11 contests to try to correct some of the Bengals' inconsistencies of the past three games. Especially the offense, which has sputtered during the 1-2 stretch, and more specifically quarterback Andy Dalton.
The third-year veteran has thrown eight interceptions in the past three outings (versus only five touchdown passes) and has an anemic passer rating of just 55.7 in the three games. Having now suffered four multiple-interception games in 2013, Dalton suddenly has tossed the third most picks in the league (15), behind only Eli Manning (17) and Geno Smith (16). The eight interceptions are the most Dalton has ever thrown in three straight games over the course of his NFL career.
Dalton has taken a fair amount of heat locally – hardly unusual because of the position he plays and the leadership status of the 26-year-old with the youthful Bengals – but what the Cincinnati staff concluded after a week of assessing the club's offense is that the shortcomings aren't all of his making. In fact, while the Cincinnati coaches acknowledge that Dalton has been part of the offensive slump, some of the criticism is probably unjustified, even though he's completed fewer than 50 percent of his attempts the past two contests and been sacked 10 times in three games.
At the heart of the problem: The Bengals, who statistically rank No. 19 in rushing offense, need to run the ball more effectively, particularly on first down. The team has averaged 5.14 yards per first-down rush and, while that is 12th best in the NFL, the coaches are shooting for something better. "More consistency with the run and better production on (first) down," coach Marvin Lewis said of the goals for the final five games of the season. "Both have been problems."
There's been a perception that Dalton has struggled of late because Cincinnati has faced such daunting third-down situations the past three games. And in fact, the average yards-to-make for the Bengals on third down in those games was nearly 7.5 yards. Eighteen times in the three games, an average of six times per game, Cincy confronted third-and-10 or more. Six times, Dalton and the Bengals were looking at third-and-13 or longer. Little wonder Cincinnati converted only 16 of its 53 third-down plays (30.2 percent) against Miami, Baltimore and Cleveland. The Bengals had a decent 42.1 percent conversion ratio (which would rank among the top 10 in the league), by comparison, over the first eight games of the season.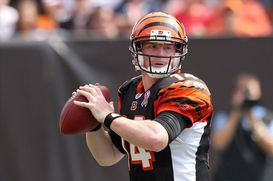 ICONDalton has thrown at least one interception in nine of 11 starts this season, with eight over his last three games.
But here's where Dalton's deficiencies are a bit overstated: Only two of his eight interceptions over the past three games came on third-down plays.
Instead, Dalton has been an equal-opportunity donor and Cincinnati isn't "winning" consistently on first down. As a result, he is facing long yards-to-make situations thereafter. The lingering problem has forced coordinator Jay Gruden to probably call more passes than normal and magnified the reality that the Bengals' line, especially the interior, hasn't played well. In 11 games, Dalton is on a pace to throw 596 passes in 2013; in his first two seasons, the former TCU standout averaged 522 attempts.
Cincinnati is at its best when Dalton is somewhat insulated, when the Bengals are using all their offensive tools, when the running game is clicking and he is not forced to carry the load as much. Notable is that Cincinnati is just 3-10 in games in which Dalton has thrown 40 or more passes; that includes a 2-3 mark this year. Teams that have scouted Dalton feel that if they can force him backwards a bit in the pocket, his height (6-feet-2) and average arm strength provide them an advantage.
"Give him a 'clean' pocket and he's so much better," a rival defensive assistant said. "Of course, you can say that about any quarterback, right? But it's especially true of him. With his delivery and all, he needs some room to throw, and he's not getting it."
Opponents have crowded the inside against the pass and the run. The perception in the league is that the Bengals aren't as physical inside on the line – with left guard Clint Boling, center Kyle Cook and right guard Kevin Zeitler – and so they play Cincy accordingly. They overplay the inside run and, on many passing downs, emphasize pressure up the middle, in Dalton's face. The quick pressure – which, ironically, was a staple of the Cincinnati defense, before tackle Geno Atkins was lost with a season-ending knee injury – has forced Dalton into some dubious decisions. At 7-4 and in a dramatically diluted AFC North, and with three of their remaining five games at home and two winnable road contests, the Bengals figure to be a playoff team for a third straight season.
But divining a way to avoid a third consecutive one-and-done in the postseason is important to a franchise with the most talent in the division. And determining how to avoid the fate of the past two seasons is part of what drove the Cincinnati staff in its week away from the field. The conclusion, which might be a surprise to some of his detractors, wasn't simply about fixing the quarterback. It means being smarter and tougher on offense and it will be interesting to see how the Bengals implement those goals in the final five games.
+AROUND THE LEAGUE
*Along with most of the country, several NFL retired players who played in 1963 only two days after the death of John F. Kennedy recalled last week the feelings on the assassination of the president. There recollections were among the most poignant in a week filled with memories of November 22, 1963 and the days that followed it.
"It was probably the toughest game I ever had to play," former San Francisco defensive back Kermit Alexander told Bay Area reporters. "It was very traumatic. It was like having an open cavity in your tooth and having to talk and eat without the benefit of relief." Recalled Steelers' defensive coordinator Dick LeBeau, a Detroit cornerback in 1963: "I just remember both sides had heavy hearts. All I can remember is a feeling of sadness. We played because they decided to play and we were players. . . . The whole nation was in mourning. They use the word 'closure' now. It's the type of thing you live through. . . . You go on, (but) you never go back to normal. You never forget."
Late commissioner Pete Rozelle, who opted to play the seven games that weekend, because he felt it would be a good distraction for an ailing nation, later said the decision was the "biggest regret" of his tenure. This correspondent knows the feeling, albeit to a much lesser extent. After watching Jack Ruby murder Lee Harvey Oswald, I met some friends, rode the streetcar to Forbes Field and watched the Steelers and Bears play to a 17-all tie. For much of the 40 years since, I've thought about the inappropriate nature of that decision. In 2011, then commissioner Paul Tagliabue, perhaps recalling the debate over Rozelle's decision, canceled the games after the 9-11 events.
*The solid performances this season of rookie first-round safeties Kenny Vaccaro (New Orleans) and Eric Reid (San Francisco), two of the three interior defensive backs selected in the opening stanza of the 2013 draft, has somewhat resurrected the old' "safety first" motto. But, in truth, safeties historically aren't often chosen in the first round, and last week's signing of Michael Huff by injury-depleted Denver was a reminder of the hit-and-miss nature of the position. The seventh overall pick in the 2006 draft, by Oakland, Huff is now with his third different franchise in eight months. Released earlier in the season by Baltimore, which thought it was getting a bargain when it signed him to a three-year, $6 million contract as a free agent in the summer, Huff didn't command a lot of attention until the Broncos reached out. He'd had a workout with Dallas and spoke to the Bengals before that, but neither club was impressed enough to sign him.
Said one personnel director who examined Huff on video, but did not bring him in for a workout: "He's always been an in-between guy, a little stiff, not a big playmaker. He's a good example of why teams have shied away from (first-round) safeties through the years."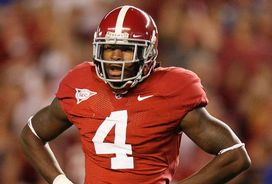 Former Alabama star Mark Barron has notched just three interceptions in 26 games with the Buccaneers.
There have been some terrific first-round safeties, like Ed Reed and Troy Polamalu, and more recently Eric Berry and Earl Thomas. But there have also been guys like LaRon Landry and Mark Barron who have not lived up to their billing. The late Sean Taylor might have been a Hall of Fame safety had he lived, but there simply aren't a lot of guys like him. In recent years, teams have been more inclined to consider safeties earlier in the draft – and safeties who possess some cornerback-like abilities and can cover in the slot are coveted – but Huff is indicative of how iffy the position can be.
*On the subject of safeties, although neither was a first-round pick, the struggles of Atlanta's starting pair, Thomas DeCoud (free) and William Moore (strong), reflect those of the Atlanta defense overall. Both players made it to the Pro Bowl in 2012, in part because of their combined 12 takeaways, seven by DeCoud and five from Moore. This year, the safeties have one takeaway apiece. DeCoud hasn't been nearly as strong in his fundamentals, especially tackling, as he was a year ago. Moore, a more physical defender, has been fined four times by the league and has had troubles lowering his hitting area. Plus, he's always been a bit of a liability in coverage, and that was again apparent Thursday night, when he bit badly on a double-move from New Orleans tight end Jimmy Graham and surrendered a 44-yard touchdown pass.
Compounding the problem is that neither of the players seems to realize just how poorly they've been playing. DeCoud suggested last week that his critics don't understand the defense and his responsibilities, but opponents clearly are taking advantage of him. Moore has said that the Falcons haven't been "out-physicaled" this season, but that's hardly true. Atlanta signed DeCoud to a five-year, $17.5 million contract in 2102 and the deal, which runs through 2016, included a $3 million signing bonus. The ante was even bigger for Moore, a five-year, $28.3 million deal through 2017, with an $8.25 million bonus. The contracts aren't exorbitant, but the safeties definitely aren't playing up to them right now. And haven't all year, for that matter.
*Two seasons ago, when he had only one sack despite starting in 15 of his 16 appearances, Cameron Jordan was arguably one of the league's most disappointing first-round selections. After Thursday night's victory at Atlanta, it's become clear that the third-year New Orleans veteran is now one of the most improved players in the league, the kind of versatile lineman clubs covet, and a potential Pro Bowl pick.
"He's a unique guy, really," Saints middle linebacker Curtis Lofton said after the New Orleans victory over his former team. "He's had to play a lot of different ways, been asked to do different things, and he's come up big. A rare player, really."
Indeed, the former University of California star has played under three different coordinators in three seasons – Gregg Williams (2011), Steve Spagnuolo (2012) and now Rob Ryan (2013) – and had a variety of responsibilities. He's found his niche in Ryan's 3-4, after playing in 4-3 fronts each of his first two years, and has emerged as one of the best five-technique rushers while still anchoring well versus the run. The history of the league isn't exactly chock-full of ends who have gone from a 4-3 to a 3-4 and had great success. "But I feel," Jordan said, "like I can play it any way you want. It's just that now I understand better what people want."
As a rookie, Jordan was asked to bulk up to about 300 pounds, play the run, and rarely got rush opportunities. Then in 2012, he dropped some weight, and was turned loose by Spagnuolo more than he'd been under Williams' tutelage. Although Spagnuolo was a disaster, with the Saints registering the worst statistical season in NFL history, the change was good for Jordan, who posted eight sacks. His 2.5 sacks on Thursday night, when he was clearly the best defensive player on the field, gave him 9.5 for 2013. Along with linebacker/end Junior Galette (six sacks), he has provided Ryan with the outside rush he was supposed to get from Will Smith and Victor Butler, both injured. Said Ryan: (Jordan) has proven he's a versatile guy. We love (versatility)."
*It's hard to talk about Cameron Jordan's improvement without noting the upgrade by the three-year veteran with the same names, but in opposite order, tight end Jordan Cameron of Cleveland (think that juxtaposition didn't drive scouts nuts in the 2011 draft?), has become a factor after two underwhelming campaigns. Although the Browns have used three different starting quarterbacks, and obviously lacked stability at the position, the former USC star and fourth-round choice in 2011 has 56 receptions for 629 yards and six touchdowns. That's more than twice the production Cameron registered total in his first two seasons, when he had only 26 catches, 259 yards and one score.
"Probably the changes in the offense, and the fact that, after two years, I understand things so much better now in the big picture scheme of things," Cameron said of his improvement. "There's a comfort zone now that I didn't have before."
Rookie coach Rob Chudzinski and offensive coordinator Norv Turner both have histories of success with athletic tight ends like Cameron, whose receptions rank third among all NFL tight ends and whose seven catches for 20 yards or more are fifth most at the position. The design of the offense clearly is reflective of the importance the coaches put on the tight end spot in a game that has skewed dramatically toward the position. Somewhat ironically, Chudzinski feels it's Cameron's blocking, even more so than his receiving, that's improved the most.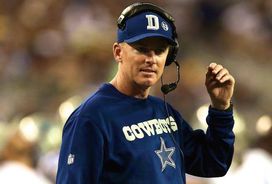 Would Garrett return to Dallas even if the Cowboys miss the playoffs this season?
*Last week's proclamation by Dallas owner Jerry Jones, that coach Jason Garrett will return to the team in 2014, raised a few eyebrows. Not because Garrett isn't a good coach, despite a record that's only two games over the .500 mark, but rather, if true, represents a bit of unusual patience on Jones' part. The Cowboys haven't been to the playoffs under Garrett and this season have experienced the kinds of ups and downs that have marked his tenure. But if Garrett comes back for 2014, he has a chance to actually become the Cowboys' longest-tenured coach since the infamous departure of Jimmy Johnson in the spring of 1994. Garrett will coach his 51st game with the Cowboys when they face the Giants on Sunday. At the end of this season, he will have led the team for 56 games. That means, if he's around for all of 2014 – and Jones has only fired one coach, Garrett's predecessor Wade Phillips, in mid-season (after eight games in 2010) – Garrett will have coached 72 games. Not since Johnson, who lasted 80 regular-season games, has a Dallas coach stuck around so long. Barry Switzer was onboard for 64 games, Chan Gailey for only 32, Dave Campo for 48, Bill Parcells for 64, and Phillips for 56. The average Cowboys coach since Johnson left has lasted 52.8 games. Jones characterized Garrett as a "great" coach. But it will be interesting if, first, he's great enough to be retained if the Cowboys fall short of a playoff spot for a fourth straight season, and great enough to have his contract extended. Garrett's current deal runs through 2015.
*Another year, another Hall of Fame class that will not include a quarterback. The Class of 2014 preliminary ballot included six quarterbacks – Drew Bledsoe, Randall Cunningham, Doug Flutie, Trent Green, Steve McNair and Phil Simms – and none of the half-dozen candidates made it through the first reduction, to 25 semifinalists announced on Thursday night. That brings to eight years, extending the record that was already established, the quarterback drought in Canton. The last passers inducted into the pro football shrine were Troy Aikman and Warren Moon in 2006. There hasn't even been a quarterback among the semifinalists (the semifinal system was introduced in 2004) since Ken Stabler in 2009. The non-quarterback streak could end with the 2015 class, since Kurt Warner will be eligible for the initial time next year. It will definitely end with the Class of 2016, because that will mark the first season of Brett Favre's eligibility.
*When the New York Jets chose Stephen Hill in the second round in 2012, team officials conceded that the move came, in part, because of the success that another former Georgia Tech wide receiver, Demaryius Thomas of Denver, had in the league. Like Thomas, Hill played in coach Paul Johnson's ground-heavy option offense at Tech, and was underutilized as a receiver. But Hill hasn't emulated the success of Thomas yet, registering only 23 receptions as a rookie and 21 so far this season. New York officials pointed out to NFP that Thomas didn't really flourish until his third season, grabbing 94 balls after averaging 27 catches his first two years.
"But the biggest difference," one team staffer said, "is that (Thomas) had Peyton Manning. We've got a quarterback who's still learning, and hopefully, Hill can develop with (Geno Smith)."
There was talk that Hill might lose his No. 1 job this week, but it appears he will remain in the starting lineup for now. The quarterback situation aside, though, the Jets want to start seeing more big plays from Hill.
+SHORT YARDAGE
*Barring someone stepping off a curb the wrong way over the weekend, this will mark the first week of the season that doesn't feature at least one "new" starter at quarterback. As noted here last week, every weekend since the opening week of the season has had at least one signal-caller making his first start of the year. There have been 48 "unique" starters (Josh Freeman has started for two teams, Tampa Bay and Minnesota), one more than in 2012. . . . On the subject of improved players in 2013, Pittsburgh coaches are noting that end Cameron Heyward is beginning to display the all-around game the Steelers anticipated when they made him a first-rounder in 2011. The former Ohio State standout has just 2.5 sacks, but that's not unusual for a 3-4 end in Pittsburgh's scheme, but is playing the run well since supplanting another former first-rounder, Ziggy Hood, as a starter. . . . Following up on the Atlanta safety note from above: The safeties aren't the only Atlanta defenders who haven't created takeaways. The Falcons have just eight takeaways after netting 31 in 2012, and are minus-12 in turnover differential, after being plus-13 last season. A year ago, Atlanta scored 101 points after takeaways. This year, it has just 22. . . . Don't know what this says about the Hall of Fame voting, but with three coaches and three so-called "contributors" among the group moving forward to the next round, it's the fourth straight year in which there were six non-players among the semifinalists. . . . Victories by Denver (at New England) and Kansas City (hosting San Diego) this week will nudge both the Broncos and Chiefs to 10-1 and set up another AFC West showdown at Arrowhead Stadium on December 1. It will also be the first time since 1948 that two teams in the same division began a campaign at 10-1. In 1948, the Chicago Cardinals and Chicago Bears both started 10-1. The Cards, who won the NFL West with an 11-1 mark, lost the league championship game to Philadelphia. The Bears finished 10-2, second in the division, and out of the playoffs. . . . Because of injuries in both of his first two seasons, Cincinnati cornerback Dre Kirkpatrick, a 2012 first-rounder, has yet to start a regular-season contest. But the former Alabama star is getting steady work as the team's No. 3 cornerback, seems to have surprising quickness in the slot, and coaches feel he's made great strides of late. Kirkpatrick's development has helped compensate for the season-ending Achilles injury to starter Leon Hall. . . . When Ohio State coach Urban Meyer announced last Wednesday that underclass cornerback Bradley Roby will enter the 2014 draft, it didn't exactly send league scouts scurrying to the video room. The reason: "Most of us thought (Roby) might be in (the 2013) draft, and we'd done a lot of homework on him anticipating that," one personnel director said. "He had the tools then to be really good, but the extra year didn't hurt him, either." Roby could be a first-rounder given his cover skills and speed, but the consensus at this point is that he needs to get a bit tougher and more focused.
+BY THE NUMBERS
*With their Thursday night loss, the Atlanta Falcons will have to win at least four of their final five games to avoid at least tying a dubious mark from recent years. Since the NFL implemented the eight-division format in 2002, there had been 25 clubs prior to 2013 that won at least 13 games in a season. Of those teams, the worst plummet the following season was by Baltimore, which went from 13 victories in 2006 to only five wins in 2007. Atlanta won an NFC-best 13 games in 2012, and is now 2-9. In their final five matchups, the Falcons still must play at Green Bay and San Francisco and host surging Carolina in the season finale.