NFP Sunday Blitz
by Len Pasquarelli
July 21, 02013
Print This
In the wake of last weekend's George Zimmerman "not guilty" verdict, a number of high profile NFL players, primary among them wide receivers Roddy White of Atlanta and the New York Giants' Victor Cruz, reacted defiantly via their respective Twitter accounts.
Despite negative blowbacks from a number of previous tweets, White, who seems to revel in being a lightning rod of sorts, almost as much as he enjoys his status as a four-time Pro Bowl player and arguably the greatest receiver in Falcons' history, suggested that the six jurors in the high-profile case involving the shooting death of teen Trayvon Martin, "should go home tonight and kill themselves . . ." Cruz predicted that Zimmerman "(won't) last a year before the hood catches up to him."
In West Lafayette, Indiana, where he operates a company that addresses the use of social media and the ramifications that can accompany it, Kevin Long cringed.
OK, not really. But at one time, Long might have cowered. Just not anymore.
"It's almost gotten to the point where you kind of get used to it," Long, the founder and CEO of MVP Sports Media Training and U Diligence, told NFP late last week. "We've come to expect it. You sort of shake your head, but we're beyond the shock or surprise now, and personally, I guess I've gotten numb to it. These guys react and then, predictably, they issue an apology 24 hours later."
Not surprisingly, Cruz and White, likely at the prompting of their agents or marketing representatives, complied with the tweet-first-and-regret-it-later cycle regarding their Zimmerman-related rants. Within hours of commenting on the verdict, each player pulled back from his extreme reaction. White, who actually had paired an unprintable expletive with Zimmerman's name in an earlier message, apologized via Twitter for his imprudence. Cruz did the same and also deleted his tweet about the emotional Florida case, noting that he embraces "encouraging and educating each other" about such passionate societal matters.
But, in light of the latest missteps of NFL players in the world of 140-character outrage and social commentary, this question: When will someone, either from a guy's supporting entourage or from the franchise that employs him, educate the players about the potential drawbacks of social media excesses? It's probably a bit naïve, even Pollyannaish, to suggest that such direction would be heeded anyway. It isn't, though, hyperbole to note that perhaps it's needed. The same reactionary instinct that lends to success on the field, where muscle memory and rote usually supersede deliberation, doesn't always sell quite as well off the gridiron.
Then again, the smartest players are trying to sell themselves essentially as a brand these days and hair-trigger thumbs can occasionally backfire.
Said Long: "A few years ago, players were (largely) using Facebook, and they could more or less control (their followers). Now, everyone's into Twitter or Instagram, trying to see how many thousands of followers they can get, to use it as a marketing tool. But there have been some backfires."
Notably, a couple years ago, then-Pittsburgh tailback Rashard Mendenhall lost an endorsement deal because of all ill-considered tweet. Other players have forfeited some of their popularity because of public indiscretions on social media. White has been involved in a few maelstroms with past pronouncements. But little, really, has been done. The league raises the subject of social media responsibility in its annual rookie symposiums. The NFLPA, to its credit, has advised players to be more careful about expressing their sentiments to such a wide audience. But a union that, two years after ostensibly agreeing to HGH testing, and then has made a series of lame excuses to dodge it, has a rather hollow voice as well. And players have demonstrated, as was the case with the Zimmerman verdict, that they prefer to have their own outlet for their voice, rather than have someone else speak for them or interpret their feelings.
It is, to be sure, a slippery slope perhaps becoming increasingly treacherous.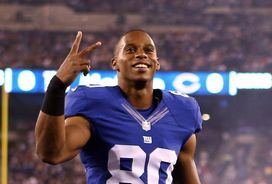 Victor Cruz was one of several players to voice his frustration about the George Zimmerman verdict on Twitter.
Long has what he jokingly refers to as the "Mother Rule." Simply stated: "If you're posting something that could make your mother spill her coffee when she reads it, or keel over, then don't do it." He's never articulated a similar rule for coaches, front office executives or owners but, if he did, it would probably be the same. "The last thing you want is for your words to come back at you," said Long, who urges the players at his client schools to avoid a "Google-able moment."
But teams are timid about doing something to curb their players. And a league that recently caved to Senator Mitch McConnell, when he sent a hardly-veiled letter warning the NFL not to aid in selling Obamacare, isn't prepared to take on its rank-and-file.
Back in May 2011, when we first encountered Long, whose company monitors a player's social media accounts, he had received exploratory phone calls from three or four NFL clubs seeking information about the firm and possibly looking to follow the social media posts of potential draft choices, not incumbent players. Two years later, though, MVP Sports Media Training and U Diligence has zero NFL clients. Most of the clients of the new-age service, created in 2008, remain college programs.
"It's been at a standstill, really," Long said, when asked about recent interest from NFL teams.
Long's program isn't particularly complicated. It identifies roughly 500 key words – most of them from a range of subjects dealing with drugs, alcohol, sex and violence – and red-flags any messages using the terms. Clients can also customize the menu of words that initiate alarms. Within 2-3 minutes of a player dispatching a message with one of the flagged words or phrases, a cautionary e-mail is sent to a player's school and to the player. Could such a program be initiated in the NFL? Well, it's certainly a league where the players know their first-amendment rights, or are advised of them by their union representatives. And a league, as well, where individual personas have replaced team profiles, and players have embraced social media avenues which have permitted them to bypass traditional media messengers. So limiting the rights of players to offer their own commentaries figures to be difficult, at best. It's a battle of which the NFL seemingly wants no part. Players, who would have to willingly download the application for it to work, almost certainly would balk at what many would see as an infringement.
Officials from a number of teams, agents, even players themselves, acknowledge that there is a dilemma, but agree that dealing with it is a dicey pursuit. It seems to be a battleground where no one wants to fire a shot, but also one in which there likely will be a few more casualties before there is any action taken.
Long emphasized that teams should want to protect the reputations of players, and of their franchises, but the results, or lack of, don't necessarily point to that.
"My feeling is that once you put something on (social media), it's no longer private," Long said. "In some instances, I would think, teams would want to guard against that. It's got to be of some concern. I just think that, with the way things are going, it's only a matter of time until some NFL teams adopt it. We're getting closer."
Maybe so. But unfortunately, checking our notes, Long basically said the same thing two years ago.
+AROUND THE LEAGUE (in a slow week)
*The NFL's summer production of "Men Behaving Badly" apparently has trickled down to the college ranks as well, with the news that Texas A&M quarterback Johnny Manziel recently "departed early" from the annual Manning Passing Academy after some sort of alleged indiscretion. The situation did not escape the attention of NFL scouts, who have begun to more closely assess the reigning Heisman Trophy winner, given reports that he could leave the Aggies' program early and enter the 2014 draft. It's difficult to get a read on how scouts assess the physical talents of "Johnny Football" at this point, because he hasn't been scrutinized as closely yet as he now will, and because scouts aren't permitted to speak for attribution about potential underclass prospects. But the alleged escapades at the Manning camp, and Manziel's performance at the SEC media days last week, piqued the interest of some league personnel people.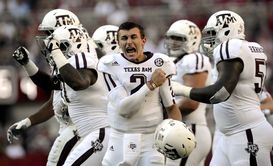 NFL scouts have been playing closer attention to Texas A&M quarterback Johnny Manziel as of late.
"I was especially interested in his comments about being just a '20-year-old' kid," said one regional scout who primarily works the SEC schools. "I'm tired of that excuse. If I had (Manziel) in an interview, and (suggested) to him that he was just a kid, he probably wouldn't react well. He's a 20-year-old man, he'd (protest). Well, he needs to start acting like one." The scout quickly emphasized that, his personal feelings aside, the lack of maturity exhibited by Manziel probably wouldn't greatly affect his draft status, if he's in the lottery. "But it did," he said, "turn me off some." From a tools standpoint, Manziel may lack some physical stature, and scouts' reviews about his arm strength are fairly mixed at this point, although no one seemed to question his accuracy. The recent success of read-option quarterbacks in the league (like Robert Griffin III, Colin Kaepernick, and Russell Wilson) and Wilson's ability to overcome height issues in Seattle all play in Manziel's favor. He probably won't get much taller between now and next April's draft, but the scouts are going to watch to see how much he grows up.
*The five-year contract extension to which Cincinnati signed defensive end Carlos Dunlap last week (creating a six-year, $40 million deal) was as much about the likelihood that "franchised" pass rusher Michael Johnson probably won't return in 2013 as it was Dunlap's own value. Johnson, who notched 11.5 sacks in 2012, was one of the seven (of eight) franchise players who failed to reach a long-term deal by last Monday's deadline. So he'll play this year under the one-season tender of $11.175 million, and can't sign an extension until after the season. It would cost the Bengals nearly $13.5 million to use the franchise designation on him again, and they prefer to save it anyway, in case they can't get an extension with tackle Geno Atkins. Seen as an emerging young rusher, Johnson could be a hot commodity next spring, even in a league where the money dried up for rushers this year. So while it isn't chic to suggest that the Bengals and owner Mike Brown actually got something right, credit them for some foresight in this case. The club has to try to keep Atkins, who led all interior defenders in sacks (12.5) in 2012 and is entering the final season of his contract, and that figures to be a very expensive proposition. Dunlap had six sacks in 2012, despite starting just one contest, and has notched 20 sacks in three seasons as a reserve. He certainly offers protection against the possibility that Johnson departs after this season.
*For a couple of middle-round draft choices, there's a lot of anticipation with the Jacksonville staff about rookies Denard Robinson (fifth round) and Ace Sanders (fourth). The former is, of course, a former quarterback at Michigan, and he and Sanders, from South Carolina, could add a dose of explosiveness to the Jaguars' attack. "It's become a big-play game, and those guys can be big playmakers," first-year offensive coordinator Jedd Fisch said. The expectation is that Robinson will line up all over the place in training camp, and that the Jags might even dabble with some "Wildcat" looks. Jacksonville statistically ranked 29th in total offense in 2012, but the team's passing attack surprisingly had 48 completions of 20 yards or more, actually better than four playoffs clubs. That said, Fisch wants more, and Sanders and Robinson could provide much-needed quickness. The other area where the pair should upgrade the Jaguars is special teams. Jacksonville was 26th in kickoff return average (21.0 yards) in 2012 and 28th in punt returns (7.3). Sanders, who had three punt return touchdowns in college, almost certainly will take over those chores. The Jaguars worked Robinson some in the spring as a kickoff return man, and they are hopeful he can develop there.
*Other than to thank the Detroit Lions, and to note that he will "always be" a Lion, tailback Jahvid Best, released by Detroit this week after a concussion-ravaged three-year career, has remained quiet about his plans. Ditto his camp. There is a solid chance Best, who played in only 22 games in his career, will simply retire. But the suspicion in some quarters is that Best, who is only 24 years old, will explore plenty of options and continue to meet with concussion specialists, in an attempt to yet resurrect his career. Despite the likelihood he will never play again, it might still take awhile for that reality to sink in. A first-round pick in 2010 (30th overall), Best hasn't played in a game since October 2011, and the former University of California standout still possesses residual effects from the concussions he's suffered. Those concussions actually began in college. But he apparently isn't quite convinced yet to throw in the towel. One problem he will have, as noted in this space last week in discussing the possible future of former Indianapolis wide receiver Austin Collie, another oft-concussed player, is the league's increased sensitivity to head injuries. Collie, as cited, has offered to sign a waiver, diminishing the liability of any potential employer, and still has found the road back to the NFL a tough one to traverse. Kevin Seifert, the NFC North blogger for ESPN.com, posed a timely question last week: Given the league's position now on concussions, would any team even risk taking Best if he were in the draft now. The Lions performed their due diligence on Best, who suffered at least two concussions at Cal, before the '10 draft. But a lot has changed the past three years, and, with all the concussion-related lawsuits, teams might be more skittish now about adding players with histories of head injuries.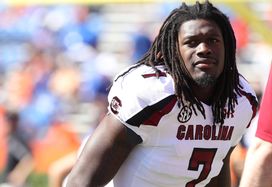 US PRESSWIRESouth Carolina's Jadeveon Clowney is currently the frontrunner for the No. 1 pick in next year's draft.
*One SEC underclass prospect the scouts do seem to already love is South Carolina defensive end Jadeveon Clowney, who has sent signals that he could bypass his scheduled final season with the Gamecocks and enter the '14 draft, where he might be considered as early frontrunner for the top overall selection. Clowney, who had 13 sacks and 23.5 tackles for loss in 2012, while being named as the conference's defensive player of the year, looks like a pure 4-3 end, with some scouts suggesting that he might be able to play some linebacker in a 3-4 front. Clowney has avoided even a hint of controversy during his college career, and seems to possess the right mix of physical abilities to be an immediate impact guy in the league. His comment last week that SEC quarterbacks are "scared" of him actually elicited laughs from a few scouts. Noted one: "They ought to be."
*The Falcons seem content to go to camp with untested second-year veteran Dominique Davis as the top backup to quarterback Matt Ryan. The team really hasn't explored options very much, avoiding the league's annual backup musical-chairs exercise, and contend that Davis demonstrated enough in the offseason to warrant confidence. That despite the fact the former Boston College star, signed as an undrafted free agent last year, didn't play in a game as a rookie. Ryan has been an iron man, missing just two starts in five seasons and starting all 16 games in four of his five years in the league, but Atlanta has always had veterans like Chris Redman or Luke McCown at the No. 2 spot. That may not be the case in 2013.
*Although the Tampa Bay defense ranked first versus the rush in 2012, the Bucs were at the opposite end of the spectrum, 32nd, against the pass and were sixth-poorest in opponents' passer rating. Early on in the offseason, team officials and coaches made improving the secondary paramount, and the club carried through with its initiative, dealing for premier corner Darrelle Revis, signing free agent free safety Dashon Goldson, and drafting cornerback Johnathan Banks in the second round. Then, on Friday, the Bucs shipped incumbent starter Eric Wright to San Francisco, perhaps paving the way for Banks to start as a rookie. The deal not only gives Tampa Bay three likely new starters – with strong safety Mark Barron the probable lone holdover—but jibes with what we'd heard during the spring and early summer: That Wright, a disappointment after signing a big free agent contract last year, was in some trouble, and that Banks could eventually replace him as the starter.
"There's a lot of talent (in the unit)," Barron assessed, even before the trade. "A lot." Many personnel people in the league felt Wright was overrated when Tampa Bay awarded him a five-year, $35.3 million deal a year ago. Then he played poorly, ran into some off-field problems (including a four-game suspension), and was forced to dramatically adjust his contract. Now he's gone as part of the Bucs' drastic makeover of the unit. In a division that features Drew Brees, Ryan, and Cam Newton, the Bucs needed a secondary that could stand up, and they feel they've got one now.
+SHORT YARDAGE
*The above note about Manziel reminded that, at this very early juncture in the evaluation process, 2014 could be a second straight draft in which a quarterback does not go off the board with the top overall pick. Most scouts feel that the top-rated passer at this point is Louisville's Teddy Bridgewater, and question his top-pick pedigree. The selection of offensive tackle Eric Fisher in the top spot three months ago snapped a string of four straight quarterbacks going with the first pick. Beginning with Peyton Manning in 1998, quarterbacks took the top spot in 12 of 16 drafts. There haven't been consecutive years with a non-quarterback at the start of the draft since 1996 and '97, when wide receiver Keyshawn Johnson (Jets in '96) and offensive tackle Orlando Pace (Rams in '97) were the No. 1 choices. . . . The Bengals, by the way, got 46 sacks from their defensive linemen in '12. That's more than 24 of the other 31 teams registered overall. "We just all love to get after (the passer)," reserve end Wallace Gilberry, who had 6.5 sacks despite zero starts, told NFP. In addition to the Dunlap extension, the Bengals covered themselves as well earlier in the offseason, by re-signing Gilberry to a three-year deal. . . . Two factors in the Broncos' decision to award left tackle Ryan Clady, the lone franchise player to get a long-term deal, a five-year, $52.5 million contract: As he proved in 2010, when he recovered from on offseason patella tendon injury to start every game, Clady is a fast healer. So, while he isn't whole yet from a labrum injury in his right shoulder and could miss some camp time, Clady probably won't miss any of the season. Second, the blocking unit in front of Manning is a bit unsettled because of injuries, and Clady is the cornerstone. . . . The hiring isn't technically official yet, but it looks like former NFL running back Rickey Williams will join the staff at the University of the Incarnate Word, a small-time school in San Antonio. Obviously, Williams will mentor the running backs. "He's got a lot to share with people, both as a player and a person," said head coach Larry Kennan, a longtime NFL assistant who also served a lengthy tenure as executive director of the NFL Coaches Association before returning to the sideline late in 2011. . . . Despite his struggles in his 2012 rookie season, when he started 16 games at right tackle and unofficially surrendered six sacks, Jonathan Martin has shown considerable promise in moving to the left side for Miami. The former Stanford star, a left tackle in college, is flipping sides after the Dolphins signed former Atlanta Pro Bowl tackle Tyson Clabo. Center Mike Pouncey said in the spring that Martin looked "more fluid" on the left side. Martin has acknowledged to being "a lot more comfortable" at the spot. . . . Tight ends Jared Cook and Delanie Walker switched teams for this season – the latter moving on to St. Louis after four seasons with Tennessee and the former replacing him following seven years with the 49ers – but both could be utilized in the same way with their new clubs. In addition to in-line duties, the pair could line up as H-backs in some situations. Walker, who caught only 123 passes with the 49ers, and never more than 29 in mostly serving as a backup to Vernon Davis, has demonstrated better hands than some Titans' people felt he might have. And Cook, who had 93 catches the past two seasons, has been a better blocker than the Rams anticipated. . . . Free agent offensive tackle Eric Winston, who has 103 career starts and hasn't missed a game in six years, is getting some solid sniffs as teams prepare to go to camp. It's been surprising that Winston, who was linked to a few teams in the offseason, remains unsigned. Money obviously is a factor, but there are several clubs with right tackle needs. . . . Another veteran who drew looks the past month or so is former Jets nose tackle Sione Pouha. But Pouha is 34, has had back problems in the past, and might not fit what teams seeking backup help at nose tackle are looking for.
+INSIDE THE NUMBERS
*By the numbers: How notable were Geno Atkins' 12.5 sacks in 2012? They represented the most by an NFL interior defensive lineman since 2000, when La'Roi Glover (New Orleans) had 17 and Warren Sapp (Tampa Bay) posted 16.5.