With the revelation last week by Atlanta third-year wide receiver Julio Jones that he added 8-9 pounds during the offseason, but has lost none of his speed, things might have gotten more difficult for the secondaries on the Falcons' schedule in 2014. After all, Jones' running mate, four-time Pro Bowl receiver Roddy White, was already one of the NFL's most physical wideouts.
White is listed at 211 pounds, but anyone who has seen (or lined up against) him probably knows he is bigger than that. Certainly the massive "guns" hanging out from the sleeves of his uniform jersey make him an imposing figure. And White, who has averaged 93.8 receptions over the past six seasons, has mastered the art of muscling smaller defenders off the ball. And so the specter of lining up against White and Jones, already a daunting task for defensive coordinators around the NFL, has gotten a little more difficult.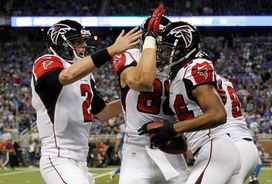 The Falcons could boast the league's most physical wide receiving tandem in 2013.
But the Jones bulk-up also points, in its own way, how much bigger wide receivers have gotten in the league in recent years. And how much bigger they consciously want to get, as well.
"Speed, quickness, route-running . . . they're always going to be uppermost," White, who checked into camp at 229 pounds, told NFP. "But to be able to (dominate) a guy physically, without having it take away from all those other things, it means a lot. (Cornerbacks) are trying to be more physical, too. You want to be able to match that. Or to 'overmatch' it, if you can."
It's not just coincidence that all but one of the NFL's top wide receivers in 2012, in terms of catches, were 6 feet or more and 198 pounds or more. The only "munchkin" in the bunch was the 5-feet-9, 185-pound Wes Welker. Of the others, five were listed at 6-3 or larger. The only other receiver under 200 pounds was Reggie Wayne, who was 198. Three of the top wide receivers, led by Detroit's Calvin Jonson (6-5 and 236 pounds), weighed 230 or more. "To say that size doesn't matter at the position, that it's not part of my game, just isn't true," Johnson said.
The trend was reflected to some extent in this year's draft. Seven of the 10 wide receivers selected in the first three rounds were "bigger" receivers. Four of them were 6-2 or more. Acknowledged one NFC general manager, who chose a bigger receiver, but not in the first three rounds: "It's always been known as a big man's game, but not necessarily at (the wide receiver) position. But people want the bigger receivers now, too. If you can get big without sacrificing speed and playmaking skills, why not? And guys clearly are doing it."
+AROUND THE LEAGUE
*Outside of watching rookies, and the few legitimate battles for starting spots in the league, there aren't a lot of reasons for fans to pay excessive attention to preseason games, exercises that cost full price and are often little more than glorified scrimmages. But one element that bears watching, and which was pointed out by a few coaches and personnel people this week, is the number of new backup quarterbacks in the league in 2013. Even without the tussle for starting jobs in a few spots, roughly half the NFL's teams could have new guys in the No. 2 spots this season. And while there are some well-traveled guys in new places – like Matt Hasselbeck, Ryan Fitzpatrick, Bruce Gradkowski, Jason Campbell, and others – some clubs lack much experience at the backup spot. The common denominator: There are a lot of guys who will have to learn new systems, and the preseason offers the best real-life laboratory for doing so. "Even with the offseason stuff, you still want to get it all down in games," allowed Colt McCoy, the new caddie for Colin Kaepernick in San Francisco. "And so (the preseason) is important."
*There are always plenty of issues to debate in the NFL – we've felt for the past few years now that Adderall might be the next hot-button issue, and the substance seems to be getting more attention – but the spate of serious and even season-ending injuries at this very early juncture of training camps is apt to spur lots of talk about offseason training methods. It is notable, though, that while serious injuries have increased over the past five seasons, as pointed out by a recent Associated Press story citing empirical data, there have been season-ending injuries in the first two weeks or so of camp for several seasons now. And that reality magnifies the split of sorts between some team trainers who feel there needs to be an increase in offseason football-related activities (as opposed, simply, to weight room time), and others who suggest the cutback in such work, as mandated by the CBA, has been good for players. Truth be told, most of the season-ending ACL injuries to date were non-contact, and difficult to avoid. The so-called "soft tissue" injuries may be on the rise, with the reduction of offseason work, but there isn't a large enough sample yet to definitively prove that. With the preseason set to begin, the attention will turn more toward games, not gimpy players. But, rest assured, medical people, trainers, and even league officials, are going to be taking a longer look at offseason training styles – and which teams are more successful in avoiding early injuries – before the start of the 2014 camps. "It won't be as (extensive) as the (concussion) studies that we've been doing," one middle-level league official told NFP, "but it will be thorough."
*On the subject of concussions, the recent retirement of Arizona sixth-round wide receiver Ryan Swope, the NFL official acknowledged, will spur even more study of head trauma, and force teams to re-evaluate the manner in which they assess players with a history of concussions. Swope suffered four or five concussions at Texas A&M and probably would have been chosen in the first three rounds were it not for those injuries. Big, rangy and fast, Swope clearly had his draft status knocked down by the questions regarding his concussions. Cardinals' general manager Steve Keim noted last week that the team's medical staff did extensive workups on Swope, and was comfortable with its decision to choose him in April, but, obviously, it wasn't quite enough. The NFL has done considerable work the past several years in dealing with the concussion issue. "But it's an (insidious) thing," Swope said. "I don't blame anyone. I'm just taking care of myself." While Swope has "retired" for now, and won't actively pursue his longtime goal of playing in the NFL, he will continue, at least for a while, to seek remedies and to stay in touch with the Cardinals.
*The addition of first-year offensive coordinator Marty Mornhinweg, and the introduction of a more West Coast-oriented design, will, by nature, change some of the priorities for the revamped New York Jets' running back corps. But coach Rex Ryan still wants to be able to pound opponents, too, and in addition to reworking the backfield unit, the Jets have reconfigured the offensive line as well, and feel they are much tougher inside than they've been. Guard play is a lot more prominent in the NFL now than it was 10 years ago, and the Jets will have a new tandem flanking perennial Pro Bowl center Nick Mangold, with Willie Colon and likely Stephen Peterman supplanting Matt Slauson and Brandon Moore, respectively.
Slauson and Moore started all 16 games together in 2012 and, while the New York rushing attack improved statistically 10 spots in the NFL rankings, from 22nd in 2011 to 12th in 2012, it still wasn't what Ryan wanted. The Jets averaged just 3.8 yards per rush, and only four teams were worse. Colon, in particular, has been physical early in camp and some people feel he can be a Pro Bowl-caliber in-line blocker. The former Pittsburgh starter struggled with his inside movement skills at times in making the transition to guard last year. And injuries have blunted his development, with Colon playing only 12 games the past two seasons, but a lot of folks around the league agree that guard is the natural spot for the former Steelers' right tackle. "I'm starting to feel more comfortable (at guard) than I did a year ago," Colon said. "We want to be physical, and I think guard gives me an opportunity to play the game the way I like to play it." Peterman has been slowed somewhat by a shoulder injury, but the coaches seem to like rookie Brian Winters, a third-round pick from Kent State, who eventually could push Peterman for playing time.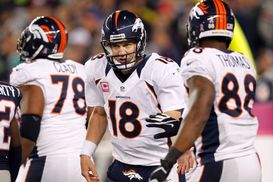 The season-ending injury to Dan Koppen has Peyton Manning looking for another new center.
*Five weeks ago in this space, we noted the importance of the under-the-radar signing of veteran center Dan Koppen by the Denver Broncos, because of his familiarity with the up-tempo, check-with-me offense operated by quarterback Peyton Manning. While Koppen had never played with Manning before 2012, we pointed out, he had snapped for Tom Brady for nine years in New England, and the styles of the two players and the two offenses were very similar. Well, Koppen went down with a season-ending left ACL injury in the opening days of camp and, predictably, the Broncos' first phone call, and Manning's recommendation, went to ol' buddy Jeff Saturday, Manning's longtime center in Indianapolis. Saturday has retired to the TV studio, and is reportedly down to about 240-250 pounds, but he did offer some help by recommending another former Manning teammate, in "retired" lineman Ryan Lilja. And so, while would-be starter J.D. Walton continues to rehab from the left ankle surgery that has sidelined him, Lilja will offer Manning another kindred spirit of sorts. Granted, in his six seasons with the Colts (2004-2009), Lilja never started a game at center. Most of his 59 starts were at left guard, and he never started a game at center until moving on to Kansas City, but he still figures to afford Manning a security blanket. "I know the way he operates, what he expects from people, maybe even the way he thinks about certain things," Lilja, 33, said last week. "I'm comfortable with him, and vice versa." True enough. But the Denver offensive line – even though Manning tends to make a blocking unit better than it really is – has suffered some setbacks. The unit is a bit unsettled and, while it isn't necessarily unsettling to Manning, it's an element to be watched for a team with Super Bowl aspirations.
*For a guy with only 10 starts and 46 catches in three seasons, Philadelphia wide receiver Riley Cooper is getting plenty of (unwanted) attention. Cooper's insensitive and racially charged remarks at a Kenny Chesney concert, made public last week in a tape from the event, have caused the Eagles' Chip Kelly more distractions than those that usually accompany a rookie coach. Suddenly, Kelly has to answer more than just those nettlesome queries about whether NFL game officials might slow the hurry-up tempo of his offense in 2013. Kelly has to try to hold together a locker room that could have some fissures. It's not a sure thing, even with the season-ending knee injury to Jeremy Maclin, that Cooper was a lock for one of the top three wideout spots with the Eagles, maybe not even a roster berth. But the remarks could make it tougher to keep him around, even though Kelly has said the former Florida star will not be released as a result (Cooper was excused Friday from team-related activities, to begin sensitivity sessions), and Cooper will undergo counseling. From a purely football standpoint, the loss of Maclin takes away much of the quickness upon which Kelly was counting. Cooper, a fifth-round pick in 2010, is a big, angular receiver, but is not especially quick. Ditto slot receiver Jason Avant. That could provide someone like second-year veteran Damaris Johnson an opportunity.
*While wide receivers seem to be getting bigger in the league, some running backs are shrinking. Pittsburgh rookie tailback Le'Veon Bell, the second-rounder who Steelers' coaches hope will grab the starting job, has done a nice job of keeping off the weight he originally shed for the combine five months ago. The former Michigan State standout played in the low-240's last season for the Spartans, but officially checked into the combine at 230 pounds and reported to the team's camp at St. Vincent College last week at 232-233, which should help him with the new zone-blocking scheme that first-year o-line coach Jack Bicknell Jr. is installing. The one-cut scheme, first popularized in Denver by veteran line coach Alex Gibbs but now used by several clubs, emphasizes quickness, patience, and decision-making more than just speed, and Bell has demonstrated early in camp that he possesses all three of the attributes. Bell was clocked at 4.60 seconds at the combine – hardly blazing, but the fastest time by any of the backs at the Indianapolis workouts weighing 230 pounds or more – and looks to have retained good quickness. The fact the Spartans used a lot of zone-blocking also helps in the acclimation. "It's more about being quick, both physically and mentally. Reading where the hole is and then attacking it aggressively," Bell said. "You still have to have power, but I don't feel any (weaker) in the 230s." One of only nine backs taken in the first three rounds by the Steelers in the past 40 years, Bell has been getting time with the first unit, but it appears as though he will have to oust young veteran Isaac Redman, and, probably more important, do a good job with pass-blocking (arguably, always the toughest chore for a rookie back) to claim the No. 1 spot for the beginning of the season.
*The second "preliminary" list of Hall of Fame candidates was distributed to selectors last week – the first official ballot, to reduce the typically large list to 25 semifinalists won't come until late next month – and it contains the names of four former kickers. Confidentiality guidelines preclude us from disclosing the names, but it's probably not hard for most to identify at least three of them (the fourth is a first-time candidate, with a fairly mundane career). It's difficult for any special-teams player to merit consideration for the Canton shrine. Heck, there hasn't been a kicker who was a finalist since Jan Stenerud was inducted in 1991. And since the Hall implemented the semifinalist cutdown in 2004, all-time scoring leader Morten Andersen (last year) is the only kicker to make it through to that round. Just one man's opinion, and probably a little unsubtle politicking here: But in a game in which roughly 25 percent of the contests are decided by three points or fewer – which isn't to suggest that every three-point game is determined by a kicker – it might be time to seriously consider a kicker. "Those guys win games," allowed former Colts general manager Bill Polian.
*In case anyone missed it, the league has nudged the 2014 draft back about two weeks, to May 8-10, a move that has gotten mixed reviews so far from the scouts and personnel directors to whom NFP has spoken. Since the move won't alter the start of the league year, or possibly free agency, clubs will have two more weeks to add veterans before the start of the draft. But with the combine unlikely to be pushed back, it's also two more weeks to potentially overanalyze the rookie pool. Personnel guys are "notorious creatures of habit," one AFC college scouting director acknowledged, so it will be interesting to see how they react to the change. The draft, by the way, will be held for at least one more year at Radio City Music Hall. In fact, it's a scheduling conflict with RCMH, and the decision not to take the draft on the road to rotating venues until at least 2015, that necessitated the switch of dates. Always looking for a PR bump, league officials are still weighing the potential for moving the draft to sites outside of New York City beyond the 2014 lottery.
+SHORT YARDAGE
*Jacksonville coaches don't feel the ankle injury that cost Blaine Gabbert some time in early camp has reduced the third-year veteran's chances in the battle with Chad Henne for the starting spot. Gabbert, by all accounts, had a good spring, and has continued to improve his accuracy, a must. Gabbert completed 58.3% of his attempts in 2012, up from a dreadful 50.8% in his 2011 rookie campaign, and his practice habits and toughness are said to be better as well. . . . The Steelers led the league in pass defense last season, but have already suffered some setbacks in the secondary. Backup corner DeMarcus Van Dyke has been lost for the season to an ACL injury, and presumptive starter Cortez Allen, a guy being counted on in a big way, will miss a few weeks with less extensive knee surgery. Not good for a team that lost starting cornerback Keenan Lewis in free agency, and with a pair of aging safeties in Troy Polamalu and Ryan Clark. . . . On the subject of injuries in the secondary, the season-ending knee injury sustained last week by 49ers' cornerback Chris Culliver is a setback. Although he had a miserable Super Bowl performance, Culliver was still regarded as a solid player by some San Francisco coaches, and he logged nearly two-thirds of the team's snaps in '12 in "sub" packages, when starter Carlos Rogers moved inside to the slot. The good news for the Niners is that they still have Nnamdi Asomugha, only a few years ago regarded as one of the best corners in the league. But Asomugha, who signed a bargain basement contract after being released in Philly, has to turn back the clock some, and play a lot better than he did the past couple seasons. . . . Former Jets guard Moore, whose resume includes 142 starts and a Pro Bowl appearance, remains unsigned, but disputes reports that he is retiring. The 33-year-old Moore, though, wants more than a minimum salary. Although he seems to be one of the few remaining quality free agents available, landing even a decent money deal could be difficult at this point. . . . The aforementioned Bell isn't the only Pittsburgh back to report to camp lighter. Redman has shed weight as well in an effort to add some quickness to his power base. In four seasons, Redman has only two runs of more than 25 yards. The Steelers, in fact, had only eight rushes for 20 yards or more in 2012, and just nine clubs had fewer. Pittsburgh was one of just four offenses in the league without a 40-yard run. . . . Congratulations to good buddy Dan Pompei, the regular author of the "Sunday Blitz," who is being honored by the Hall of Fame this weekend as this year's winner of the prestigious McCann Award, for "long and distinguished" contributions to the profession.
+BY THE NUMBERS
*A team that led the NFL in sacks hasn't claimed a championship since the New York Giants, with 53 sacks in 2007, won Super Bowl XLII. But the numbers still suggest that sacks are fairly significant indicators. In the five seasons since the Giants' upset victory over New England, the Super Bowl champion ranked among the top three teams in sacks three times, and was in the top half of the league in all five years. In fact, the Super Bowl-losing team was also in the top half of the NFL all five of those years. In the past five seasons, the Super Bowl champion averaged 43.6 sacks and the loser averaged 38.2 sacks. The league average for those five seasons was 35.1 sacks.