NFP Sunday Blitz
by Len Pasquarelli
December 15, 02013
Print This
It isn't regarded as one of the key deadlines by which the NFL typically operates, but for the 25 men who are vying for the 15 "Class of 2014" finalist berths in the Pro Football Hall of Fame voting, Friday (Dec. 20) is an important day. That's when the ballots, winnowing the current list of 25 semifinalists down to the 15 men whose credentials will be discussed on the morning before Super Bowl XLVIII, are due at the shrine's Canton, Ohio, offices.
As usual, the task is a difficult one for the 46 selectors charged with making some close calls while parsing the resumes of the semifinalists. Every year, it seems, the selectors deem the process "the toughest ever." Truth is, it's tough every year, and this group of semifinalists is no different. What could make this year a bit different, though, in terms of the finalists: If the selectors actually nominate a kicker for one of the 15 modern-day spots.
Former Raiders punter Ray Guy is already one of the two nominees of the "seniors subcommittee," and as such, is not subjected to the reduction process. Guy, who could be the first punter ever enshrined, and his fellow "seniors" nominee, defensive end Claude Humphrey, automatically advance to a simple "up or down" vote. If the momentum favors Guy, who has publicly railed at having failed to be enshrined as a "modern day" nominee, it could be more difficult to tab a kicker. But there is one kicker among the 25 semifinalists, all-time NFL scoring leader Morten Andersen, who seems to merit a legitimate shot. And the time is about due to recognize a kicker, since there hasn't been one inducted into the Hall since Jan Stenerud in 1991. Andersen certainly is deserving of serious consideration.
Full disclosure here: This correspondent covered Andersen for much of his tenure in Atlanta, championed his case last year (when he also made the semifinals list) and this year, has written letters of support and sought endorsements for his candidacy. To be honest, I've been part of some of the arguments against kickers over the years, and agree that so-called "position" players probably deserve preference. But there are exceptions to every rule, and Andersen's career was certainly exceptional. Beyond the numbers – and we'll get to them – the Danish-born Andersen arguably ushered in what has been a kind of "golden age" for kickers.
"I don't know that I've ever really seen a kicker put fear in people," said former NFL quarterback Bobby Hebert, who played with Andersen in Atlanta and New Orleans. "But when he came on the field, you could see the (deflation) in the other team." Said former Falcons center Jamie Dukes to NFP: "The man was a weapon. Up until him, I'm not sure you could say that about any kicker."
"It would obviously be an honor," Andersen told NFP. "Heck, it's an honor just to be in the (semifinalist) group. Humbling, really. You just hope the day comes at some point. But I'm not (naïve). I know how hard it is for kickers."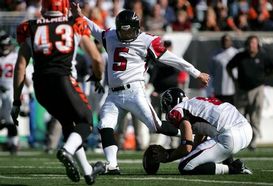 Anderson scored more points (2,544) during his career than any other player in NFL history.
Hard? It's virtually impossible. Stenerud is the lone "pure" kicker – a guy who didn't play another position—ever voted into the Hall.
According to the NFL, Andersen kicked a league-record 103 game-winning field goals. That number might be somewhat subjective, and open to interpretation, but is nonetheless impressive. In the games in which he was active in his career, the teams for which Andersen played won 184 games. So if the league numbers are accurate, he kicked the "winning" field goals in 56 percent of his club's victories. Unlike some special teams players, it is possible, to a degree, to quantify his performance.
The NFL is a league in which about 25 percent of the games are determined by three points or fewer. As former NFL general manager Bill Polian noted a year ago about kickers: "Those guys win games."
While the exact number of Andersen's "game-winners" might be debated, what cannot be argued as subjective are most of the numbers that he compiled in 25 seasons: records or near-records for service time, games played, consecutive games with points scored, points, field goal attempts, and field goals converted.
His 2,544 points are, of course, an all-time record. The total is 110 more points than the No. 2 all-time scorer, Gary Anderson. They are 845 more points than Stenerud scored, 942 more than Lou Groza, essentially 2 ½ times what George Blanda scored as a kicker. Stenerud converted just 66.8 percent of his field goal tries, Groza 54.9 percent, Blanda 53.0 percent. Andersen made 79.7 percent of his field goals.
Groza also played tackle. But the Lou Groza Award, which, ironically, was presented last season by Morten Andersen, isn't given to the best tackle in college football, right? Blanda also played quarterback, but he didn't attempt more than 58 passes in any campaign over the final nine seasons of his career, and averaged just 26.1 attempts in that stretch. So both those players are in the Hall of Fame in large part for what they accomplished as kickers, and it's fair to compare Morten Andersen's numbers to theirs.
Andersen feels his most significant record is his consecutive games streak. He scored at least one point in 360 straight games. That's the equivalent of 22.5 seasons. Only one other player is within 100 games of the mark. There were 15 games in which Andersen had only one kick. Ten of the 15 were extra points and only five were field goals, but people miss extra points, too, in the span of 22-plus seasons. At various times, there were 15 occasions on which the streak could have ended with one botched kick, but it didn't happen.
"It's the one record that might never be broken . . . at least no time soon," Andersen told NFP. "I'm probably proudest of that."
To be sure, there are great kickers in the NFL right now, arguably men with stronger legs and greater range than Andersen possessed. But he was the man who elevated the profile of the position and made it fashionable to be a star kicker. There will be time in the future to weigh some of the present kickers against Andersen. But the time is now to weigh Andersen's achievements against the kickers who have played the game so far. It's been an entire generation since a kicker was inducted into the Canton museum. Andersen was the best kicker of that generation in between, and he is a worthy Hall of Fame candidate.
+AROUND THE LEAGUE
*Amid the mounting soap opera in Washington, a city noted for high drama, former Redskins defensive tackle Albert Haynesworth told a local radio outlet last week that coach Mike Shanahan's contract includes a provision which precludes owner Dan Snyder from having more than just cursory contact with his players. Whether or not Haynesworth is correct about the stipulation actually being in writing, a league source told NFP that there was "at least an understanding" between the two men that Snyder wouldn't be as cozy with some players as he's been in the past. It's not believed by anyone close to the situation that Snyder attempted to affect the coach's plan to shut down battered quarterback Robert Griffin III for the remainder of the campaign. In the past though, and under former coaches, Snyder did allow himself to become arguably too close to some players. Whether implicit or explicit, Shanahan is believed to have full control over personnel and player matters – general manager Bruce Allen has some input, but his primary role is administering the salary cap and contractual matters – and probably would not have accepted the job in 2010 if he wasn't granted such clout.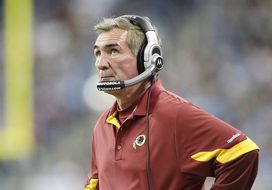 Forget about Washington. Will Mike Shanahan be coaching any NFL team next season?
Speaking of contracts, Shanahan still has another year left on his deal, at $7 million. So if he is to be canned, Snyder will have to ante up for the coach and his well-paid staff, to the tune of $12 million-$13 million total. Little wonder there were unsubstantiated rumors Snyder had his legal team researching whether Shanahan could be removed "with cause," which would allow him to avoid paying for 2014. It would be hard to believe that after Shanahan's experience with Al Davis in 1989 – when he claimed to be owed $250,000 in back salary, which he still has not collected, after being fired four games into the season – that the coach doesn't have an air-tight contract.
*The collapse in Atlanta, where the Falcons' plummet from the top-seeded franchise in the NFC playoffs in 2012 to contenders for the top overall draft pick in 2014, mostly is regarded by the organization as an aberration. There have been injuries to many of the team's skill-position players and poor offseason personnel decisions along the offensive and defensive lines, along with some dubious coaching, rendered the team dismal in a season when many (such as tight end Tony Gonzalez, who postponed his retirement) felt a Super Bowl berth was coming.
But the Falcons may not necessarily return to the top of the NFC South heap in 2014. At least not so easily. For starters, the rest of the division is better. And almost as important, Atlanta faces some tough decisions with a few veteran players. The futures in Atlanta of demoted cornerback Asante Samuel, tailback Steven Jackson, perhaps even end Osi Umenyiora will face some scrutiny. Because there's no proven pass rusher or every-down type back currently on the roster, Umenyiora and Jackson could survive. But it's hard to see Samuel, benched in favor of rookie Robert Alford, returning for 2014. Ditto linebacker Stephen Nicholas, perhaps even free safety Thomas DeCoud, who was in the Pro Bowl a year ago and suffered a meltdown this season. Add to that the fact that each of the team's top three defensive tackles can be unrestricted free agents, and the questions mount.
Coach Mike Smith has begun filtering in younger players in the season's final month and, with the Falcons eliminated from the playoffs for only the second time in the coach's six seasons, it's a viable strategy. The team has an eye on the future, for sure. But how long it will take to get over this season still presents a murky view.
*The contrasting seasons of Monte Kiffin in Dallas and New Orleans' Rob Ryan emphasize how hard it is for some defensive coordinators to switch teams with players perhaps not suited to his style, and to change designs and philosophies, and how things just click in other places. Converting from their longtime 3-4 front to a Tampa-2 style, the Dallas unit has suffered all sorts of ignominy. The Cowboys aren't on pace to break the New Orleans mark for most yards surrendered last season, but they are historically bad in terms of franchise history.
The defense has permitted 45 or more points three times, and last Monday allowed a good but not great Chicago offense to score on its first eight possessions. Perhaps compounding the situation is that the man Jerry Jones fired, Ryan, is enjoying such success with the Saints in transitioning the club to a 3-4. The Saints have been opportunistic, swarmed to the ball, and lead the NFL in percentage of three-and-out series. "I don't know," allowed New Orleans middle linebacker Curtis Lofton, "that anyone thought it would come together this fast . . . but it has."
*There aren't many December additions that can help teams, especially players with a few warts and apparently capable of being disruptive, but a few personnel men conceded to NFP on Friday that they were taking at least a casual look at video of former Jacksonville defensive end Jeremy Mincey, released by the Jaguars earlier in the day. The 30-year-old Mincey was cut after being late to a team meeting. That followed a two-game benching earlier this season for chronic tardiness.
As tempting as Mincey might appear to be, he could be the consummate tease, a guy who flashes on tape, but lacks consistency and discipline. He registered eight sacks in 2011, and the Jags rewarded the former University of Florida standout with a new, four-year, $20 million contract. But in the 24 games since landing the new deal, Mincey had only five sacks in 24 games. In fact, outside of 2011, he's never had more than five sacks in a campaign. So while Mincey might be intriguing to a team that figures it can always plug in a situational rusher, the bet is that, after doing some homework, teams will opt not to sign him. Mincey, by the way, pocketed about $10.6 million of his extension money. What made him easier for general manager David Caldwell and coach Gus Bradley to release is that neither was part of the former regime that signed him to the extension.
*Last week, it was Derek Carr of Fresno State who was said to be the quarterback rising on draft boards around the league. This week, put an arrow next to the name of Blake Bortles of Central Florida. Noted one NFC personnel director to NFP: "It might be a 'flavor of the month' deal for a while, until (the underclass prospects) shake themselves out. But I don't know that, after the first guy or two, that's all so unusual. People look at the same player thorough different sets of eyes, especially at that position."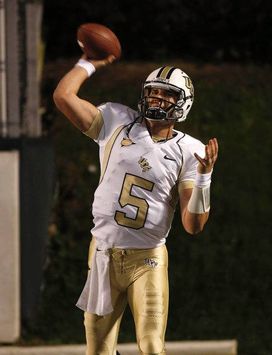 US PRESSWIREUCF quarterback Blake Bortles appears to be climbing up draft boards.
Not the most fluid athlete, Bortles, a onetime tight end, has impressed scouts with his toughness and ability to hang in the pocket. It's good to remember that there are still five months until the draft and the quarterback class will still coalesce a lot between now and then. There are a lot of decisions coming from underclass players that will affect the final look of the class. Along those lines, despite the he-said/she-said back-and-forth about whether Johnny Manziel has chosen an agent, most scouts to whom NFP regularly talks fully expect the Texas A&M star to be in the pool, one suggesting that he "has outgrown the college game from just about any standpoint imaginable." As for the reports that Louisville's Teddy Bridgewater might consider staying in school for another season, a scout chalked that up to "meaningless hearsay." People close to Bridgewater, though, acknowledge he is aware of reports about his thin frame and suggestions his arm isn't as big as many thought.
*On the subject of Morten Andersen, Mark Craig of the Minneapolis Star-Tribune had an interesting piece last week in which he suggested that the league might consider narrowing the goal posts – which have been at 18-feet, 6 inches since the inception of the NFL – because of the incredibly increasing field goal accuracy of kickers. To support the notion, in a terrific column, Craig offered on-the-record quotes from kickers and coaches.
A member of the league's influential competition committee told NFP late in the week, when the piece was cited, that the group has looked at the idea of narrowing the goal posts in recent years, but the proposal only enjoyed what he termed "sketchy support." Said the competition committee member: "It could come up again, though. I mean, some people want us to look at it, definitely." League kickers are on a record pace for field goal accuracy in 2013 and, as Craig noted, are on pace for 95 field goals of 50 yards or more. There were 90 field goals of 50 yards in 2011 and 92 last season.
+SHORT YARDAGE
*Suddenly in the hunt again for the AFC's top overall seed, by virtue of San Diego's upset win at Denver on Thursday night, New England travels to Miami on Sunday for a divisional matchup, and the game certainly isn't a "gimme" for the Pats. Beyond the fact the resurgent Dolphins have won three of their last four games (and four of six), Tom Brady is only 6-5 for his career in Miami. And the Pats, who are 47-6 in December since 2001, have dropped half those six games in Miami. . . . Seems that Florida State, which will play for the national championship, isn't the only hit Sunshine State team. The league's three Florida-based franchises have won 12 of their last 16 games after a disastrous 3-20 start that included 0-8 records in both Jacksonville and Tampa Bay. Last weekend, all three teams won in the same week for the first time since Week 14 of the 2010 season. . . . Although his numbers were decent, scouts did not seem overly impressed with the arm strength of Eastern Illinois quarterback Jimmy Garoppolo in Friday night's loss to Towson in the FCS semifinal round. Garoppolo looked more like a third-day choice than a guy who might jump into the second day of picks. . . . Despite an aggregate 42-50 record, the class of rookie coaches in the league this season is regarded as having done a nice job. Three of the rookies, Chip Kelly and Marc Trestman, have their teams either in first place or tied for first in their respective divisions. Bruce Arians has done an excellent job in rallying Arizona and Mike McCoy in San Diego has seemingly restored the Chargers to relevance again. . . . Although Houston owner Bob McNair has acknowledged his preference for a new head coach with NFL experience, the club is still investigating NFL assistants and college coaches.
+BY THE NUMBERS
*Fresh off becoming only the fourth player in NFL history to amass 50,000 passing yards, Drew Brees can lead New Orleans back to the playoffs, after a hiatus in the Sean Payton-less 2012 season, with a victory at St. Louis. But a win might not be as easy as it seems for Brees and the Saints. Although he is 2-2 against the Rams since joining the Saints in 2006, Brees has multiple-interception games in all four outings, including four picks in a 2010 matchup. In his last venture into the Edward Jones Dome, he was sacked six times. Led by ends Chris Long and Robert Quinn, the Rams are seventh in the league, with 38 sacks, and have an unofficial 91 hits on opposing quarterbacks. Brees is 1-1 against Jeff Fisher-coached teams, but has never faced him with the Rams. Fisher is 4-0 lifetime against the Saints.