Once again, it looks like Mario Williams may be leaving Buffalo
by Joe Fortenbaugh
March 14, 02012
Print This
The Bills have certainly had their shot, but the question is whether or not they can close the deal.
Almost 24 hours after arriving in Buffalo to meet with the Bills on Tuesday, free agent defensive end Mario Williams is reportedly scheduled to leave town Wednesday night, per Mike Florio of Pro Football Talk.com.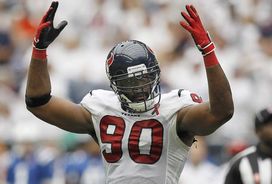 Can the Buffalo Bills pull it off and sign Williams?
The Bills want this guy bad and are clearly ready to throw him the biggest contract in NFL history for a defensive player, but if Williams really wanted to spend the next few years of his life in Buffalo, wouldn't he have reached an agreement by now?
The six-year veteran even had his fiancée fly into town to meet him Wednesday morning. Is it possible that after talking things over with his future wife, Williams has decided to see what the rest of the market has in store for him?
We'll find out soon enough. The Bills aren't going down without a fight, but they may not have enough left in the tank to get this thing done.
Hit me up on Twitter: @JoeFortenbaugh