Bobby Petrino was philandering long before his Harley skid off the road in the spring of 2011.
In the days before his departure from Atlanta, Petrino made phone calls, arranged meetings, and met appointments with his mistress. He did so with the cool resolve of someone who knew he was right and that everyone else was...well, didn't matter what they thought.
His mistress was the University of Arkansas, who wasn't as glamorous as Atlanta, but she was full of youthful exuberance and made him feel much more powerful than he ever could in Atlanta. So he left, making the 2007 Atlanta Falcons the most moribund franchise in the league.
It took some time but Atlanta rebounded. Here they are, front and center for an early season showcase with the Broncos. The last time Atlanta and Denver met on a prominent stage, it was Super Bowl XXXIII. Afterwards both teams began the inevitable cycle of decline followed by the revival. Rules of 'ball dictate that quarterbacks get too much credit for things. But with these two franchises, all credit is due men in that position—in divergent ways. One facilitated a makeover in Atlanta while the other one saved Denver—twice.
Your take on who did more damage to Atlanta depends on your tortured perspective. In Petrino, Falcons fans just wanted a competent coach. That's all. They'd accommodated the folksy gimmicks of Jerry Glanville and June Jones' runnin' and shootin' histrionics. The staid cool of Dan Reeves had gotten them to the Big Show. They saw that in Bobby Petrino. So his departure hurt the way it hurts when your favorite new show is cancelled.
It didn't sting like Michael Vick.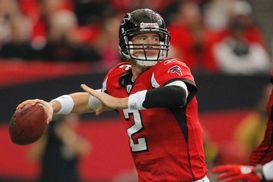 ICONMatt Ryan looks like he's ready to win his first playoff game.
The city of Atlanta is one of those "Chocolate Meccas." This means its power structure is comprised of black folks. Since 1973, Atlanta has elected a black mayor. But when Atlanta drafted a black quarterback, there was no denying the significance. A quarterback, unlike a politician, functions without pretense. He can't give you everything you want, but at least he won't lie to you.
Nike called it the Michael Vick experience. They got it right. Vick's play was like Allen Iverson's had been on the court—exhilarating beauty in explosive chaos. That's how defenses planned against him. They didn't worry about throwing lanes, they worried about the edge. If Vick got the edge all hope was lost. Atlanta fans loved him and he seemed to be into them, too.
But Vick did the worst thing you can do in a loving relationship. He held something back. There was a tell every time he pulled the ball down and took off. It was the way he held the ball. He never tucked it way, he held it out front, slightly cocked above his waist, in his clutch, still in position to throw. He showed Atlanta what he had to offer them, but he saved it for someone else.
Only a few hearts were broken when Vick was sent away on a two-year stretch at Leavenworth. Most hearts were broken in November of 2006 when Vick flipped that middle finger at his people. Yeah, his people. That's who they were. But Vick failed the grasp the cultural significance of his place in that city.
Arthur Blank got it though. He knew his next leader had to be the opposite of Vick. No, I'm not saying the Falcons purposely got a white quarterback, I'm just saying that's really the only way it could have played out. How many Michael Vick's are there? In Matt Ryan Atlanta got a tall, wholesome-looking kid from the northeast who just happened to resemble Vick in absolutely no fashion whatsoever.
I went to the Falcons training camp in 2008. I ran into Bill Musgrave, then the Falcons offensive coordinator and a former quarterback for the Forty Niners. I asked him how things looked. The last time I had asked him this was when he was in Jacksonville and Byron Leftwich was the main topic of conversation. Musgrave said nice enough things about Leftwich then. But this time, Musgrave's face lit up. "I like the kid," he said. "I really like the kid."
It was a brief, but loaded response. Quarterbacks are believable, especially on the topic of quarterbacks.
In the days before the '83 draft, John Elway said that he would not be the Indianapolis Colts quarterback. And he was pretty sure that people believed him. On draft day, Elway and several of his teammates congregated in a mobile home that had been installed as temporary campus housing. They knew a phone call was coming, and they all knew what Elway would say. When Indy coach Frank Kush called, Elway told him he'd meant what he said.
After the Colts traded tackle Chris Hinton and QB Mark Hermann to Denver, it would be the first time that John Elway determined the Denver Bronco's future. What he did there was great mostly because it was exactly what you expect from the first overall pick. How often are unrealistic expectations completely fulfilled? In the end, the Broncos won two titles. In '99 Elway left a void that only a once in a generation quarterback could fill.
The cavalcade of Griese, Plummer, and Cutler was normal fare for a franchise who's mourning a legend. But when that legend returned, in the form of a gimpy executive with crow's feet and no experience, expectations weren't the same as they were in '83. Star players with front office savvy are few.
Elway's inheritance included a shiny new Tim Tebow. The crowd clamored for him. But he wasn't an NFL quarterback. Denver did have enough talent on defense to be rather simple in its approach to offense. Oh yeah, John Fox was the coach. That was right up his alley.
Tebow started winning and the strangest thing happened. Elway became an executive who sounded rather like a mayor. He wouldn't exactly endorse Tebow, but he wouldn't bash the kid either. He said he was being "evaluated." Denver liked Tebow and Elway always gave Denver what it wanted.
This is the part of the story where I tell you that when I took a recruiting trip to Stanford, I met John Elway. He was very tall, very barrel chested and very smiley. That all I remember. He didn't have to say that much, though, right?
Elway lured his prized recruit to Denver. He was an All-American sort who had given Indianapolis what Elway had not himself. Elway and Peyton Manning talked football. Elway says "that's what quarterbacks do."
Manning signed with the Broncos. Right after the press conference Manning took off his suit and started preparing for his first game. It was against the Steelers, whom Manning knew well.
The Pittsburgh Steelers defense likes chaos. Chaos was always their thing, with ends dropping and backers rushing, and Troy Polamalu seeming to do both at the same time. But these days if you find Polamalu, you find a solution. Manning did and the Broncos took game one.
That same day, the Falcons lost cornerback, Bren Grimes, their best defender. The Falcons defense didn't have time to worry about Manning, they had to worry about themselves. So they took a page from Bill Belichick, who had the most success against Manning. They didn't blitz him. The defensive linemen didn't even line up half the time. They just meandered around gaps until the ball was snapped.
Unlike the Steelers, there wasn't just one guy to locate in the Atlanta defense. They all hid and then sprung out of dark places. Manning was lost, but he was mostly rusty. His second interception was hugely overthrown down the seam. His team trailed badly.
But with 13 minutes left, all the roads opened up. Roads always seem to open up for some people. On second and twenty, Manning found Demaryius Thomas on a deep bend in. The next play he pumped faked then hit Thomas on a quick out. Both balls were hot, too. The Broncos closed to within six points.
Manning kept going like that until he ran out of time. Sometimes that happens.
Not often, though.
Follow Alan Grant on twitter @ AlanGrant_NFL