San Diego makes a splash
by Joe Fortenbaugh
March 14, 02012
Print This
The San Diego Chargers didn't waste any time in their efforts to replace wide receiver Vincent Jackson.
Quarterback Philip Rivers already has a new weapon at his disposal, and his name is Robert Meachem.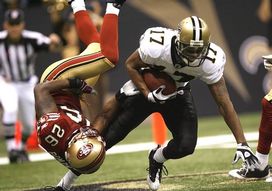 In San Diego, Meachem now has a chance to become a true No. 1 wideout.
The San Diego Chargers announced early Wednesday morning that the team has come to terms with the former New Orleans Saint on a four-year deal worth $25.9 million with $14 million guaranteed.
Meachem—a former first-round selection out of Tennessee—struggled to produce the big-time numbers expected of a top-32 draft choice. In four seasons with the Saints, the 27-year-old never recorded more than 45 receptions in a season.
However, with all of the weapons that were at quarterback Drew Brees' disposal, it's tough to target the same guy 120+ times. Many experts feel that Meachem could actually perform better outside of the Saints' system than former teammate Marques Colston, who re-upped with New Orleans on Tuesday.
In four seasons, Meachem has totaled 141 receptions for 2,269 yards and 23 touchdowns. And with current Charger Malcom Floyd's inability to stay healthy, Meachem could quickly develop into Rivers' No. 1 pass-catching target.
Hit me up on Twitter: @JoeFortenbaugh