Saturday College Primer
by National Football Post
September 18, 02010
Print This
Some opinions, takes and things NFL scouts will be looking for in week three of the college football season.
Arkansas vs. Georgia
12:00 p.m. EST ESPN
What to watch for…
• Key Prospect matchup
Arkansas OT DeMarcus Love vs. Georgia OLB Justin Houston
There has been lot of debate so far this year as to who is the best senior tackle prospect in the country. And Arkansas standout DeMarcus Love can do a lot for his case as the number one guy and his overall draft stock this week vs. one of the nation's best pass rushers. Houston possesses an explosive first step and has the ability to not only consistently threaten the edge, but he displays good body control and flexibility when asked to dip his shoulder and flatten out around the corner. However, Love is a really gifted athlete in his own right. He displays good range in pass protection and has a massive wingspan for a guy who is about 6-4 ½. Therefore, the biggest thing I am looking for from him in pass protection is his overall balance when asked to change directions. The guy can bend, is a gifted athlete and possesses great length, but can he maintain his balance vs. an explosive counter move inside and mirror with consistency in space? If he can do that and handle Houston, it could be the start of a major momentum swing in Love's favor.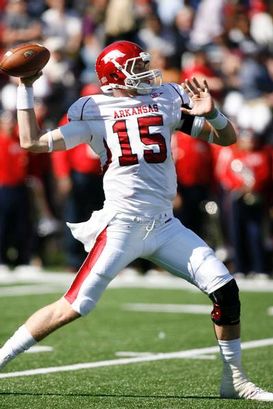 ICONMallett is one of the most physically gifted quarterbacks to come along in years.
• Ryan Mallett is the most physically impressive quarterback prospect to come along since JaMarcus Russell. He's a tall, strapping kid with a cannon of a right arm and can, with ease, make all the throws required of him at the next level. However, the biggest question I had for Mallett coming into the year was his ability to improve in the intermediate pass game — where he needs to anticipate routes, quickly align his footwork and body with the target and throw his receivers open, something he really struggled with at times last season. Now, there is no doubt he throws a pretty deep ball and has seemed to take that "next step" during his first two games of the year. But now we are entering the start of the SEC season, where the competition takes a jump, the speed of the play increases and where Mallett will have plenty of opportunities to prove he has fixed some of his deficiencies completing throws at the second level.
Nebraska vs. Washington
3:30 p.m. EST ABC
What to watch for…
• Speaking of big-time quarterback prospects in need of taking their game to the "next level," we are still waiting for the same from Washington standout Jake Locker. Now, I like many others believe this guy has all the tools to be a great quarterback in the NFL. However, he still doesn't decipher information real quickly going through his progressions in the pass game, his accuracy seems to run hot and cold and, most importantly, the guy isn't a winner. I don't understand how an NFL team could feel confident in drafting this guy number one overall and ask him to lead them to a Super Bowl when, with all due respect to Locker, the guy is a seasoned loser. Now, I understand he hasn't had the best of supporting casts. But at some point you have to expect this guy to elevate the performance of everyone around him, strap the team on his back and make his team a contender in the Pac-10. He has a great opportunity this week vs. a very good Nebraska defense, and I would love to see him put together some kind of signature drive in crunch time proving he can handle himself and the team when the game is on the line, something he fell flat on his face with against BYU in week one.
• Key Prospect matchup
Washington OT Cody Habben vs. Nebraska DE Pierre Allen This is a really interesting matchup between an underrated offensive tackle in Habben and one of the more overrated defensive end prospects in Allen. Habben is a tall, lean right sided blocker who displays good flexibility, range and balance in pass protection and was one of the better tackle prospects I saw this summer on tape. Allen, on the other hand, has some length and suddenness to his game through contact. But he isn't real explosive off the edge, allows his pad level to get upright and just isn't overly dynamic in any area of the game. Now, Habben needs to continue to get stronger and Allen has the power and length to give him some trouble. But I think this is a great matchup for Habben to show well for himself in pass protection and begin to really build his draft stock going forward.
Iowa vs. Arizona
10:30 p.m. EST ESPN
What to watch for…
• So much has been made of Iowa DE Adrian Clayborn up front for the Hawkeyes — and rightfully so. However, be sure to keep an eye on DT Christian Ballard as well tonight. Ballard is a long, angular 6-4, 300-pound quick-twitch athlete who has the ability to fire off the football, keep his base down and routinely knife his way into the backfield. Plus, he uses his long arms well to initially slip blocks and is really impressive on runs away from his frame. He was said to put on some weight and add some strength this offseason to his lower half and I am looking forward to seeing how well he anchors vs. the run inside. Nevertheless, he's a talented kid with a lot of upside and scheme versatility to his game and ranks in my opinion as one of the nation's top senior defensive linemen.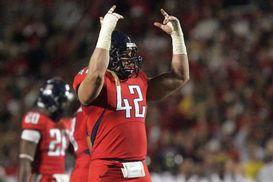 ICONReed has the ability to be a real X-factor tonight.
• On the other side of the ball, Arizona has a pair of impressive defensive line prospects as well in ends Ricky Elmore and Brooks Reed. Elmore is a big, long kid with above-average power and a great work ethic off the edge. He isn't real physically dominant in any area of the game, but knows how to use his hands to work himself free and is a consistent down in and down out fighter for the Wildcats. However, Reed is the guy who could end up being a real X-factor not only in this one, but all season long for 'Zona up front. The guy possesses a good first step off the edge, is relentless in pursuit and finally looks healthy after battling an ankle injury in 2009, which really seemed to take away from his balance and ability to redirect off his initial burst. However, he looked much more laterally sudden in the opener vs. Toledo and could be the one guy who could really give the Iowa offensive line trouble off the edge.
Other Saturday nuggets to watch for…
• Mississippi State DE Pernell McPhee looks to be coming into his own, as he faces an athletic left tackle this week in LSU's Joseph Barksdale. However, Barksdale isn't real balanced in pass protection and struggles with his punch into contact. I expect McPhee to be the aggressor in this one and create pressure both from his three-point stance and when standing up.
• One corner to keep a close eye on this weekend is Ohio's Julian Posey. He's a tall, lean DB with good range and cover skills, and will have a chance to show if he can handle the jump in competition vs. Ohio State. His assignment? His brother, DeVier Posey.
• Auburn has one of the toughest and most diverse offenses in the country to try to quickly key and diagnose. Therefore, it should make for an interesting chess match in the deep half vs. Clemson today against one of the best ball-hawks in the country in DeAndre McDaniel.
• Finally, the one safety no one is talking about this season is Kent State's Brian Lainhart. Lainhart caught my eye as a sophomore, displaying impressive balance out of his breaks, instincts in the deep half and ball skills when asked to range sideline-to-sideline. He has been dominant at times during his career vs. MAC offenses. Therefore, showing well today vs. Penn State — which I expect — will be key for him going forward and boosting his draft stock.
NFL draft/college football questions? Get them answered at Wes.Bunting@nationalfootballpost.com
Follow me on Twitter: @WesBunting
Click here to win cash today playing fantasy football with the NFP and FanDuel.