So you're saying there's a chance?
by
December 22, 02010
Print This
I can't believe how fitting it is that I was chosen to represent Team Febreze in the Procter and Gamble Blogger Fantasy League this year. Not so much "fe", but "breeze" sure does describe my fantasy season. Despite inconsistency from most of my receivers (Randy Moss, Terrell Owens, and Jeremy Maclin) and my tight ends (the Tonys - Gonzalez and Moeaki), I have managed to stay at or dern close to number one since week one. Now, I wish I could take all the credit here, but I had quite a bit of help from NFP's very own fantasy expert Joe Fortenbaugh and his Front Office Fantasy Draft Guide and Total Access Pass (don't miss out next year!). I also had a lot of luck.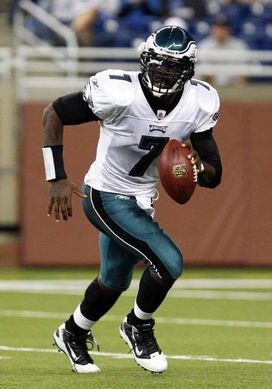 Vick has been KILLING IT for Team Gunaxin lately. 38.68 points last week? Did I say "eep" yet? Eep.
Up until now I've managed to do quite well with playing the right opponents at just the right times. While my team was solid and I would've done well either way, I could've ended up like Aaron Schatz of Football Outsiders - one of the leaders in points scored during the season and not even in the playoffs. I should probably send him some Febreze to get him back to the freshness of meadows and rain instead of the stank of a fantasy season going down the crapper.
So don't get me wrong, I'm crazy grateful. But looking at my opponent for the final game this week makes me want to cry and curse the fantasy gods. Team Gunaxin has been on FIRE, scoring an average of 130.75 points per game in the last 3 weeks. That's compared to an average of 93.52 for me. Eep. Forget David and Goliath, this is the battle of Diana and Gunaxin. Going up against a team with guys like Michael Vick, Calvin Johnson, Darren McFadden and Jason Witten isn't exactly looking promising.
But as hopeless as things might look, I'm not going down without a fight. Come to think of it, "fe" means "faith" in Spanish, and that's what I'll need to have in my players...and in the highly improbable simultaneous suckiness of Gunaxin's players. But a "breeze" won't do it. I'm going to need gale force winds to bring down the Gunaxin beast so I can say the 6 most beautiful words in the English language: "I'm going to the Super Bowl."
Wish me luck.
Follow me on Twitter: @dinabanina

The P&G Blogger Fantasy League (BFL) is a group of 12 digital sports influencers competing on the NFL.com fantasy platform for the chance to win P&G product, a donation to a local charity, and a trip to Super Bowl XLV, all furnished by P&G. The NFL Entities have not offered or sponsored the sweepstakes in any way.