Team preview: Cincinnati Bengals
by Greg Gabriel
July 22, 02014
Print This
It wasn't all that long ago when the Cincinnati Bengals were viewed as one of the most poorly run franchises in the NFL. While that may have been the perception, it was never actually true. I have known some of the Brown family for close to 30 years and I have nothing but the utmost respect for them and their organization.
The Bengals may do things a little differently than many NFL clubs, but the fact of the matter is that they have been extremely stable for over a decade. Marvin Lewis is going into his 12th year as head coach and while Cincinnati hasn't been to a Super Bowl, they have become consistent playoff contenders. The Bengals have been in the playoffs in each of the last three seasons as well as four of the last five years. That is consistency.
Quarterback
Andy Dalton gets some unnecessary heat from people who don't really know what they are talking about. In each of his first three seasons as an NFL quarterback, Dalton has led the Bengals to the playoffs. There are not many NFL quarterbacks past or present who can put that on their resume.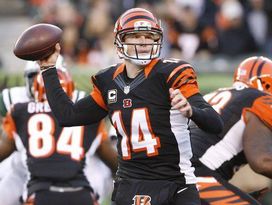 Dalton threw for a career-high 4,293 yards and 33 touchdowns last season.
Yes, Dalton has failed to win in the postseason, but is that all on him? The last time I looked, it was a team game.
Dalton is still a young player with lots of upside. He will keep getting better and as he improves, so will the Bengals.
Behind, Dalton reside two interesting players. This spring, the Bengals signed Jason Campbell, who is now in his tenth year. While Campbell hasn't had great success in the league, he gives the Bengals a veteran presence at the most important position.
In the fifth round of the draft, the Bengals selected A.J. McCarron from Alabama. Getting McCarron in the fifth round was an outright steal for Cincinnati, as the former Crimson Tide signal-caller has the talent to be a winning starter in the league. As McCarron develops, it will put pressure on Dalton to play well. Competition makes everyone better.
Running back
While the Bengals don't have a proven "bell-cow" type of back, they have a group of runners that many clubs would love to possess.
Last year's second round pick in Giovani Bernard is the ideal rotation back. He lacks the size to play every down, but he averaged better than four yards a carry running with the ball and caught 56 passes. Bernard has excellent big play ability.
BenJarvus Green-Ellis might be nearing the end of his career, but he is still a reliable inside runner who can move the chains. The guy that excites me is rookie Jeremy Hill, who just may have been the most complete running back in the 2014 draft. Hill is a "bell cow" type of back and when he gets a little experience, he and Bernard will give the Bengals one of the best running back tandems in the league.
Receivers and tight ends
The Bengals' receiving unit is excellent. They are led by fourth-year pro A.J. Green, who is one of the premier receivers in the game. Green caught 98 passes a year ago.
Marvin Jones came on strong in his second year to become a very solid complement to Green. He finished with 51 receptions and 10 touchdowns last season. The third receiver is Mohamed Sanu, who is very talented, but has to become more consistent.
The tight end duo is as good as there is in the league. Jermaine Gresham has the size and blocking skills to play at the "Y" position and is athletic enough to split out. Second-year man Tyler Eifert can be a future Pro Bowl-type of player. He has wide receiver speed and athleticism to go along with excellent size and strength.
Offensive line
You can't talk about the Bengals offensive line without first talking about their line coach. Paul Alexander has been with the Bengals for over 20 years and is one of the most highly respected line coaches in the NFL. He does an outstanding job developing players.
The line will look a little different in 2014 as Anthony Collins signed with Tampa Bay as a free agent and long-time center Kyle Cook was not brought back.
Team leader Andrew Whitworth will replace Collins at left tackle. Whitworth has experience playing on the left side. At right tackle is the big and very consistent Andre Smith.
Third-year player and former first-round pick Kevin Zeitler struggled a bit last year, but was suffering from foot problems. The good news is that Zeitler is healthy and should improve. The other guard should be Clint Boling, assuming he is recovered enough from late-season ACL surgery. If he isn't ready to go, Mike Pollack and rookie Russell Bodine should line up at guard and center. Another player to keep an eye on is free agent signee Marshall Newhouse, who has started games at Green Bay and played with Dalton at TCU.
Defensive line
The Bengals have had one of the better defensive lines in the NFL for the last few years. The unit is led by defensive tackle Geno Atkins who, until last year when he suffered a knee injury, had become a Pro Bowl talent. Atkins is still young and will improve, which is not good news for Bengal opponents.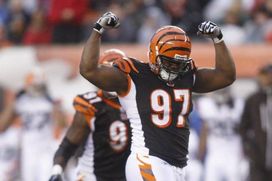 Geno Atkins anchors a defensive line that lost Michael Johnson during free agency.
The other inside player is nine-year vet Domata Peko, who is a consistent run stopper and a team leader. On the outside, the Bengals lost a top player in free agency when Michael Johnson signed with Tampa Bay. However, the Bengals were figuring on his loss and are well stocked at the defensive end position.
The two ends who will most likely start the season are Carlos Dunlap and Wallace Gilberry. Dunlap is a solid pass rusher who also does a good job getting his hands up to bat down passes at the line of scrimmage. Gilberry doesn't have the greatest physical traits, but he plays hard and has the skills to play inside and out.
Two young reserves who will challenge for playing time are Margus Hunt and rookie Will Clark. Hunt is in his second year and is an exceptional athlete, but raw. He is expected to show a great amount of improvement. Clark is a natural pass rusher with bend who needs to learn how to play the run a little better. Both young guys have a lot of upside and will see a lot of action in the D-Line rotation.
Linebackers
On paper, when you look at the pedigree of the Cincinnati linebackers, they don't look that impressive. Two of the starters were undrafted college free agents.
Vontaze Burfict had character concerns and a slow 40-time coming out of college, which is why he was not drafted. Since coming into the league, Burfict has played with a chip on his shoulder and has become a top outside linebacker. He was invited to the Pro Bowl following last season.
Emmanuel Lamur, an undrafted free agent who is a gifted athlete, is the starter at the other outside spot going into camp. He will be challenged by Jason Dimanche, a third former undrafted free agent, and Sean Porter, who missed his rookie season due to injury.
In the middle is veteran Ray Maualuga. Maualuga is a natural Mike linebacker and has very good instincts. His backup will most likely be Ray Vincent, who always plays well when called upon.
Secondary
At the corner position, age is beginning to become a concern. Terrence Newman is in his mid-30s and Adam Jones is 31. While they still play solid football, the Bengals have to get younger at the position. To do that, Cincinnati drafted Darqueze Dennard, who is a talented press corner, in the first round. Dennard will challenge to start as a rookie and, worst case scenario, he is the nickel corner.
Leon Hall is coming off an Achilles injury and should be ready to go at the beginning of camp. With his return, the Bengals will have four solid corners. Dre Kirkpatrick, who was a first round pick in 2012, has to come on. He has been a disappointment to date and this might be his final chance to prove he is worth keeping.
Reggie Nelson is an outstanding free safety who has the knack of coming up with big plays. At strong safety, George Iloka is coming off his best year. He has a physical presence about him and is always around the ball. His main problem is dropping too many potential interceptions. The Bengals signed Danieal Manning during free agency. He can play either strong or free and has very good ball skills. He is also a top kickoff returner.
Outlook
The other day when I wrote up Baltimore, I said the Ravens will come on strong after an off year in 2013. While I believe that, the Bengals will give Baltimore all they can handle. The key will be how much better Dalton plays at quarterback.
While I feel the Bengals are a lock to be a wild card playoff team, steady improvement by Dalton could give the Bengals the AFC North title. The head-to-head matchups with the Ravens will be the key. If one of those two teams sweeps the series, that team will win the division.
Follow Greg on Twitter: @greggabe