The Air Apparent
by Jay Clemons
August 12, 02011
Print This
Serenity Now
In the last 40 years of NFL scheduling -- dating back to Val Pinchbeck's supreme reign as master scheduler -- no star quarterback has enjoyed a more attractive slate of ideal-weather games than what Drew Brees should encounter in 2011. For Weeks 2-17, Brees will only play games in indoor stadiums (New Orleans, Minnesota, Atlanta, St. Louis) or southern climates (Carolina, Tampa Bay, Tennessee, Jacksonville); and the lone outdoors tilt in a northern city comes Week 1 at Green Bay (Sept. 8), where it'll most likely be 70 degrees and clear skies.
Factor that in with the Saints' stellar offensive line, veteran fleet of receivers and deep corps of talented running backs, and it's easy to see why Brees has a realistic shot of eclipsing Dan Marino's single-season record for passing yards (5,084 in 1984). Here are some mini-Revelations detailing Brees' perfect storm of a season:
What He'll Like: By most accounts, Jimmy Graham (four TDs in Weeks 15-17) appears ready to carry the freight as the Saints' No. 1 tight end. But even if Jeremy Shockey is no longer Bourbon Street's favorite son, it's still too early to assume that Graham will make a Jermichael Finley-like leap up the fantasy charts in Year 2. Yes, Graham may never be covered by the opposing team's fastest linebacker; and yes, Graham has similar physical gifts of Chargers great Antonio Gates, but modesty prohibits us from prognosticating anything past 49 catches/543 yards/6 TDs. Perhaps his Gates-like jump will come in 2012.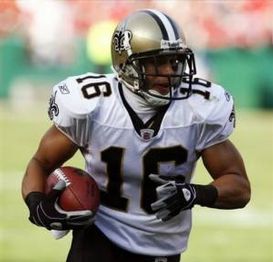 The return of Lance Moore gives Brees yet another weapon.
What He'll Like, Part II: I was somewhat suprised to see receiver Lance Moore re-sign with New Orleans during the Great Free Agent Frenzy of 2011. After all, Moore could be a No. 1 receiver in some markets (Carolina comes to mind) ... and an Anquan Boldin-esque No. 2 in Arizona -- behind Larry Fitzgerald, of course. And yet, Moore's commitment to Brees and a satisfactory contract were enough to continue his role in the Saints offense: In his last two healthy seasons (2008/2010), Moore has 145 catches and 18 total touchdowns. The Nos. 3-4-5 receivers on the depth chart, Robert Meachem, Devery Henderson, Adrian Arrington, also have immense potential within coach Sean Payton's aggressive play-calling. In fact, the 26-year-old Meachem is only 22 months removed from a 7-TD explosion in six games midway through the 2009 season.
What He'll Love: The Saints had the makeup of a potentially dominant offensive line (Jermon Bushrod, Jon Stinchcomb, Jahri Evans, Carl Nicks) even before former All-Pro center Olin Kreutz signed with the club. But with Kreutz in the fold, New Orleans could challenge its own mark for fewest sacks allowed in the Brees era (13 in 2008).
What He'll Love, Part II: Chris Ivory had 733 total yards and five TDs last year, and yet, he's no better than the Saints' No. 4 running back this summer, trailing Pierre Thomas, Darren Sproles and rookie Mark Ingram. If he wore a uniform for 6-8 other clubs, Ivory might be celebrated as a RB2 in real-world circles and Round 9 pick in fantasy drafts. Instead, he'll only be a fantasy consideration if Thomas, Sproles or Ingram gets injured. Tough crowd.
What'll Blow His Mind Every Sunday: In seasons where Marques Colston has started 14 or more games, he's averaging 81 catches, 1,084 yards and nine TDs. If he should do that for 5-6 more seasons, Colston will easily be in the discussion of Hall of Fame candidates at receiver. Not bad for a 7th-round pick out of Hofstra ... who was mistakenly touted as a "tight end" by Yahoo! Fantasy for his rookie year of 2006.
Passing Fancy
Here's a listing of my always-fluid rankings for starting QBs, 1 through 32:
1. Drew Brees, Saints
2. Aaron Rodgers, Packers (splitting hairs at 1 and 2)
3. Tom Brady, Patriots (has never increased his passing TDs in back-to-back seasons)
4. Michael Vick, Eagles
5. Philip Rivers, Chargers (temporarily gets the nod over you-know-who at No. 6)
6. Peyton Manning, Colts
7. Matt Schaub, Texans
8. Tony Romo, Cowboys
9. Ben Roethlisberger, Steelers
10. Matt Ryan, Falcons (the new golden boy in ESPN's revised QB-rating system)
11. Josh Freeman, Buccaneers
12. Eli Manning, Giants
13. Joe Flacco, Ravens (his progression curve puts 27 TDs within reach)
14. Matthew Stafford, Lions (hopefully he spent the lockout period learning how to fall correctly)
15. Jay Cutler, Bears
16. Sam Bradford, Rams (a shoo-in for 45-plus pass attempts in at least four games)
17. Mark Sanchez, Jets
18. Matt Cassel, Chiefs
19. Kevin Kolb, Cardinals (a major fantasy wild card during the preseason)
20. Kyle Orton, Broncos
21. Ryan Fitzpatrick, Bills
22. David Garrard, Jaguars
23. Alex Smith, 49ers
24. Matt Hasselbeck, Titans
25. Chad Henne, Dolphins
26. Donovan McNabb, Vikings (essentially rebuilding his fantasy rep at Destination #3)
27. Jason Campbell, Raiders
28. Colt McCoy, Browns
29. Tarvaris Jackson, Seahawks
30. Andy Dalton, Bengals
31. Cam Newton, Panthers (assuming he'll be the Week 1 starter)
32. Rex Grossman, Redskins
Who Wants To Join The Twitter-Only League?
I've been inundated with requests from loyal Philanthropist readers to join their open fantasy leagues -- which I greatly appreciate. However, given my busy schedule of writing columns and features, hosting Facebook chats (more on that Tuesday), recording podcasts for NationalFootballPost.com and already being committed to eight high-pressure fantasy leagues, there's little time for more competition with the masses. However, I will be hosting a 16-team, standard-scoring, Twitter-invite-only league again this year ... with the draft coming at 8 p.m. EST on Wednesday, Aug. 24. Mark it down!
Here's how you can score a league invite: Sometime between 7-8 p.m. EST on Aug. 17, I'll float the single code word "Fantasy" on Twitter ... and the first 15 respondents to specifically reply "Freakout" will earn automatic entry into the 16-team league. Now, if there is absolutely no way you can make the Aug. 24 draft date/time -- which is set in stone -- please don't waste anyone's time by trying to gain entry. Why so secretive about the process, you ask? I would like the 15 owners to be regular Philanthropist readers, and this method effectively separates those who enjoy/hate the column ... from those who are blindly joining a random league. See ya Wednesday night!
Air Force Rules
Here's an interesting listing from Fantasy Football Today: The 22 healthy locks to pass for at least 3,200 yards:
Drew Brees-- 4,475 yards
Peyton Manning -- 4,465 yards
Philip Rivers -- 4,436 yards
Matt Schaub -- 4,288 yards
Aaron Rodgers -- 4,287 yards
Tom Brady -- 4,268
Tony Romo -- 4,260
Eli Manning -- 3,913
Joe Flacco -- 3,777
Sam Bradford -- 3,725
Michael Vick -- 3,652
Jay Cutler -- 3,567
Matt Ryan -- 3,565
Ben Roethlisberger -- 3,562
Matt Cassel -- 3,475
Ryan Fitzpatrick -- 3,459
Matthew Stafford -- 3,452
Chad Henne -- 3,422
Mark Sanchez -- 3,405
Josh Freeman -- 3,329
Kyle Orton -- 3,250
Kevin Kolb -- 3,245
Thursday Revelations
1. There'll be no lockout-related rust from Philip Rivers. The quarterback/surgeon needed only six passes (and five completions) to dissect the Seahawks defense and let the fantasy world know that Drew Brees isn't the only QB who might flirt with 5,000 yards passing this season. Rivers' picture-perfect bomb to Vincent Jackson (2 catches, 54 yards) and sneaky-good checkdown TD pass to Mike Tolbert were the two standout plays from a relatively brief cameo under center. But in a preseason opener, that's all it takes. Speaking of Tolbert, he is noticeably bulkier than starting RB Ryan Mathews (14 total yards), but demonstrated more quickness and escapability against Seattle. Should we get used to that occurrence in the regular season?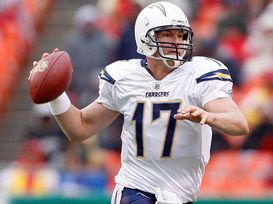 Philip Rivers looked sharp in his first preseason action.
2. Danny Woodhead is a long shot to replicate last year's numbers. In real-world football, every successful team needs a go-getter like Woodhead to do all the little things flawlessly. But from a fantasy perspective, Woodhead (926 total yards, 6 TDs in 2010) will surely have trouble vulturing carries from BenJarvus Green-Ellis (13 TDs last year) and rookies Shane Vereen and Stevan Ridley -- with the latter racking up 111 total yards and three TDs against the Jaguars. Whether Ridley, the 15th running back taken in April's draft, can build upon his Thursday explosion remains to be seen; but there's a reason why the Pats devoted two of their eight picks from Rounds 1-4 to running backs: It was time for an upgrade.
3. It doesn't matter which Seahawks quarterback wins the preseason battle. Empirically speaking, Charlie Whitehurst (113 yards passing) had a stronger game against the Chargers than starter-to-be Tarvaris Jackson (13 yards). But amid this lockout-ravaged summer, it would've been a shock if Jackson (who's only been with Seattle for 16 days) had outplayed the incumbent Whitehurst in the preseason opener; and it'd be a greater surprise if either Jackson or Whitehurst thoroughly dominated this competition in the Seahawks' remaining three exhibitions. Bottom line: Seattle may have a promising offensive line (with Russell Okung) and a slew of big names at the skill positions (Sidney Rice/Mike Williams/Zach Miller/Marshawn Lynch/Golden Tate), but neither QB will likely be consistent enough to garner coach Pete Carroll's trust for the entire 16-game slate.
4. Knowshon Moreno may be the luckiest son of a gun in fantasyland. A few weeks ago, there was constant chatter of DeAngelo Williams or Ahmad Bradshaw coming to Denver and booting Moreno (31 yards vs. Dallas) from atop the Broncos' depth chart. Fast forward to the present, as Moreno must only worry about sharing goal-line carries with Willis McGahee while charting an otherwise unobstructed course to fantasy goodness. Within this new reality, Moreno is a solid Round 3 or 4 pick.
4a. Tim Tebow is the unluckiest pied piper in fantasyland. In the last 30 years, I cannot recall one first-round QB who replaced the healthy veteran starter for multiple games in his rookie season ... only to lag behind the same veteran signal-caller the following training camp. And yet, that's where we stand with Tebow (106 total yards vs. Dallas), who is inexplicably trailing Kyle Orton (37 yards passing) on the Denver depth chart. Look, no one's disputing that Orton is a more advanced pure passer than Tebow right now (although Thursday's bomb was a beauty); but given the Broncos' extensive rebuilding, Tebow's decent rookie campaign (11 TDs/3 INTs) and the new coaching regime in the Mile High City (John Fox), the Broncos literally having nothing to lose by trading Orton while his value's high ... and rolling the dice on Tebow for the next 1-2 seasons. After all, he is the people's champion.
5. The Ravens desperately need a viable No. 2 receiver to fulfill my Super Bowl prophecy. I still love Anquan Boldin's game, even at the age of 30; and I'm already on record about Ray Rice amassing 2,000 total yards (and maybe 10 TDs) in his newly expanded role. But there's simply no way Baltimore can emerge as the beast of the AFC with David Reed (who?), Marcus Smith and/or Justin Harper logging significant time at the WR2 slot. Short of adopting a full-time look of two tight ends -- Dennis Pitta (4 catches/47 yards vs. Philly) and Ed Dickson -- the Ravens need to get creative and find an outside weapon or two for QB Joe Flacco (60 yards passing). Perhaps Lee Evans via trade ... or Terrell Owens via reality-TV show pitch.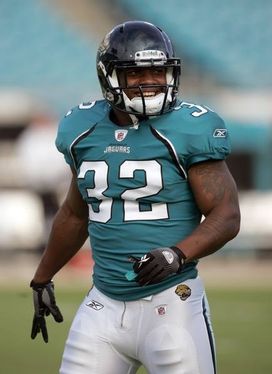 ICONHow will MJD perform in Jacksonville this season without Mike Sims-Walker?
6. Jacksonville may be the new Bermuda Triangle for wide receivers. I doubt that many non-fantasy NFL fans can name one Jaguars receiver, let alone recall their depth chart of castoffs, free agent door prizes and in-house talents who simply haven't developed. Seriously, is there any reason to believe that Jason Hill (3 catches, 37 yards vs. New England), Kasim Osgood (1 catch, 13 yards), Deji Karim (1 catch, 4 yards) or my personal favorite, Jarett Dillard (1 catch, 10 yards), will quickly morph into a formidable complement to No. 1 wideout Mike Thomas this season? Thank god the Jaguars are built from the inside out with running backs Maurice Jones-Drew (DNP) and Rashad Jennings (28 yards on six carries); and thank heavens that Thursday's 35-point drubbing wasn't the real thing for the Jacksonville defense or rookie QB Blaine Gabbert (85 pedestrian passing yards).
7. Riley Cooper may be the most indispensable Eagle for the first six weeks of the regular season. Yes, Philadelphia did a wonderful job of signing all-star talent during free agency; and yes, the club stands as the prohibitive favorite to win the NFC East. But with Jeremy Maclin battling a mysterious illness, and recent signee Steve Smith still recovering from offseason knee surgery, it's fair to wonder if the 'Dream Team' Eagles truly have a sturdy No. 2 receiver to take the pressure off DeSean Jackson and QB Michael Vick. At least for the September slate. Enter Cooper, Vick's final target in Philly's home playoff loss to Green Bay last January, who needs to beat out Jason Avant and Johnnie Lee Higgins to earn that coveted WR2 spot ... at least until Maclin's health improves (fingers crossed on that one).
8. Any TV announcer who mutters the phrase 'Super Bowl preview' during a preseason game deserves to be punched. For the record, I've been a great admirer of Chris Berman's work with ESPN since the first day I ever saw SportsCenter on cable (my grandparents' house in 1983); and football just wouldn't be the same without Boomer. However, there's no need to hint of a 'Super Bowl preview' for August games. It's pointless, somewhat trite ... and even if Berman was right about the Eagles and Ravens playing in Super Bowl XLVI, no TV talkie worth their salt would hearken back to a meaningless exhibition before making definitive judgments of Baltimore and Philly. Especially a pro's pro like Berman.
Handcuffs 'R' Us
It's basically impossible to develop a universal criteria for prioritizing RB handcuffs, since drafts are subjective and highly personal to fantasy owners. So let's qualify the following list like this: Here's how I would rank the necessity of drafting an understudy in standard-scoring leagues:
1. Maurice Jones-Drew/Rashad Jennings, Jaguars
Verdict: I'm willing to reach for Jennings in Round 7 to secure this must-have handcuff.
2. Ryan Mathews/Mike Tolbert, Chargers
Verdict: Tolbert represents valuable insurance for those who are expecting greatness from Mathews this year.
3. Darren McFadden/Michael Bush, Raiders
Verdict: Like Tolbert, Bush can be had for a sensible draft price (Round 7/8) ... and has Round 4 potential.
4. Ryan Grant/James Starks, Packers
Verdict: For the many owners who don't trust Grant's durability for 8, 12 or 16 games ... Starks is a necessity.
5. Jamaal Charles/Thomas Jones, Chiefs
Verdict: Jones is not a threat for 6 yards per carry, like the speedy and swift Charles; but you'd still take 4.3.
6. Fred Jackson/C.J. Spiller, Bills
Verdict: Spiller is probably a season or two away from a legitimate breakout, but that could change in an instant.
7. Shonn Greene/LaDainian Tomlinson, Jets
Verdict: Even at age 32, LT's a lock for 1,000 rushing yards with full-time or three-quarter touches.
8. Beanie Wells/Ryan Williams, Cardinals
Verdict: Arizona may be the most-watched team during the preseason -- thanks to this duo and Kevin Kolb.
9. Joseph Addai/Donald Brown, Colts
Verdict: History tells us that both backs will get plenty of first-team reps during the season, due to injury.
10. DeAngelo Williams/Jonathan Stewart, Panthers
Verdict: Stewart is obviously the most talented handcuff of the group, but who wants to draft him and DeAngelo in back-to-back rounds? Not me.
11. Cedric Benson/Bernard Scott, Bengals
Verdict: Scott's window for being a heavy-workload back is closing, but he's still an excellent substitute for Benson.
12. Chris Johnson/Javon Ringer, Titans
Verdict: Ringer is certainly not in Johnson's class, but he'd be good for 75 total yards and 0.4 TDs every game -- if given full-time reps.
Practice Makes Perfect
Fantasy owners should soon begin the process of mock drafting. Here are some of the best sites for round-the-clock mocking.
**ESPN Mock Draft Lobby
**Mock Draft Central *
**MyFantasyLeague.com
**CBS Sports Fantasy Lobby
**Fantasy Football Calculator
*The National Football Post has partnered with Mock Draft Central to bring our readers unlimited mock draft capabilities. The 2011 Draft Guide is now live.
Choose Your Quarterback
Eli Manning (12th overall) may be ranked six spots ahead of Matt Cassel in the above QB rankings, but does that make him the no-brainer choice on any given Sunday? Here's a week-to-week breakdown of Eli vs. Cassel ... in case you end up taking 'em both on draft day:
Week 1 -- Cassel (vs. Buffalo) over Manning (@ Washington)
Week 2 -- Manning (vs. St. Louis) over Cassel (@ Detroit)
Week 3 -- Cassel (@ San Diego) over Manning (@ Philadelphia)
Week 4 -- Cassel (vs. Minnesota) over Manning (@ Arizona)
Week 5 -- Manning (vs. Seattle) over Cassel (@ Indianapolis)
Week 6 -- Manning (vs. Buffalo) over Cassel (BYE)
Week 7 -- Cassel (@ Oakland) over Manning (BYE)
Week 8 -- Manning (vs. Miami) over Cassel (vs. San Diego)
Week 9 -- Cassel (vs. Miami) over Manning (@ New England)
Week 10 -- Cassel (vs. Denver) over Manning (@ San Francisco)
Week 11 -- Manning (vs. Philadelphia) over Cassel (@ New England)
Week 12 -- Manning (@ New Orleans) over Cassel (vs. Pittsburgh)
Week 13 -- Manning (vs. Green Bay) over Cassel (@ Chicago)
Week 14 -- Manning (@ Dallas) over Cassel (@ N.Y. Jets)
Week 15 -- Manning (vs. Washington) over Cassel (vs. Green Bay)
Week 16 -- Cassel (vs. Oakland) over Manning (@ N.Y. Jets)
Week 17 -- Cassel (@ Denver) over Manning (vs. Dallas)
Final Tally: Eli edges Cassel 9-8, thanks to a late flurry.
Questions From The Audience
@bpackey says: I can keep three players from Philip Rivers, Chris Johnson, Arian Foster, Andre Johnson, Calvin Johnson. Also, explain to me how that team did not win my league last year. I'm still baffled. Thanks!
Answer: As a personal rule, I don't keep quarterbacks (even Brees). So that would leave Chris Johnson, Foster ... and Calvin over Andre Johnson by a nose. For the record, I have AJ at a higher predraft value than Calvin ... but for the sake of keeper leagues, let's stay with the younger Johnson, who had "13" touchdowns last year -- even if the NFL doesn't officially recognize all TD catches that include four feet and one knee inbounds.
@iHateJJRedick wonders: I have the 11th pick in a PPR draft (12 teams) and have Tampa Bay's Mike Williams and Jahvid Best as keepers. Without knowing who'll be available at 11 and 14, what's a good strategy for the first two rounds?
Answer: As a general strategy, I'd go WR/WR in Rounds 1 and 2 ... unless Darren McFadden and Frank Gore are available at 11 OR Matt Forte and Jason Witten/Antonio Gates are lurking at pick 14. Since you already have one running back and one wide receiver, I'd make a point to draft three more wideouts (and one tailback) in the next five rounds. That leaves you with one wild-card choice -- either a top-flight quarterback or tight end. Thanks!
@wkfbuckeye asks: I'm in a 12-team PPR and can keep one player for my Round 1 pick. Should I keep Michael Vick, LeSean McCoy or Roddy White?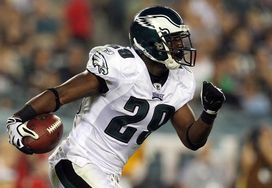 McCoy is a big part of the Eagles' passing game.
Answer: I realize that Vick is The Man in fantasy circles, but I just can't reconcile keeping a quarterback in high-stakes leagues -- especially when McCoy and White are available. In reality, you can't go wrong with either stud; but I'm a tailback-in-Round-1 guy in PPR leagues ... and I'm pinning my hopes on a virtual lock for 1,700 total yards, 10 touchdowns and 72 catches (McCoy).
@jordville wonders: I'm looking for upside/value for a WR4: Should I go with Braylon Edwards, Michael Crabtree, Mike Sims-Walker, Mike Thomas or rookies A.J. Green/Julio Jones?
Answer: A part of me would love to stash Crabtree on the bench for Weeks 1-5, before throwing him into the mix once the bye periods begin. It's not like he can't rebound in a major way from a somewhat minor foot injury. However, I'm more inclined to choose Sims-Walker, Green, Jones and even Edwards ahead of him. Heck, Mike Thomas (66 catches/820 yards/4 TDs last year) is probably a better play too, although I'm not a big fan of his upside.
@joffreyorquia says: I have three questions for you: Not buying into the sleeper hype for Titans tight end Jared Cook? Secondly, in my PPR league, should I keep Andre Johnson or Frank Gore? Lastly, will you have a Top 100 PPR list?
Answer: First of all, in what corner of the globe are people touting Jared Cook as a fantasy sleeper? Cook has 38 catches and one touchdown in two seasons! If anything, Cook is an interesting TE2 consideration in 16-team leagues; he's also the southern equivalent of Buffalo's Shawn Nelson. As for Question #2, I'd keep Andre Johnson in a heartbeat ... even though Gore always has the potential to be a montster back in PPRs. Last but not least, I will not be submitting a PPR Top 100 in any of the Fantasy Philanthropist columns. To be honest, Top 100 lists are a lazy way of prepping for drafts ... and it seldom benefits anyone playing in highly competitive leagues.
Mocking The Madness: Slot #10
Consider this mini-section an exercise in unselfish selfishness, as I wanted to see how a standard-scoring, 12-team mock draft would turn out after taking my No. 1 quarterback (Drew Brees) and No. 1 tight end (Antonio Gates) in the first four rounds. In other words, I opted to take one more stab at ESPN guru Matthew Berry's Draft Manifesto of committing to his No. 1 tight end (Gates) and top-ranked QB (Michael Vick). The result: The run of tailbacks and wideouts in Rounds 5-11 was something to behold.
Round 1, Pick 10: Motive -- Best overall player
1st option: RB Rashard Mendenhall, Steelers ... 2nd option: RB Michael Turner, Falcons
Round 2, Pick 15 overall: Motive -- Best WR or RB (unless Brees is available)
1st option: QB Drew Brees, Saints ... 2nd option: WR Calvin Johnson, Lions
Round 3, Pick 34 overall: Motive -- Best RB available
1st option: RB Ahmad Bradshaw, Giants ... 2nd option: RB Ryan Mathews, Chargers
Round 4, Pick 39 overall: Motive -- Best WR or RB available (unless Gates lurks)
1st option: TE Antonio Gates, Chargers ... 2nd option: RB Jonathan Stewart, Panthers
Round 5, Pick 58 overall: Motive -- Best high-upside WR or RB available
1st option: WR Kenny Britt, Titans ... 2nd option: RB Marshawn Lynch, Seahawks
Round 6, Pick 63 overall: Motive -- Best WR/RB available
1st option: WR Percy Harvin, Vikings ... 2nd option: RB Fred Jackson, Bills
Round 7, Pick 82 overall: Motive -- Best RB available
1st option: RB Joseph Addai, Colts ... 2nd option: RB Pierre Thomas, Saints
Round 8, Pick 87 overall: Motive -- Best RB/WR available
1st option: RB Pierre Thomas, Saints ... 2nd option: WR A.J. Green, Bengals
Round 9, Pick 106 overall: Motive -- Best RB/WR available
1st option: RB Tim Hightower, Redskins ... 2nd option: WR Michael Crabtree, 49ers
Round 10, Pick 111 overall: Motive -- Best WR with upside
1st option: WR Jerome Simpson, Bengals ... 2nd option: WR James Jones, Packers
Round 11, Pick 130: Motive -- Best backup TE available
1st option: TE Zach Miller, Seahawks ... 2nd option: TE Brandon Pettigrew, Lions
Round 12, Pick 135: Motive -- Best backup QB available
1st option: QB Kyle Orton, Broncos ... 2nd option: QB David Garrard, Jaguars
Round 13, Pick 154: Motive -- Best kicker or defense available
1st option: PK Sebastian Janikowski, Raiders ... 2nd option: PK Mason Crosby, Packers
Round 14, Pick 159: Motive -- Defense with greatest upside available
1st option: D/ST Kansas City Chiefs ... 2nd option: D/ST Dallas Cowboys
Round 15, Pick 178: Motive -- Best high-upside talent available
1st option: WR Mohammed Massaquoi, Browns ... 2nd option: WR Danny Amendola, Rams
Round 16, Pick 183: Motive -- Best WR with upside
1st option: WR Donnie Avery, Rams ... 2nd option: WR Steve Smith, Eagles
I Cannot Leave Without Touting ...
The hilarious and strangely vexing diary from Deadspin writers A.J. Daulerio and Drew Magary (also of Kissing Suzy Kolber), who were recently granted an opportunity to write for the pilot of Norm MacDonald's sports show on Comedy Central. (The program was canceled last month.) For every funnyman who's dreamt of writing for scripted television, this diary was equal parts fascinating and sobering -- especially since MacDonald was often paranoid by how the diary would characterize his comedic process. As a longtime admirer of Daulerio's demented sense of humor, I could empathize with his frustration of penning canned jokes for a show that would debut on an indeterminate date (unlike the always-fresh Daily Show With Jon Stewart, also on Comedy Central). There's no substitute for living in the moment.
An award-winning fantasy writer with Sports Illustrated (2008-2010) before joining the National Football Post, Jay Clemons' Fantasy Philanthropist Blog can be found here every Monday, Wednesday and Friday. Clemons can be reached, day or night, via Twitter.