The Education of RGIII
by
September 11, 02012
Print This
Rookie quarterbacks cannot just be wound up, handed a Tom Brady-level playbook and shoved onto the field if they are expected to succeed. Even the most talented, prepared rookie needs a game plan that augments his strengths, limits his need to make decisions and offers some easy, confidence-building passes.
Robert Griffin III had one of the greatest debuts of any rookie quarterback in history on Sunday: 320 passing yards, two touchdowns and a 40-32 win against a playoff-caliber opponent. Griffin's success was largely the result of a brilliant game plan by Mike and Kyle Shanahan, the Redskins' head coach and offensive coordinator. The Shanahans installed a shotgun, screen-heavy offense that looked much different from the system they traditionally run, a scheme that used misdirection and repetition to confuse the Saints and make their new franchise quarterback as comfortable as possible.
Options and Screens
The Redskins' offense looked like a collegiate offense on its first drive: lots of shotgun sets and wide-receiver screens, with a sprinkling of option runs.
Figure 1 shows the Redskins running a traditional zone-read option on second-and-10 in the first quarter. Griffin (10) takes the shotgun snap and offers the ball to running back Alfred Morris (46) as the offensive line blocks to the left. Griffin has the option of handing off to Morris or keeping the ball and running around right end. He makes his decision based on what the defensive left end does: If that defender crashes to stop Morris, Griffin keeps the ball. But if he "stays at home" to stop the quarterback keeper, Griffin hands off.
The Saints do not appear to be anticipating an option play. Not only does the end crash to stop Morris, but the entire defense flows with the offensive line, making it easy for tight end Niles Paul (84) and right tackle Tyler Polumbus (74) to scoop up and block a pair of would-be tacklers. Griffin has plenty of room to run, picking up 12 yards.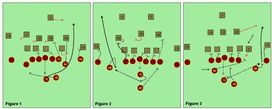 Sports on Earth
On the next play, the Redskins line up in a Pistol formation. Griffin is in a short shotgun, with Morris behind him and Pierre Garcon (88) in the slot (see Figure 2).
As in the last play, Griffin play-fakes to Morris, who runs right. The offensive line blocks in Morris' direction, and just as in the last play, the Saints flow with the blocking. Even Garcon appears to be blocking to the right at first, but he then turns and waits for a screen pass. The flow of the defense makes it easy for left tackle Trent Williams to climb out and block the one linebacker in position to stop Garcon, who weaves up the field for 12 more yards.
Teams use screen passes like these to make the defense "play honest" -- in other words, to keep them from blitzing heavily or stacking defenders against the run.
To read the full article on sportsonearth.com, click here