Three picks that could impact the 2014 NFL Draft
by Jack Bechta
May 01, 02013
Print This
It's amazing to see the popularity of the 2013 draft. The commissioner's decision in 2010 to move the draft into a primetime TV slot has elevated it into sports' top reality show. However, with the detailed media coverage of this year's draft, its storylines may have a huge impact on what we see unfold the same time next year.
Here's what you can expect to see next year and why: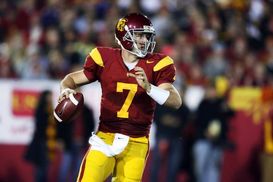 ICONMatt's slide may have more juniors looking to the NFL.
The Geno Smith saga could have fewer players wanting to travel to NY: Each year the producers of the draft on both ESPN and NFL Network direct their cameras to zoom in on the dejected player who is deemed to be "falling". This year it was West Virginia QB Geno Smith, who fed the storyline for the two networks. It makes you wonder if ESPN and the NFL Network recruit players to come to New York who may be their "fallers". Regardless of who set Geno's expectations sky-high, his dreams went crashing down, his earlier smiles melted away into a puddle of dejection and pain. Well guess who watched that scene unfold? That would be every NFL agent and just about every player eligible for next year's draft.
Within days after the draft, Geno Smith fired his agent. He most likely fired him because he was surprised, embarrassed, and well, embarrassed. There's not one agent in the country that wants to have their client in that position. And I promise you that there isn't a player who wants to be next year's Geno Smith. The ever-lasting images in the minds of players and agents could result in a lot less motivated people wanting to take their chances of being embarrassed on the big stage or being fired shortly thereafter.
After all there is an alternative to going to New York. It looks like these guys had just as much fun as the guys who did get to walk across the stage.
The Eric Fisher story is going to have every offensive lineman dreaming great dreams: One year, six months, three months, and one month prior to the draft no one, and I mean no one expected tackle Eric Fisher from Central Michigan to be first overall pick. Take it from an agent who has represented a lot of top offensive lineman, the big fellas will be working their asses off this summer and into the season dreaming of being the 2014 Eric Fisher. Your father's jiggling Manzier or Bro wearing lineman are long gone. As we witnessed at this years NFL Combine, the linemen were the stars of the show. Expect this 2014 group to work even harder knowing that with 9 offensive lineman going in the first round, that their individual mantra will be, "why not me?" Look for this trend to continue as it's usually a low risk pick for GMs who want to keep their job.
Matt Barkley's fall from 1st round grace could have juniors heading for the exits: Matt Barkley is a good example of why the draft can be fickle. Matt was the #3 rated consensus QB in 2012 behind Luck and RGIII, in what was a QB hungry draft. However, this year he was selected with the 98th pick in the 4th round. The decision to stay in school may have cost Matt about $15,000,000. As Judy Battista of the New York Times put it: "Agents spent this weekend managing the expectations of their clients, but by the end of the year, they will be building up the expectations of the next crop. To underclassmen, they will be whispering about Barkley's drop, pointing out the money he left on the table — and the delayed start toward his second contract, now the holy grail for players because of the new rookie wage scale."
Well trust me, the players won't need the agents to show them what can be at risk by staying in.
I have to say that Manti Te'o managed his draft weekend perfectly considering all the harsh media attention he received over the last several months. He insulated himself and his family from the media and made the experience a family one. It's my understanding that he was invited and strongly encouraged to attend the draft in New York. I'm sure ESPN and the NFL Network producers would have loved to have shown his painful face as he was surpassed as a first round pick.
Having both the Combine and the Draft on TV will have an impact on future drafts to come. The young players, who watched, will take away their own images and forge their own opinions as to what is best for them. So don't be surprised if we see less players walk across the stage, more juniors names being called, and even more faster, slimmer and stronger offensive lineman being picked in the 1st round.
Follow me on Twitter: @Jackbechta