Welcome to the Jungle
by
October 09, 02012
Print This
Oliver Stone has our number. He hangs out in the darkest recesses of the darkest corners of our collective psyche, taking copious notes. Then he throws them up there on the screen. And we're mesmerized and appalled by what we see of ourselves because it's so….dark.
Talk Radio is one of Stone's finest and disturbing efforts. Barry Champlain is an ambitious young late night shock jock who goes leaping and bounding over every shred of political correctness. He insults any and everyone who calls his show, tracking mud over all the ideals that people hold dear. And he triumphs in the fact only he has the stones to tell the truth.
In one of the final scenes, Champlain gets to meet two of his most loyal listeners. In the first moment Champlain's sense of accomplishment is punctured by a coked-up, semi-literate moron who because of his dosage and scholastic want can barely string two sentences together. Champlain is stunned to discover that this is the guy to whom he's been speaking so passionately, the guy he thought he'd reached. In the second moment, Champlain is greeted by another fan, one with nothing to lose. This fan shoots him dead.
Eric Winston, behold your audience. Don't hold them in contempt until you get to know them completely. Don't assume that those who cheered Matt Cassel's fate represent the bulk of your fan base. They probably don't. Nor should you assume that everyone who calls himself a fan is in good standing with his or her mental faculties, especially on game day. They probably aren't.
In a two minute stance of raw passion, Winston addressed those who cheered Chiefs quarterback Matt Cassel as he lay on the ground in a concussed state. Winston made many salient points about the Kansas City faithful. But this one was greatest "We are not gladiators and this is not the coliseum," said Winston.
No, it's not something as historically significant as that. Is football barbaric? Sure, in a way. Is it significant representation of our cultural standing? Well...in some ways it is.
But it's mostly just entertainment. Those who cheered Cassel's state are few. As such, if Winston is to maintain his sanity, he should lower his expectations.
He made many great points, but the scope of his impassioned plea also disclosed a larger point—his radical disconnect from the current nature of the sports culture. Perhaps he didn't realize it until Sunday, but this is who we are as collective spectators. This is who we are as a country. We're desensitized to endeavors involving actual humans. And seemingly quite proud of it. Maybe that's the part that has Winston taken aback.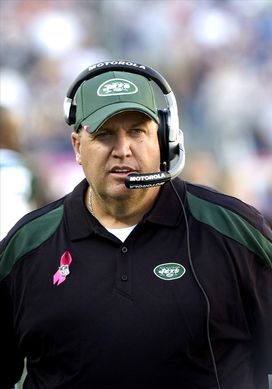 ICONRex Ryan loves the fans. But he knows when to ignore them, too.
Mr. Winston must realize that he, Matt Cassel, and anyone who publicly toils for the pleasure of others is merely a portal to bitterness.
There are people who have come simply to jeer his efforts. Those people who scream and wail without regard to how they look and sound will never do so in order to profess their love—unless the object of their affection is a creative wonder of the world named Bieber.
The rest will only wail in protest. He should expect it.
There's a time to engage the fans and a time to attend to business. To his credit Rex Ryan has yet to concede to those Jets fans who, in their cries for Tebow, missed the beautiful throws Mark Sanchez made in the final drive of the first half. The ball he threw to Jeremy Kerley on a deep cross was especially sweet and was vastly outside the realm of Tebow's skill set. Ryan is great at playing to the crowd, but he's equally skilled at knowing when to tune them out.
Eric Winston doesn't know that to the paying crowd he's an animal on display. The good people who come to visit him are armed with sticks and poles, for which to poke him. The most desperate and the most bitter will do anything and stop at nothing to provoke the wild beast.
When that occurs, a little give-and-take between player and attendee may enhance the theatre-going experience.
That reminds me of my favorite exchange between fan and player. It occurred in Kansas City, too. We were making our way into the tunnel at halftime, when Redskins defensive end Sterling Palmer, a particularly loquacious young man, was accosted by a man who was bent over the railing. The man screamed some unnecessary obscenity that caught Palmer's ear.
Palmer glanced upward and saw the man's wife and quickly crafted an observation about sexual shortcomings the woman's true preference in men. Then he flashed a gold plated smile and sauntered into the locker room. The man was dumbfounded and grew red with fury while his wife squirmed uncomfortably in her chair. Priceless.
But that was a private exchange. A public rebuke might make things worse. Sports fans, especially football fans don't want to hear from athletes. The audience has come for the show and does not want its sensibility challenged by the beefcake. (Although Winston should save that clip—it could land him in a studio chair after retirement) Winston should embrace the edict on which modern sport is founded: People love sports, but hate athletes.
That's probably overstating it a bit.
The digital age has blurred the lines between people and video game components. It's not limited to Madden, where we can make the players dance to our every whim. From the safety of our homes, or the stands, we can be soldiers, too. We're combatants in versions of "Call of Duty," traipsing through South East Asia, killing everything we see.
There are no exceptions to these current rules of fandom. There is no etiquette that won't be defied.
Last year, Packers safety Nick Collins was on his way off the field after a loss to the Bears at Soldier Field. But he took some time to confront a fan who called him the N- word and spit on him, too. Well, this is a fighting word in any setting. Collins removed his mouthpiece and hurled it upwards towards the man.
There was some discussion about it; some rehashing of the events, whereby Collins concluded that he shouldn't have lost his cool. I'm sure he realized this was the most extreme example of a fan exercising a very specific sense of entitlement.
With an ethnic man in the oval office, there's a segment of the population that is convinced racism has officially ended and that black people have all the advantages. I can barely write that for laughing. So those black fellas running from the playing field to the bank and cashing large checks must be really disconcerting to some.
Collins later apologized, just like I assume Winston will.
In the future, Winston will come to realize that all of this rage, while misguided and unnerving, is par for the course. It should be dismissed with the appropriate sadness and empathy. It should not be taken seriously.
Until someone starts shooting.
Follow Alan Grant on twitter @AlanGrant_NFL